A Complete Guide to Getting a Quick Divorce in NJ
Divorce is a stressful and expensive process. It becomes even more stressful and costly when it drags on for months or even years. Luckily, you can reduce the stress, cost, and duration of your divorce. Getting a quick divorce in NJ is an option if you decide to get an uncontested divorce.
We'll tell you how to get a quick and cheap divorce in NJ and provide all the information you need to file for one. For an uncontested dissolution of marriage, you'll need a divorce settlement agreement, which is one of the most important uncontested divorce papers. If you , creating a divorce settlement agreement will be a breeze!
All You Need To Know About NJ Uncontested Divorce
An uncontested divorce implies that you and your spouse agree on all important terms of your divorce, such as:
You and your partner will be able to complete the whole process yourselves—such as obtaining and filing the necessary uncontested divorce papers and representing yourself. Since you won't have to hire a lawyer and go through exhausting courtroom procedures, an uncontested divorce will be faster and cost you way less than it normally would.
To get an uncontested divorce in NJ, you must meet specific requirements.
What Are the Requirements for an Uncontested NJ Divorce?
If you decide to get an uncontested divorce, these are the requirements you need to meet:
Residency Requirements
Grounds for Divorce

One of the spouses must have lived in New Jersey for more than one year before they file for divorce

If you want to file for an uncontested divorce in NJ, you have to cite irreconcilable differences. It means that:

You and your partner haven't been getting along for the last six months, and you cannot work through your problems
You don't have to prove that your spouse's behavior caused your marriage to end
How Long Does It Take To Get a Divorce in NJ?
There are no strict rules or laws that can determine the length of divorces in NJ. The duration of your divorce will depend on the following:
Type of divorce you file for
Complexity of your case
Division of marital property
Court's caseload
There isn't an official waiting period before your divorce is finalized in New Jersey.
How To Get a Quick Divorce in NJ
Before attending the final hearing where the judge will grant you a divorce, you and your spouse have to follow the steps below:
Obtain all the necessary paperwork
Submit your divorce documents with the court
Pay the filing fees
Wait for your spouse to respond
Getting All the Necessary Paperwork
You'll need to prepare and collect the necessary documentation to file for divorce. You can find the forms on the New Jersey Courts website or at a county clerk's office.
Plenty of websites offer online divorce templates. Note that you should be careful when using online templates as they might contain mistakes and may not be accepted by the court.
Submitting the Documents With the Court
Your next step is to file the divorce forms with the court clerk in your county of residence. You can access the New Jersey Courts website to find the court in your vicinity.
Paying the Filing Fees
The clerk of the court will charge you a filing fee. The amount will depend on the county where you filed for divorce. If you can't afford a filing fee, you can request a fee waiver.
Serving Your Spouse
In New Jersey, you can serve your spouse yourself and have them sign an acknowledgment of service. It is considered an informal service, and you can only do that if you and your partner are on good terms. You can also have a professional process server or sheriff's deputy serve your spouse the divorce papers.
Waiting for Your Spouse To Respond
After receiving a service of complaint, your spouse will have 35 days to respond. They will need to file any of the following:
An answer
An answer and counterclaim (a counterclaim is used as a complaint against the plaintiff)
Appearance (which means that the defendant doesn't contest the content of the complaint)
Creating a Divorce Settlement Agreement
If you wish to finalize your divorce quickly, you'll need to create a divorce settlement agreement defining the terms of your divorce. If you and your partner can't agree on these terms, you can attend a few mediation sessions to try and settle your differences.
You can hire a lawyer to draft your agreement, but it will cost you an arm and a leg. The most affordable way to create a divorce settlement agreement is with the help of DoNotPay.
Have a Fast Divorce With DoNotPay's Help
DoNotPay is an affordable and reliable method of creating a divorce settlement agreement. Our platform will incorporate all the terms of your divorce into a comprehensive and personalized legal document. Your divorce settlement agreement will also conform to the NJ divorce laws.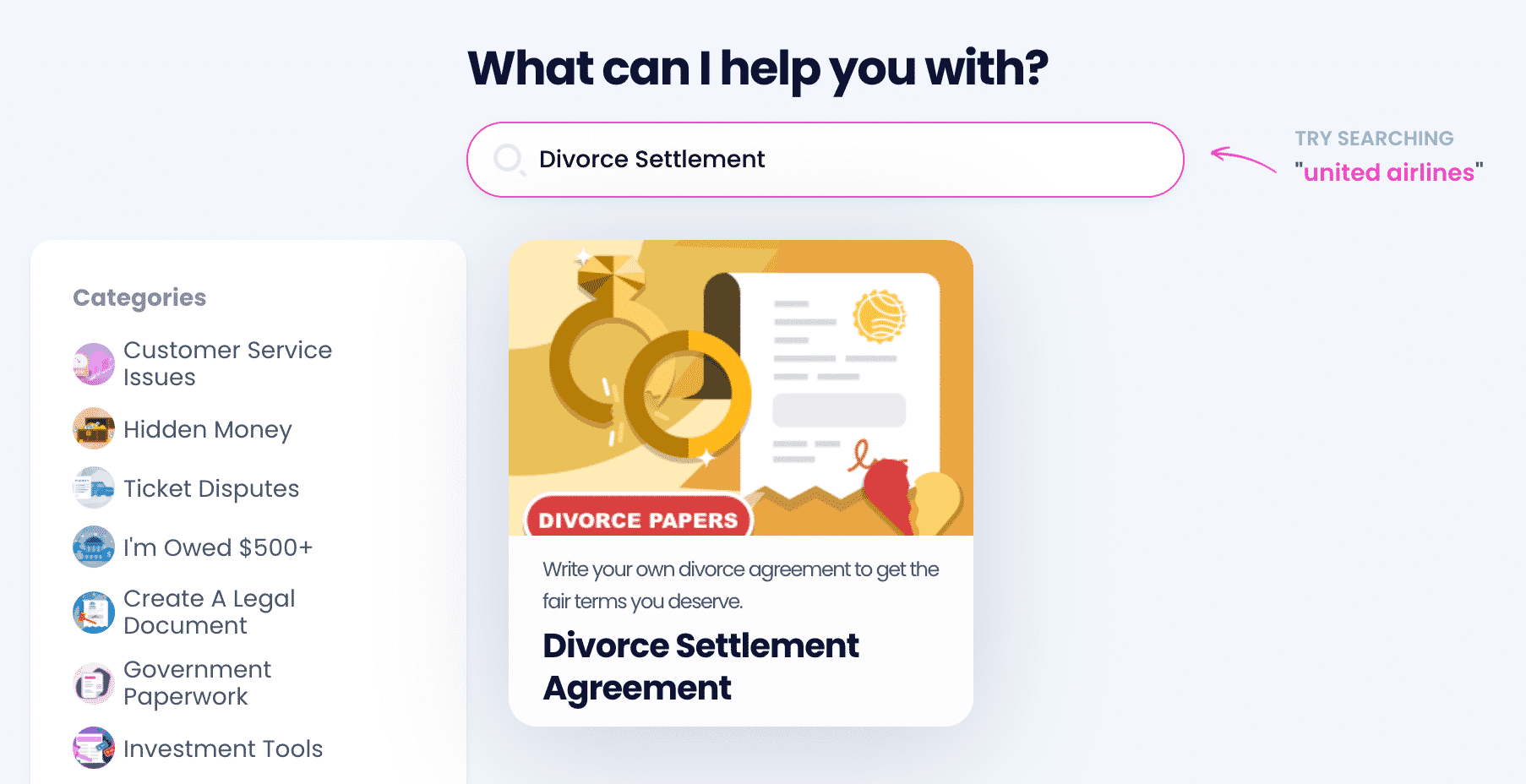 To create a divorce settlement agreement, and follow the instructions below:
Type in Divorce Settlement Agreement into the search bar
Add all the necessary information about your divorce
Notify us whether you want to get your document notarized
Once you download the agreement, you can get it to your spouse for signing. Our app can also connect you with an online notary so that you can get your document notarized remotely.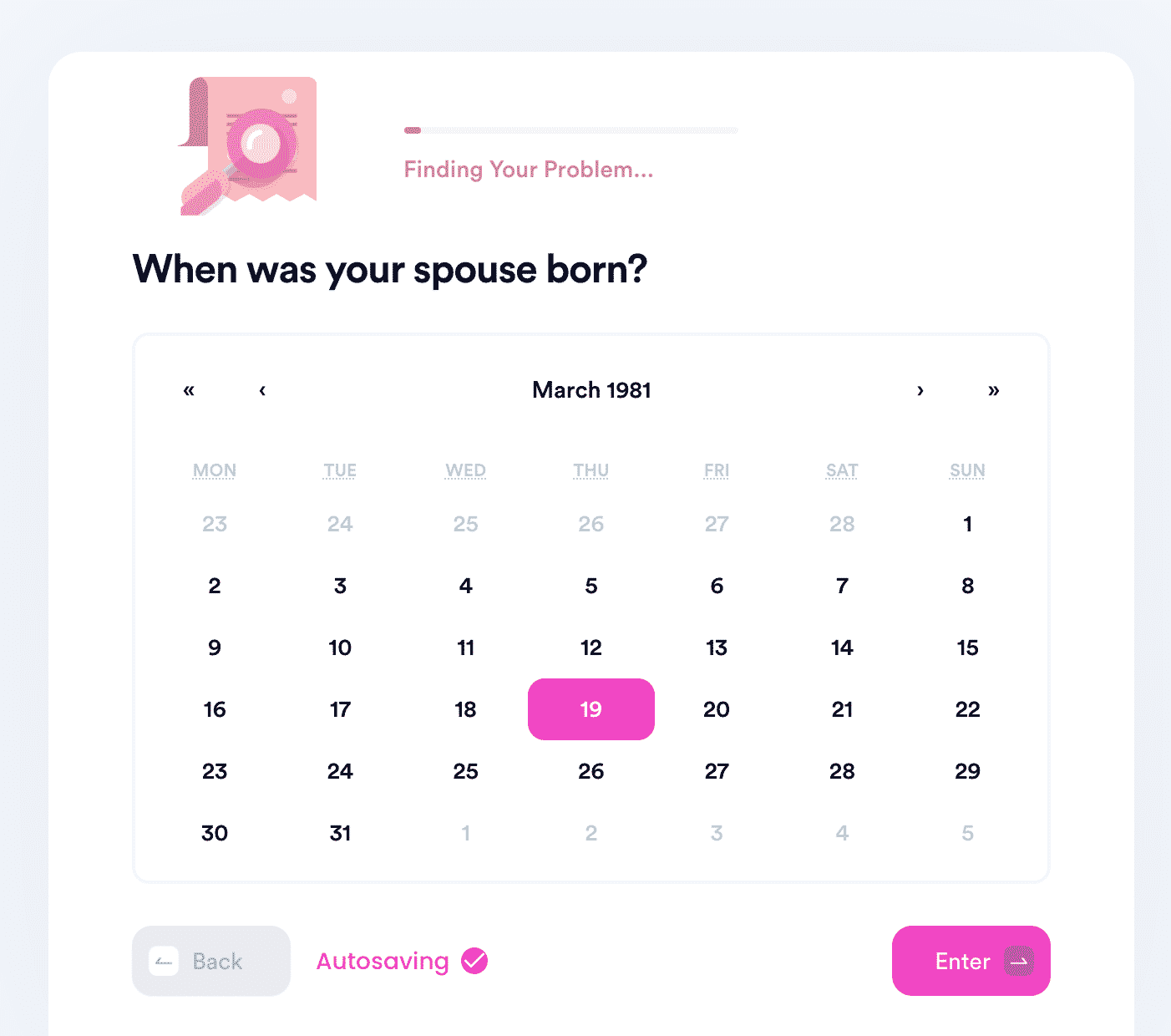 Do you need more information on divorce-related issues? DoNotPay is happy to answer all the questions you have, including:
DoNotPay's Vast Collection of Features Keeps Expanding
Determined to simplify bureaucratic procedures and help you with various daunting items on your to-do list, we created DoNotPay—the world's first robot lawyer! With us, you can:
Streamline Different Tasks by Using DoNotPay's Practical Features
Are you looking for an efficient way to gain back your unclaimed money or get a refund from a company? Do it with DoNotPay without lifting a finger! Our app provides excellent money-saving features that will increase your budget and make all unnecessary expenses disappear.
We can assist you in terminating unwanted subscriptions, recovering your unused gift card funds, reducing your bills, and requesting late delivery refunds. You don't even need to hire lawyers to write a financial aid appeal letter, an HR complaint, or a child travel consent form in your stead—our app can do all this!