The Ins and Outs of a Quick Divorce in Las Vegas
Divorce is a tiring and expensive process. The more it lasts, the more conflicts it can cause, and even more costs. It doesn't always have to be like that! Getting a cheap divorce in Las Vegas is possible if you qualify for fast and simplified marriage dissolution.
In this article, we'll give you the rundown on a quick divorce in Las Vegas and show you how to file for one with zero hassle!
Need a divorce settlement agreement? , and we'll prepare this legal document for you in no time!
How Long Does It Take to Get Divorced in Las Vegas?
The duration of a divorce in Las Vegas depends on several factors, including:
Method (contested or uncontested)
Complexity of the case (with or without children)
Division of the marital property
Court's caseload
Unlike other states, Nevada does not have a mandatory waiting period for divorce. Depending on the complexity of the ongoing disputes, a contested divorce in Nevada can last for several months or even more. If you want to get a fast dissolution of marriage in Las Vegas, you should opt for a simplified method. A typical uncontested divorce in LA can be over within three weeks.
Requirements for a Las Vegas Divorce
Before filing for divorce in Las Vegas or even choosing the method, you have to get familiar with some general aspects of marriage dissolution in Nevada, including:
Grounds for divorce
Residency requirements
Grounds for Divorce
Nevada is a no-fault state for divorce. You can base your marriage dissolution on the following legal reasons:
Incompatibility
Living separately for at least one year
Legal insanity of the other spouse
Residency Requirements
There are certain residency requirements you have to meet before filing for divorce in Nevada, including:
Living in the state for at least six weeks before petitioning for divorce (you or your spouse)
Having proof of residency in the form of an Affidavit of Resident witness
Showing the intent to remain a resident of the state after filing for divorce
Uncontested Divorce in Las Vegas
An uncontested divorce is a simplified method of marriage dissolution. In Nevada, it's also called a joint petition or summary divorce. It's much quicker and cheaper to obtain—you can even file the petition online and without a lawyer.
To get an uncontested divorce in Las Vegas, you and your spouse have to be on friendly terms and reach an agreement regarding the following matters:
Alimony payments and dates
Custody
Child visitation schedules (parenting plan)
Health insurance for the children
Any other important case-specific issue
You have to resolve any ongoing and prevent potential disputes out of court. If you need help negotiating and need someone to push you in the right direction, you can resort to divorce mediation.
Do I Qualify for a Quick Divorce in Las Vegas?
You are eligible for a summary divorce in Las Vegas if all of the following is true:
Either you or your spouse meets the residency requirements
Both of you agree that the legal reason for your divorce is incompatibility or separation
You don't have minor children together (biological or adopted)
The wife is not pregnant
You and your spouse don't have shared property
Both of you agree to waive rights to:

Alimony
Notice of entry of the decree
Appeal the judge's order
Request findings of fact and conclusion of law
Request a new trial
In case you and your spouse have children, share property, or request alimony, you must have a written divorce settlement agreement that defines the terms of these aspects of divorce.
What Does the Process of Filing for a Quick Divorce in LA Look Like?
The fastest way to get divorced in Las Vegas is to file a joint petition. This process will save you both time and money and prevent conflicts and stressful situations. You can find a detailed description of the process in the following table:
Steps to Filing for an Uncontested Divorce in Las Vegas
Explanation
Preparing the paperwork
You can find all the required Las Vegas divorce forms and download them from the official website of the Supreme Court of Nevada. The following documents are required for the petitioning:

Cover Sheet
Summons
Complaint for Divorce

You and your spouse should collect and fill out these papers together as co-petitioners

Submitting the documentation
After completing the documents, you should file them with the district court in your county. Keep in mind that you need to pay a filing fee. This fee is different in every county, so it's best to inform yourself beforehand
Drawing up a divorce settlement agreement
Since you're filing a joint petition, you don't need to serve divorce papers to your spouse. What's left to do is write a divorce settlement agreement. This document should include the clauses that define all of the items you've negotiated and agreed upon. You can use DoNotPay to draft this document
Fast-Track Your Las Vegas Divorce With DoNotPay's Assistance!
Getting a divorce settlement agreement is a piece of cake with DoNotPay! Forget about costly attorney's fees and third-rate contract templates. With our service, you get a rock-solid divorce settlement agreement for a low price and in a couple of clicks.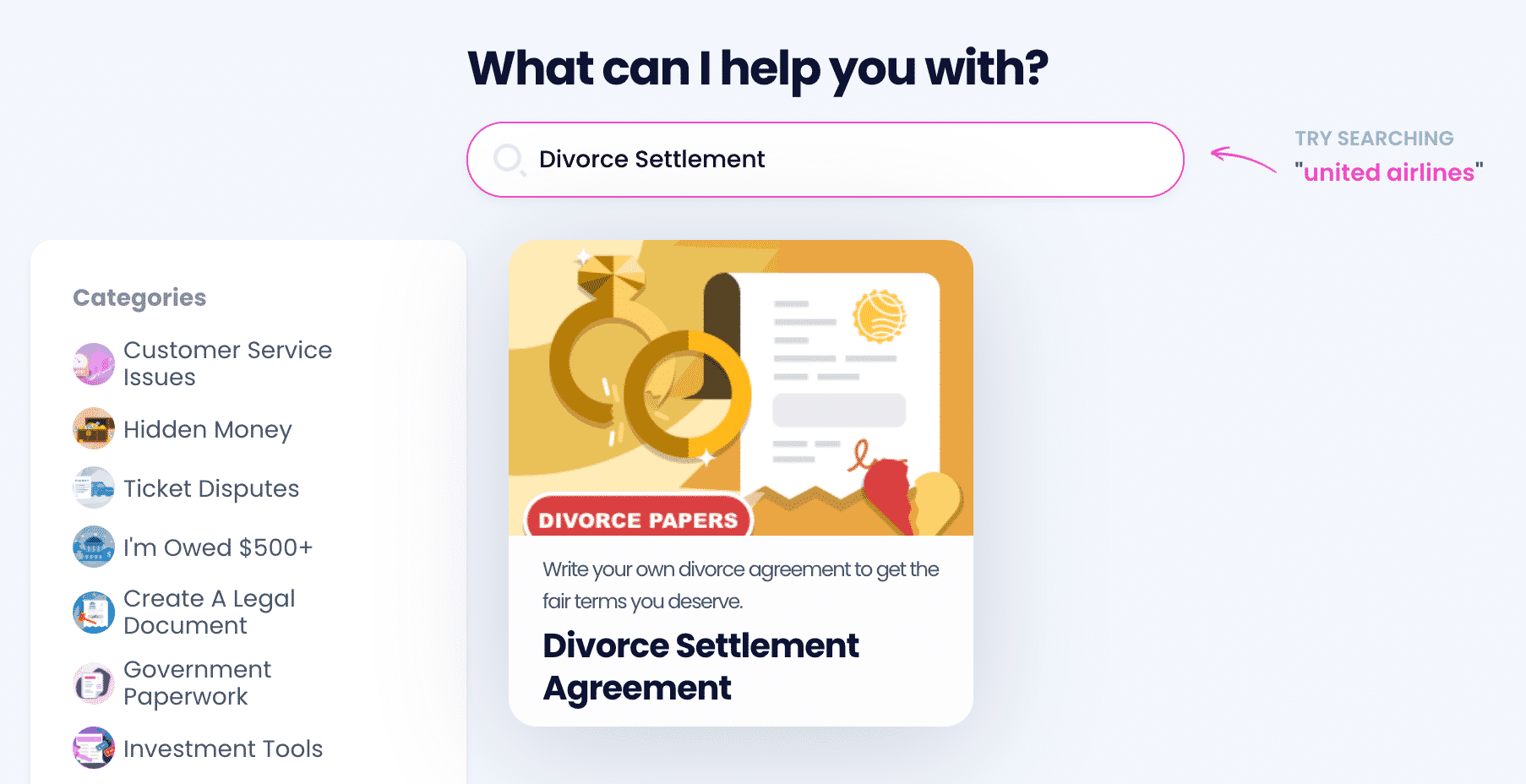 All you need to do is and follow these steps:
Navigate to the Divorce Settlement Agreement tool
Answer our chatbot's questions
Specify if you need to get the document notarized
Upon receiving the information you provided, we will draw up your divorce settlement agreement and send it to you promptly!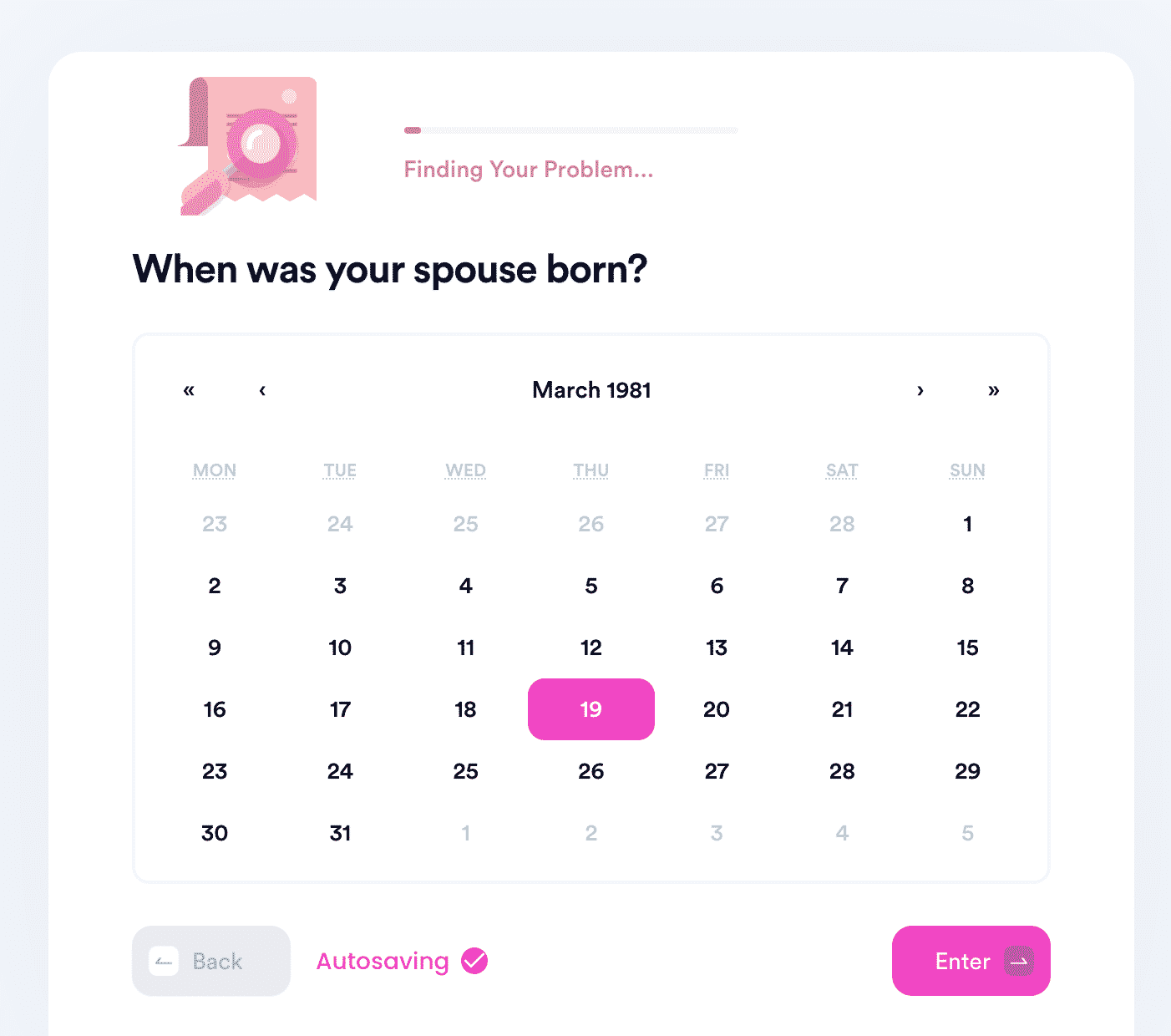 Do you need a lawyer if you and your soon-to-be ex-spouse agree on everything? Can you get a divorce without going to court? Visit our knowledge base to find answers to these and other divorce-related questions!
DoNotPay Is Righting Wrongs Left and Right
DoNotPay is a platform that puts its subscribers' safety in the first place. We can keep you safe from sex offenders, stalking, and harassment. In case you're a victim of a crime, we can help you get compensation.
Fight for discrimination at your workplace with the world's first robot lawyer or sue any company or person in small courts if you feel like you've been wronged.
Is There Anything DoNotPay Can't Do?
The short answer is no, and the list of our AI-based app's features keeps growing by the day. We offer professional assistance with issues that no other platform can help you with. Sign up now and: