Get the Lowdown on a Quick Divorce in Arizona
Did you know that the divorce process doesn't have to last a lifetime or cost a fortune? Opting for the right divorce type can help you part ways with your spouse in no time. If you don't know where to start, don't worry—DoNotPay has prepared a guide to help you out!
We'll show you how to get a quick divorce in Arizona and end your marriage on a friendly note!
What Are the Requirements for Getting Divorced in Arizona?
Check out the table below and find out what the requirements for getting divorced in Arizona are:
| Requirement | Explanation |
| --- | --- |
| Meet the residency criteria | You or your spouse must have lived in the state for at least three months before filing the papers |
| File for a no-fault divorce | As Arizona is a no-fault state, you'll have to agree that your marriage is beyond repair. Filing for divorce without putting any blame on your spouse is easier than having specific reasons for parting ways |
What Is a Do-It-Yourself Divorce in Arizona?
A do-it-yourself divorce—also known as a quick or uncontested divorce—is for couples who agree on crucial divorce issues, such as:
By being in agreement on these divorce aspects, you won't have to go to court or hire a lawyer. Filing for a quick divorce is also much easier as you can complete the whole procedure on your own. The procedure is also quick—you can get divorced only two months after you file the papers.
If you can't meet your spouse halfway on these issues, try divorce mediation. This is a process in which a professional gives you helpful advice on reaching an agreement. By opting for divorce mediation in Arizona, you save extra money by not hiring lawyers to come up with terms of your dissolution.
How To Get a Quick Divorce in Arizona
To get a quick divorce in Arizona, you will have to:
File a petition for dissolution
Draw up a divorce settlement agreement
Filing a Petition for Dissolution
You can find the petition for dissolution of marriage on your county's official government website or at your local courthouse. It should contain basic information about your spouse and marriage. This document starts the divorce procedure, and it can be submitted by either spouse.
To file the petition, you need to pay the filing fee to the clerk of the court. Its cost in Arizona is around $350. If you can't afford to pay this sum, you can sign a fee waiver.
Serving the Divorce Papers
Unlike some states, Arizona divorce laws don't require you to hire a process server to deliver the forms to your spouse. Instead, you can deliver the divorce papers yourself. If you want a quick divorce, your spouse must respond to the serving within 20 days.
Drawing Up a Divorce Settlement Agreement
Once your spouse responds to the serving, the judge will schedule a final hearing date, and you will enter the waiting period. This is a perfect time to draw up a divorce settlement agreement. You'll need to submit this document, which the judge will review at the final hearing to make sure it's valid and fair to both parties. The divorce settlement agreement contains the terms of the divorce you and your spouse have agreed on. It's a crucial document in an uncontested divorce, and it needs to be drawn up with care.
To get it, you can either hire a lawyer—which is an expensive solution—or write it yourself. Keep in mind that if you make a mistake, you'll have to start the procedure from scratch.
The most reliable and affordable method of obtaining the settlement agreement is using DoNotPay. We'll create this key document according to your needs and desires and send it your way in no time.
Obtain a Divorce Settlement Agreement Hassle-Free—Use DoNotPay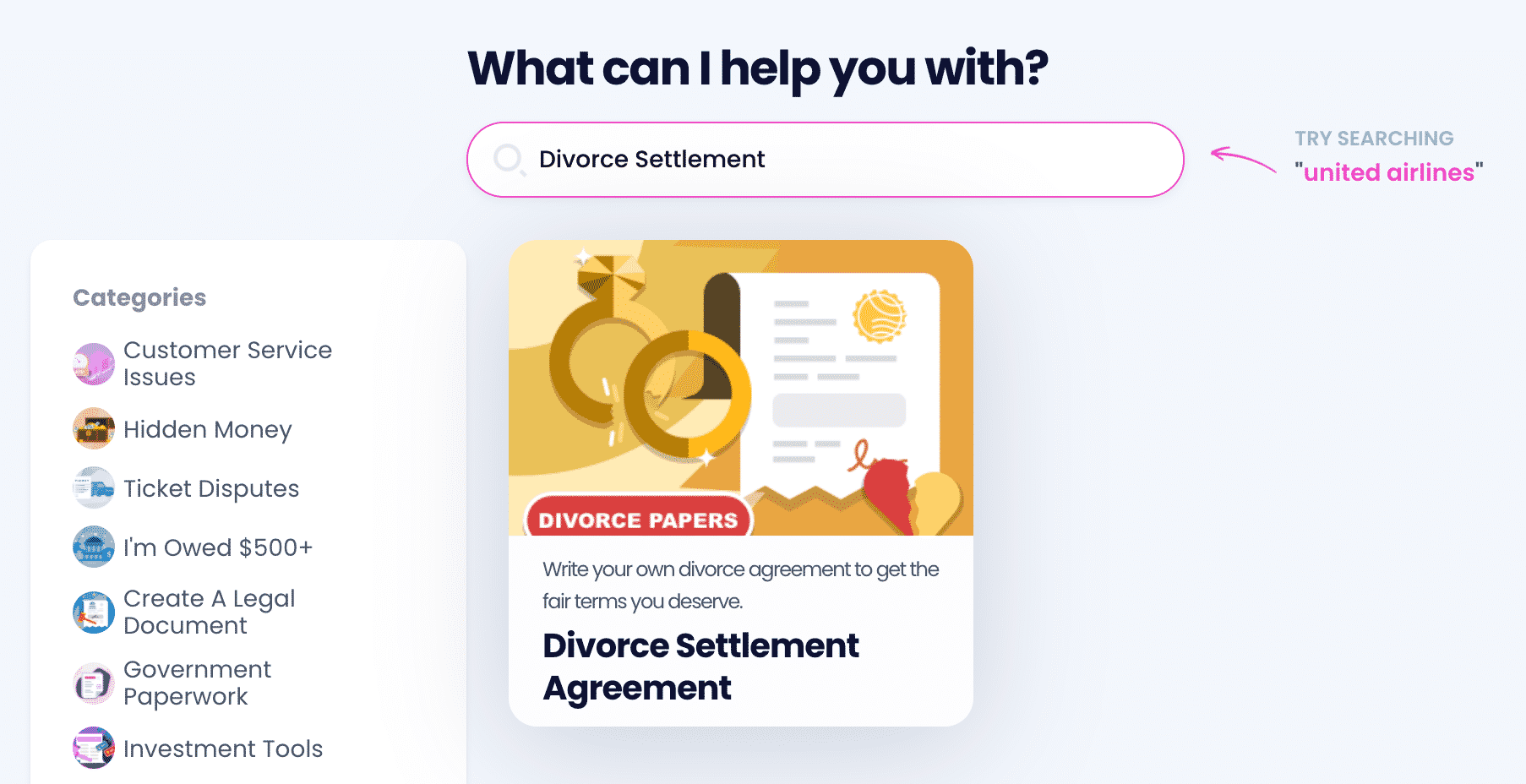 Getting a divorce settlement agreement can be both tricky and costly—that's why we've developed a tool to help you get this important document affordably and effortlessly. DoNotPay can generate a custom settlement agreement for you in minutes!
All you have to do is:
Select the Divorce Settlement Agreement tool
Give us the necessary details by answering our chatbot's questions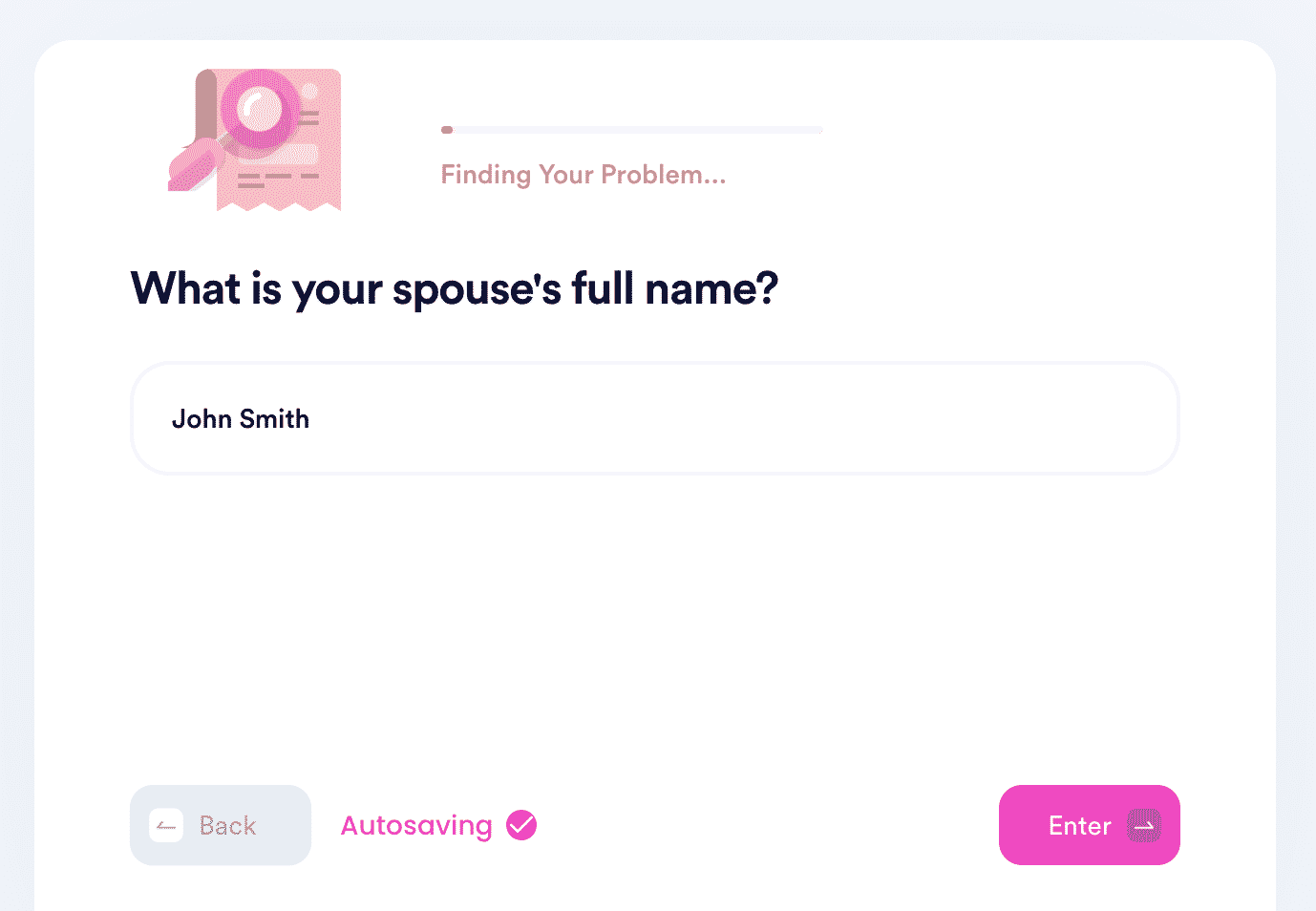 Once you submit your request, we'll handle the rest. You'll receive your divorce settlement agreement via email, and then you can sign it and have it notarized. If you don't want to visit a notary in person, DoNotPay can connect you with an online notary in a snap!
Need more help with divorces? DoNotPay has got your back! Read our articles and find out:
Use DoNotPay To Complete a Variety of Tasks at Any Time
Why waste time and money completing mundane tasks on your own when you can let DoNotPay assist you? Take a look at the table below to find out what our AI-powered app can do for you:
| DoNotPay Can | Services |
| --- | --- |
| Protect your safety and privacy | |
| Draft legal documents | |
| Help you get your money back | |
DoNotPay Has More in Store for You!
Since communication is key, you'll appreciate our feature that helps you get in touch with customer service reps quickly! We'll also show you how to send faxes online and have your documents notarized by an online notary with ease!
Going on vacation? Use DoNotPay to take a valid passport photo at home or get a tourist visa!