How to Get a Free Quest Chat Trial With a Virtual Credit Card

QuestChat is a premium singles service that enables singles to meet new people, have fun phone conversations, and even get dates. QuestChat has quickly become a popular chat line for singles since its establishment in 1988.
Quest Chat offers a free trial where users can see what they offer. However, once the QuestChat free trial ends, you will be required to purchase minute packages to continue using their services.
Quest Chat requires new subscribers to enter their credit card information as part of their billing and payment process. This puts you at risk of paying for a subscription that doesn't interest you. DoNotPay can help you subscribe for a  and don't get charged with unwanted payments using DoNotPay's Virtual Credit Card.
How Does Quest Chat Work?
It depends on whether you're using the QuestChat line or its mobile app. While using their chat line, follow these steps:
Locate your local number in the option box in the top-right corner of the screen
Follow the voice instructions to set up your free mailbox, and record your greetings
Go through various profiles on the QuestChat phone chat line or use the Live Chat Room and start communicating with someone on the line
QuestChat line allows users to record different greetings every time they join the Live Chat Room to share their daily experience and how it feels to connect with specific people.
On the other hand, QuestChat App allows users to bring essential voice features through their dating app environment. Users can hear other people's profiles, send instant messages and connect in private conversation with other singles.
QuestChat App can also allow users to simultaneously see photos and listen to the voice greeting profiles of other people on the app or the phone chat live line in real-time. While using their app, all you have to do is swipe through different voice profiles and tap on the icons to talk to someone or send a message. You don't need to type or remember any keypad choices. This service provides an easy, smooth experience that allows you to talk to someone in a few seconds.
How Do You Get a Free Quest Chat Free Trial?
QuestChat offers a free trial to first-time male callers. The free trial provides an all-access pass to QuestChat phone call line features and allows you to meet tons of messages and singles.
To claim your , follow these steps:
Call 1.888.257.5757 or your location's code on the QuestChat home page.
Access QuestChat's free voice mailbox number and passcode to receive and send messages from other singles
Record your greeting: You should set up a free voice and introduce yourself to other people on the chat line. Therefore, your message should be unique and describe your expectations.
Start using the program: You can choose from different communities, including get-togethers, steady relationships, discrete encounters, and many more.
Your free trial will be directly linked to the phone number that you'll use in your free trial. Therefore, remember to use QuestChat from the same number to continue using the free trial. 
Does Quest Chat Free Trial Automatically Renew After Completion?
No. QuestChat doesn't have automatic renewal for their subscription. However, you're required to choose your payment method to buy your minute packages. Current minute packages are as follows:
| | |
| --- | --- |
| Chat Minutes | Cost |
| 20 minutes | $9.99 |
| 160 minutes | $49.00 |
| 420 minutes | $99.00 |
How Do You Avoid Quest Chat Automatic Renewal With DoNotPay?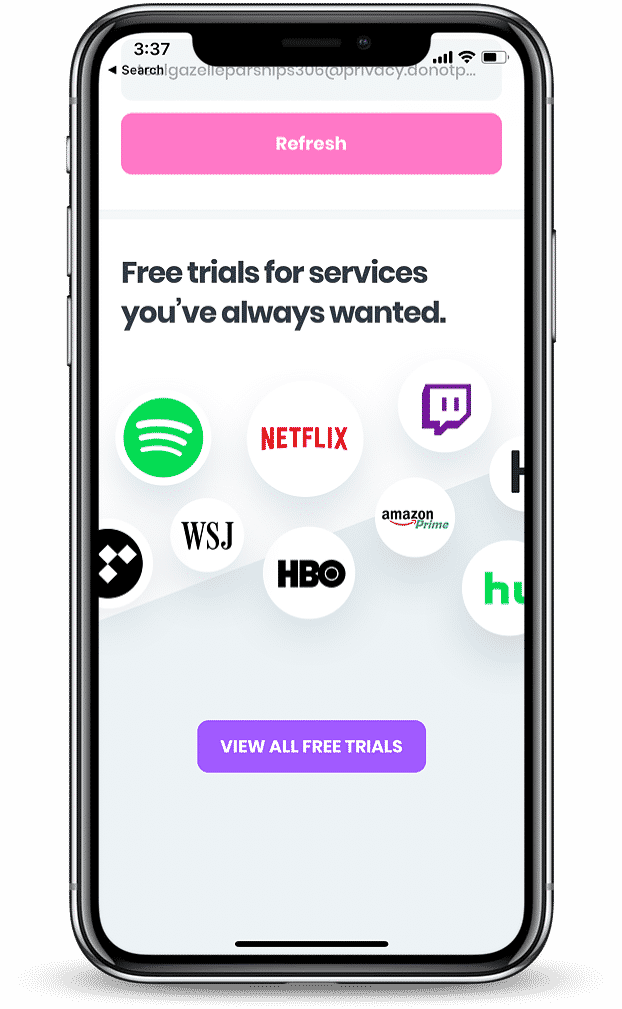 DoNotPay offers the perfect solution to the risk of buying your subscription package with QuestChat. Remember, chatting with singles can be addictive and put you at risk of subscribing to new minute packages frequently
With DoNotPay virtual credit card, you can safely try out QuestChat's free trial, learn about it, and decide whether to continue using their service. DoNotPay virtual credit cards work similarly to your credit card. However, this virtual credit card has random credit card information different from your credit card. Once you use our virtual credit card to sign into the QuestChat line or app, you can rest assured that there will be no charges to you, since there's no money to spend on a new subscription.
What Other Services Can You Use Apart from QuestChat?
After your free trial, you may want to give another chat service a try. There are numerous Chat Lines you can use apart from QuestChat. These chat lines include:
LiveLinks
Talk121
ChatlineUSA
Fonochat
VoiceRoulette
Redhot Dateline
Nightline
Solve Other Issues With DoNotPay

DoNotPay can help you solve tons of issues with its easy-to-use products. You can use our products to solve issues related to:
 today and use our products to save money and time!