The Ins and Outs of a Purchase Agreement

Signing a sales and purchase agreement—popularly known as an SPA—is an important part of any larger transaction. This legal document protects not only the buyer but also the seller after the negotiation process. 
If you'd like to know how to draw up a sales and purchase agreement quickly, you're in the right place. Other than providing the best guide to creating a purchase agreement, we will also help you write any contract in a few clicks.
What Is a Sales and Purchase Agreement?
A sales and purchase agreement is a legal document between a seller and a buyer that precedes a transaction and binds the parties to it. Before any larger transaction, both parties negotiate the price and general terms of the trade. Once the buyer and the seller make a deal, they should create a sales and purchase agreement that includes the relevant info regarding the exchange.
As opposed to a bill of sale—signed after or during the exchange—a sales and purchase agreement needs to be signed before the transaction. The contract should outline the price and record if the buyer made any deposits. It should also state when the final sale will occur. 
Both parties should request to sign a purchase agreement to avoid:
Misunderstanding regarding the verbal agreement

Scams 

A sudden change of heart of both the buyer and the seller
No one likes losing money. That's why a sales and purchase agreement is the best way to ensure that all of the terms are met, which is crucial for larger transactions. 
How To Make a Purchase Contract Yourself
If you'd like to make a sales and purchase contract without hiring a lawyer, you could try following one of the various agreement templates found online. Make sure to adjust the template to your needs and include crucial aspects of the transaction. 
A poorly written contract can't protect the signing parties because the court can void it. If you can, you should get a lawyer to read the agreement you wrote and advise you on potential improvements.
Every sales and purchase agreement should include the following information:
Names and addresses of the buyer and the seller 

Purchase price

The closing date of the agreement

The amount paid as a deposit

List of items that are being sold

List of items that aren't included (optional—usually during a company acquisition)

Governing laws—laws of the state the purchase took place in

Payment method 

Who pays the taxes

What happens if one of the signing parties fails to honor the agreement

Additional details regarding the sale 
When Do You Need To Sign a Sales and Purchase Agreement?
A sales and purchase agreement is typically used:
For real estate purchases

—outlines the final price, closing date, and other relevant info after the negotiation process. This is the most common type of a purchase agreement

In the supply chains of large companies

—comes in handy when a buyer wants to purchase a large number of materials or before a single large-scale purchase

As a contract that defines the terms of revolving purchases

—helps both parties forecast costs and demands for a certain product each month

Before a business acquisition

—specifies which

assets

are being sold and bought. Companies can sell their tangible property but decide not to sell business naming rights 

For valuable personal property

, including items such as:
What Happens if One of the Parties Doesn't Honor the Agreement?
Every state has different laws regarding a purchase agreement. Those laws will apply if the buyer or the seller breaks the agreement. The affected party usually has the right to sue or request compensation from the party that failed to honor the contract. Consequences for breaking a sales and purchase agreement should be recorded in the contract. 
Write Other Legal Documents Effortlessly With DoNotPay 
While DoNotPay can't help you write a purchase agreement, we can assist you in creating the intent to purchase real estate letters and many other legal documents. Everyone needs to draw up some kind of contract at least once in their life. Lawyers can be pricey, and the contract templates you find online might not be the best fit for your situation. That's why DoNotPay has developed an affordable yet efficient way of creating professional legal documents. 
We will create a document that fits your legal needs based on the answers you provide. Here's how you can use our feature:
Open

DoNotPay

Type in the name of the document in the

Search

bar

Respond to our questions

Download the contract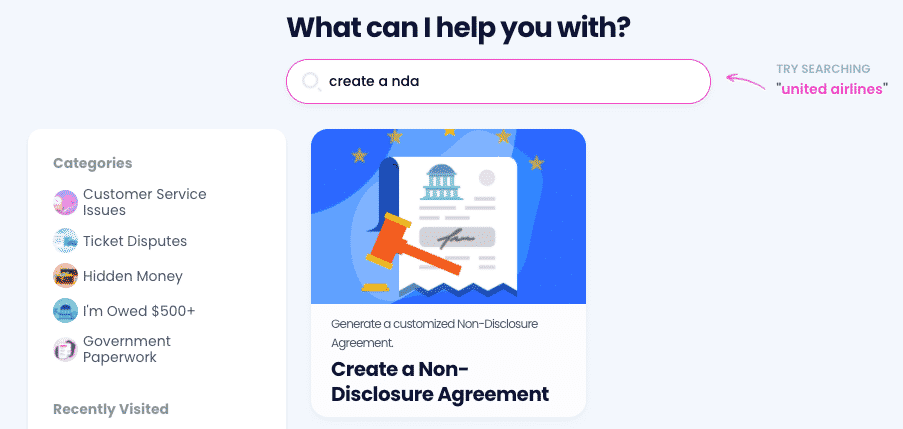 Any contract you draw up with DoNotPay needs to be signed by both parties or notarized to be official. Here are some of the documents we can help you create hassle-free:
Business Contracts

General Business Contract

Bill of Sale

Real Estate

Quitclaim Deed

Estoppel Certificate

Other

General Affidavit

Promissory Note
Clear Your Schedule With the Help of DoNotPay
DoNotPay is renowned for making our users' lives infinitely easier. Not only can we root out unwanted subscriptions for you—you don't need to do it manually one by one any longer—but we can unsubscribe you from unwanted email and snail mail lists.
Fire up our app and let it navigate the phone tree instead of you or use it to make a DMV appointment at your earliest convenience. Forget about googling clinical trials near you—DoNotPay can sort them out according to your needs and their individual eligibility criteria. 
We can fill out the paperwork that you need to file at your local small claims court to initiate a dispute. You can work around the U.S. penal system and have DoNotPay locate an imprisoned loved one instead of you trying to reach individual prisons attempting to do it yourself.
You don't need to go to great lengths to get in touch with a counselor to sign your college fee waiver either—DoNotPay does it for you and then forwards the necessary documents on your behalf. 
DoNotPay Never Ceases To Amaze
Where there's one useful feature, there are nifty features galore!
Use our Virtual Credit Card to sign up for free trials and stop robocalls and spam text messages from reaching your phone. If you feel a free trial unrightfully turned into an expensive paid membership, we can help you request a refund or chargeback for the inconvenience.
We can further assist you in exercising your consumer rights by making a warranty claim in your place and verifying your online accounts with temporary phone numbers.
We can also break down the Freedom of Information Act for you and introduce you to online fax options and property tax reductions.