Is Signing a Purchase Agreement Without a Realtor a Good Idea?
There is a lot that goes into buying and selling residential or commercial property. This is why many people prefer to hire a real estate agent who can:
Assess properties for purchase or help sellers find buyers

Review the

real estate purchase agreement

for their clients

Help clients understand the transaction process
Still, getting professional help from a realtor is costly. Luckily, there is a way to buy or sell property through a purchase agreement without a realtor! 
Read on to see how to write contracts on your own and generate various legal documents with the help of our app!
The Basics of a Purchase Agreement
Before deciding whether to enter into a purchase agreement without a realtor, you should know what a purchase agreement is.
A purchase agreement is a legally binding document between two parties—the buyer and the seller. The agreement details the terms and conditions of exchange, such as:
The amount to be paid

Payment method

Transaction date

Delivery method
Purchase contracts are usually related to the buying and selling of real estate, but they aren't limited to that area. There are also many subtypes of a purchase agreement, most notably the repurchase agreement.
Check out the table below to see some types of purchase agreements, both related to real estate and other areas:
| | |
| --- | --- |
| Real Estate Purchase Agreements | Other Types of Purchase Agreements |
| | |
Why Do People Hire Realtors?
There is a lot of property-related information that buyers and sellers need to understand. Since a regular person can't possess the market knowledge or the negotiating skills an experienced realtor can, working with an agent is usually the default.
Whether you are a buyer or a seller, you aren't legally obliged to employ a real estate agent to enter into a purchase agreement.
Benefits and Risks of Choosing a Purchase Agreement Without a Realtor
Since sellers pay for both parties' realtors, they are the ones who save cash when no one hires a real estate agent. A seller needs to pay around 3% of their home's purchase price for a realtor. If both parties are working with agents, that is 6% of the market value of the home in question.
There are no real benefits for a buyer entering into a purchase agreement without a realtor.
Risks of entering into a real estate purchase agreement without a realtor include:
Signing a fraudulent deal due to insufficient knowledge (applicable to both the buyer and seller)

Selling the property for a lower price than it's valued or not being able to market your home properly as the seller

Paying more than the property is worth as the buyer
Tips for Selling a Home Without a Realtor
As opposed to buyers, sellers can save up to thousands of dollars if they don't hire a realtor.
If you are a seller and don't want to waste money on a real estate agent, make sure that you:
Determine the purchase price

—By doing enough research, you should be able to estimate how much your home is worth. You can also hire an appraiser to help you

Advertise your home properly

—Decide what the selling point of your home is and include that information in the advertisement. You can put a for sale by owner sign in front of your property, pay to include your property on the Multiple Listing Service (MLS) database, and use social media to reach potential buyers

Prepare your home for visits

—A good tip is to make your house look as depersonalized as possible to help buyers picture themselves living in it. This means that you should remove any personal photographs or distinct decorations. Don't forget to lock up your valuables before buyers visit to stay on the safe side

Have all the paperwork ready at hand

—Research your state's laws on a real estate sale and prepare all the paperwork before negotiating with buyers. Among other documents, you'll need tax forms, a pre-inspection report, an original sale contract, and receipts from any repairs
Generate Legal Documents With DoNotPay 
Selling and buying property may require you to deal with many more contracts than just a purchase agreement. Relying on contract templates you find online or the free blank purchase agreement forms isn't advisable. You'll lose much time editing the templates and filling in the blanks to make the document fit your case. This is why DoNotPay has designed a feature that helps you get completely personalized documents in a blink of an eye.
To use our Legal Documents product, you only need to:
Enter the name of the contract you need

Give our chatbot some key information about the document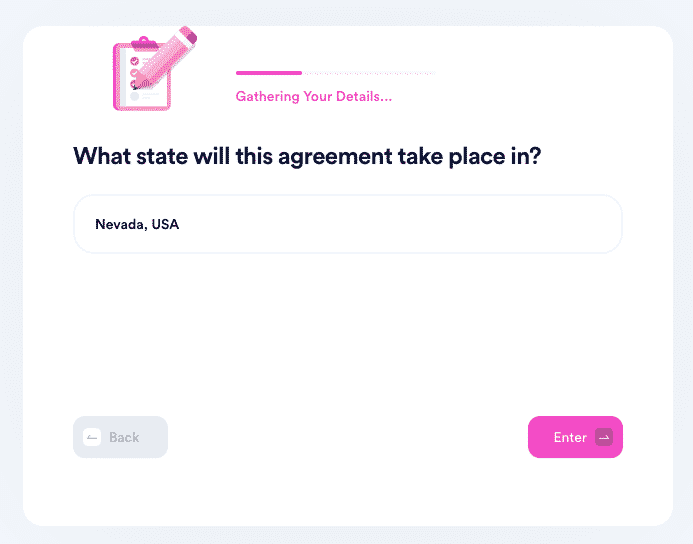 What Contracts Can You Make With DoNotPay?
Make a DoNotPay account today and generate these legal documents in under a few minutes:
Promissory note

Intent to purchase real estate

Quitclaim deed

General affidavit

General business contract

Child care authorization form

Estoppel certificate
Free Yourself From Boring Tasks With DoNotPay's Help
Our AI-driven app comes in handy for numerous bureaucratic or administrative chores that usually take up a lot of time. With DoNotPay's speedy service, even the most tiresome task will be complete in a flash!
You can forget all about waiting in line at the DMV and being on hold with customer service—we will get you to the finish line in a few clicks. Tired of the old snail mail? Use DoNotPay to mail letters fast. Better yet—fax your documents using our app. If your document requires a notary's signature, we can assist you in scheduling a virtual appointment.
No Lawyer—No Problem! Rely on the World's First Robot Lawyer
When you're in a bind but you can't afford a lawyer, there is still something you can do—sign up for DoNotPay and let our award-winning app give you a hand. With our expertise, the following tasks will be a piece of cake: