What Are Puppy Sales Contracts, and Why Do You Need To Sign Them?
You are probably used to the idea of having to sign a legal document when purchasing a vehicle or renewing a lease—but do you need to sign a puppy sale contract when buying a pet?
You will need to deal with legal matters when you want to buy a puppy or a grown-up dog from certain types of sellers. Don't let this stop you from welcoming a new furry addition to your family—DoNotPay can answer all your questions about puppy sales contracts!
Find out how you can generate tailor-made legal documents with the help of DoNotPay in three short steps!
Do You Know What Puppy Sales Contracts Are?
A puppy sale contract is a legal document that contains clear terms of the agreement between a buyer and a puppy seller. These contracts are also called:
Puppy sale agreements

Breeder contracts
A puppy sale contract has plenty of similarities to a regular sales agreement because it details the terms and conditions of a purchase. Since it's specific to buying and selling purebred puppies, it does contain clauses that confuse people who want to purchase a puppy from a breeder.
You shouldn't be too perplexed at the prospect of having to go over a legal document when purchasing a purebred puppy. After all, deciding to buy a pet is not a small commitment, and you should be ready to take on the responsibility that that action entails. Signing a breeder contract before buying a purebred dog helps clarify your rights and the obligations that arise from the act.
Who Uses Puppy Sales Contracts and Why?
Almost all reliable breeders use puppy sale contracts when selling a dog that's been in their care. There are many reasons why breeders do this. They want to make sure you will take proper care of the dog and heed their advice. Drawing up a breeder contract and having you agree to its terms is the breeder's best bet you are ready to take on the responsibility.
Another more obvious reason why reputable breeders use puppy sales contracts is that it's the only guarantee of a fair sale.
What Do the Specific Clauses in Puppy Sales Contracts Mean?
Puppy sales contracts include clauses that are specific to that type of sales agreement. Here's what those sections are:
Sections in the Contract

The Information They Contain

Health clause

This section details how and when the sterilization will be dealt with along with other health guarantees. You will need to take your dog to a vet as often as the contract states and probably inform the breeder when any changes to the dog's health take place. It's best to have both your vet and the breeder agree on the specifics of this clause

Puppy's registration name

Since purebred puppies need to be registered with the

American Kennel Club (AKC)

, this section includes your puppy's AKC registration name. The name is usually a combination of the breeder's kennel name or is otherwise chosen by the breeder. You don't have to call your puppy this name at home, but you'll use the registration name when attending any AKC event

Return-to-breeder section

Every puppy sales contract needs to include a clause that details what happens when the dog's owner is changed or when the buyer can no longer keep the dog

The show-versus-pet-dog clause

Dogs that the breeder believes won't grow to have show or breeding potential are called pet dogs. Whichever type your puppy is, your obligations will differ according to it, which is why this clause exists
Can You Rely on a Puppy Sale Contract Template?
You have countless contract templates available on the internet, including puppy sales contracts. Since no breeder will give you the same breeder contract, it's best not to rely on these templates. 
All puppy sales contracts include:
The breeder's and buyer's full names

Information about the puppy, including sex, breed, and date of birth

Purchase price
The breeder contract that you are signing may also contain additional clauses. For example, the seller may require that you send a photo of the puppy when they can't see them at events. Breeders want to check whether the dog they sold is taken care of, and this is one way they can do that.
You should thoroughly review the puppy sales contract the breeder gives you and ask them for additional explanations if certain terms are unclear to you.
Sick and Tired of Contract Templates? Use DoNotPay!
If you want to write a contract on your own, you've come to the right place! With the help of DoNotPay, you neither have to rely on incomplete contract templates nor the ridiculously pricey lawyers.
Our app can generate a fully personalized legal document for you if you:
using any web browser

Tell us what document you need

Provide key details about your document, such as the names of the parties, location, and date of execution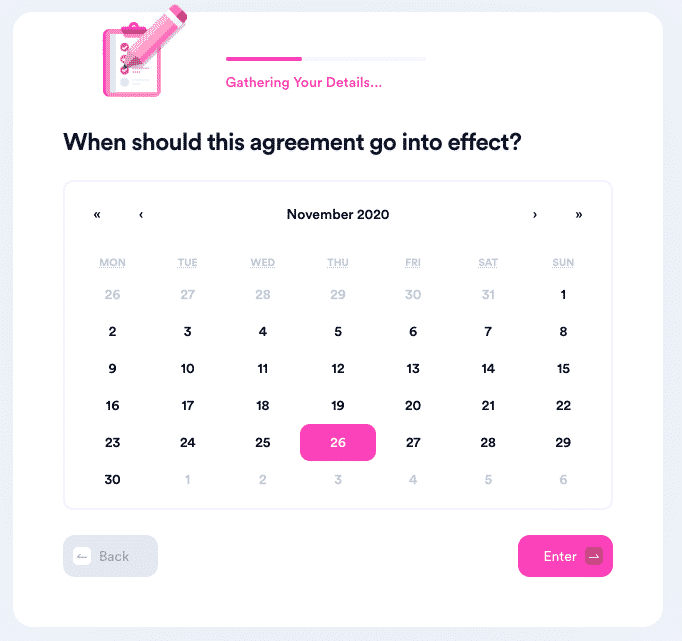 What Legal Documents Does DoNotPay Generate?
DoNotPay creates a variety of contracts you need in your daily life and makes legal matters significantly easier to handle for people who don't have a law degree.
to get a(n):
Promissory note

Intent to purchase real estate

Child care authorization form

Quitclaim deed

General business contract

Estoppel certificate

General affidavit
Free Yourself From Boring Tasks With DoNotPay's Help
Our AI-driven app comes in handy for numerous bureaucratic or administrative chores that usually take up a lot of time. With DoNotPay's speedy service, even the most tiresome task will be complete in a flash!
You can forget all about waiting in line at the DMV and being on hold with customer service—we will get you to the finish line in a few clicks. Tired of the old snail mail? Use DoNotPay to mail letters fast. Better yet—fax your documents using our app. If your document requires a notary's signature, we can assist you in scheduling a virtual appointment.
No Lawyer—No Problem! Rely on the World's First Robot Lawyer
When you're in a bind but you can't afford a lawyer, there is still something you can do—sign up for DoNotPay and let our award-winning app give you a hand. With our expertise, the following tasks will be a piece of cake: