Applying Punitive Damages for a Breach of Contract
When someone has breached a contract and caused damage to your business, you need to find a way to compensate for your loss. While suing is not the only option, you should prepare for legal action if the other party does not want to negotiate.
What are punitive damages for a breach of contract claim? This article explains these and other types of possible damages and remedies a court can award.
What Are Punitive Damages in Breach of Contract Cases?
Punitive damages are generally awarded in lawsuits for breach of contract to:
Punish the defendant—The breaching party has done something that asks for a more severe punishment than a fine that is usually associated with the breach of contract
Deter others from repeating the wrongdoing—A court issues punitive damages for a breach of contract to warn the defendant and anyone else that they would be fined heavily for carrying out the same illegal activity again
When Are Punitive Damages Awarded for a Breach of Contract Claim?
Punitive damages are often awarded in breach of contract actions involving the following issues:
Breach of Contract Cases Involving
Specifics
Insurance bad faith
An insurance company might be liable for punitive damages if they act in bad faith against the policyholder, i.e., violate the insurance policy
Tort and contract crossover issues
Punitive damages could be awarded if:

A contractual party deliberately commits a tort
The tort causes harm or injury to the other party

Certain fraud claims
A court might award punitive damages in case:

There is purposeful fraud
The defendant's fraudulent behavior is so severe that it amounts to a tort case
How Often Are Punitive Damages Awarded in Breach of Contract Cases?
Punitive damages are generally not awarded in an action for breach of contract. The reason for this is that judges assume that both you and the other contractual party:
Have entered into the contract willingly
Were aware of the risks when you agreed to contractual terms and obligations
If you decide to sue for breach of contract, you should check your state laws to determine whether these damages are used.
Keep in mind that:
Punitive damages:

Are difficult to argue for
Might be assigned to a defendant as an additional amount to compensatory damages

The amount of punitive damages:

Is set in state statutes or law
Can be extremely high in certain cases

A plaintiff is usually awarded compensatory or other types of damages for the losses they have suffered as a result of the breach
Other Types of Damages
Take a look at some other damages you can expect a court to award in case you decide to take legal action for the breach of contract:
Compensatory damages—These damages are issued to put you back in the same position you would have been in if the breach had not occurred
Liquidated damages—If there are liquidated damages clauses in the contract, a judge might decide to award these damages unless they find them unreasonable
Nominal damages—A judge might award small and symbolic nominal damages to show you are in the right
Ordinary damages—A court could award these damages to compensate you for some ordinary or general losses caused by a natural or probable breach of contract course of events
Equitable remedies—If a judge finds monetary damages to be insufficient compensation for you, they might award remedies, such as:

Specific performance
Contract reformation
Contract rescission
What To Do Before Starting a Lawsuit
You should try to reach an out-of-court settlement with the breaching party because legal proceedings are usually:
Time-consuming
Expensive
Complex
Sending the other contractual party a demand letter can be beneficial for breach of contract cases because:
Most disputes can be resolved outside of court
Before starting legal action, some U.S. state laws mandate you to inform the other contractual party of the breach by creating and delivering a demand letter
Use DoNotPay to draw up a reliable demand letter and solve the problem without involving judges and pricey attorneys or collections agencies.
Choose DoNotPay To Generate a Powerful Demand Letter
There is no need for you to inspect numerous online demand letter templates and adjust them to your specific circumstances. Our AI-powered app keeps track of relevant state laws and can draft a demand letter for you automatically.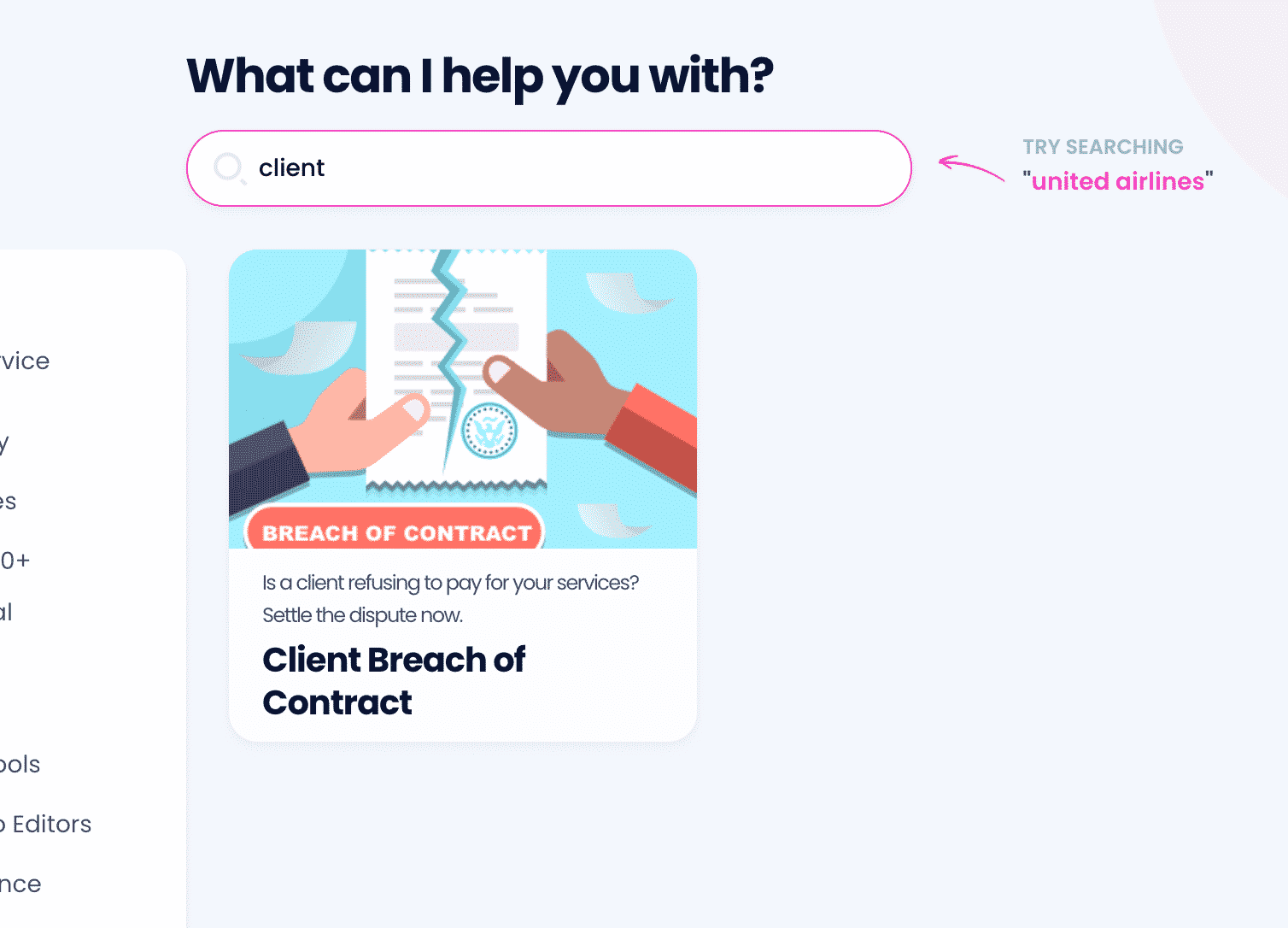 Subscribe to DoNotPay and take these steps:
Find the Client Breach of Contract feature
Answer chatbot's questions to provide information about your agreement and the breaching party
Indicate a new deadline by which you would like the other party to perform their obligations
Provide additional evidence to support your claim (if available)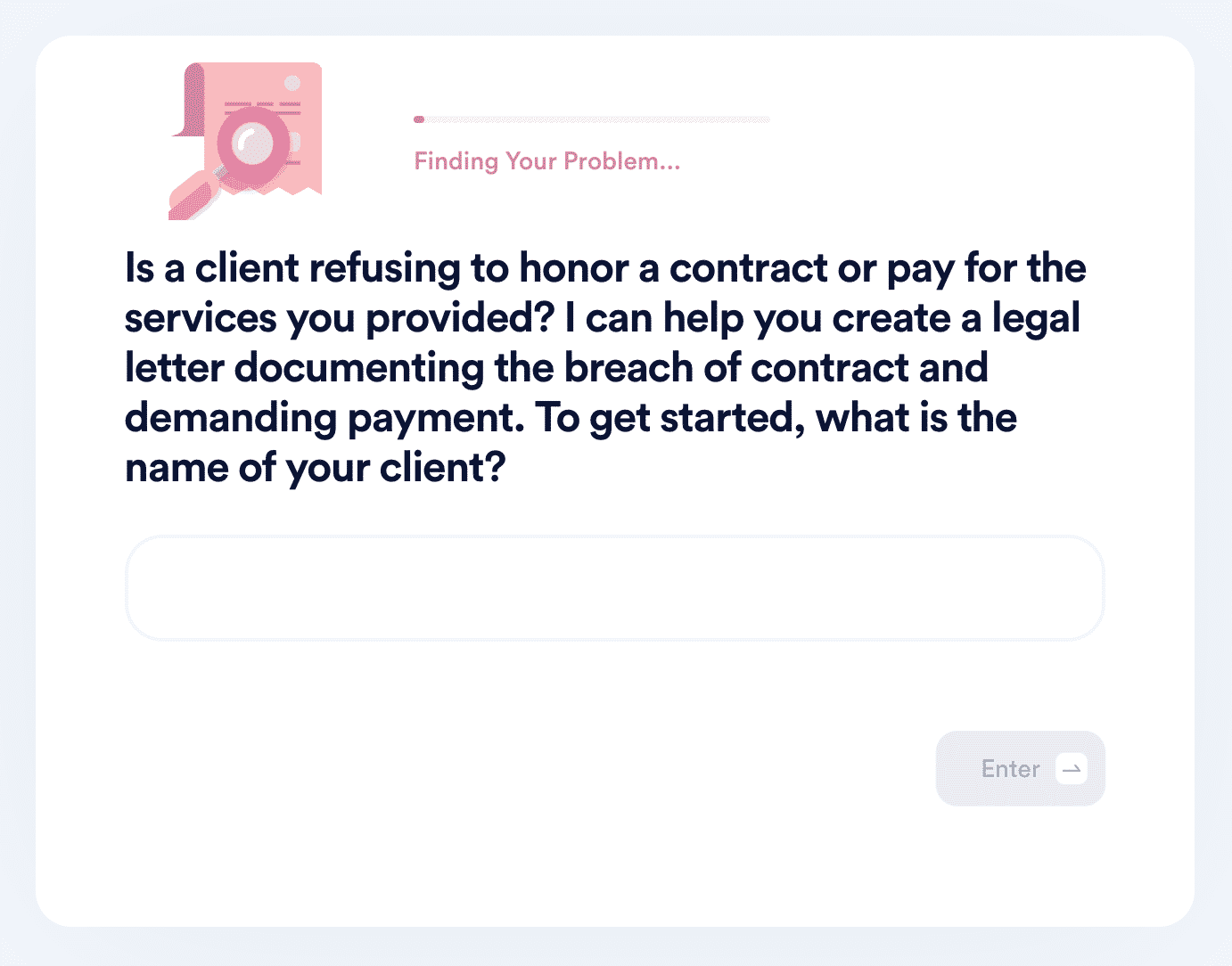 Once you have entered the required info, our robot lawyer generates an airtight demand letter you can send to the breaching party.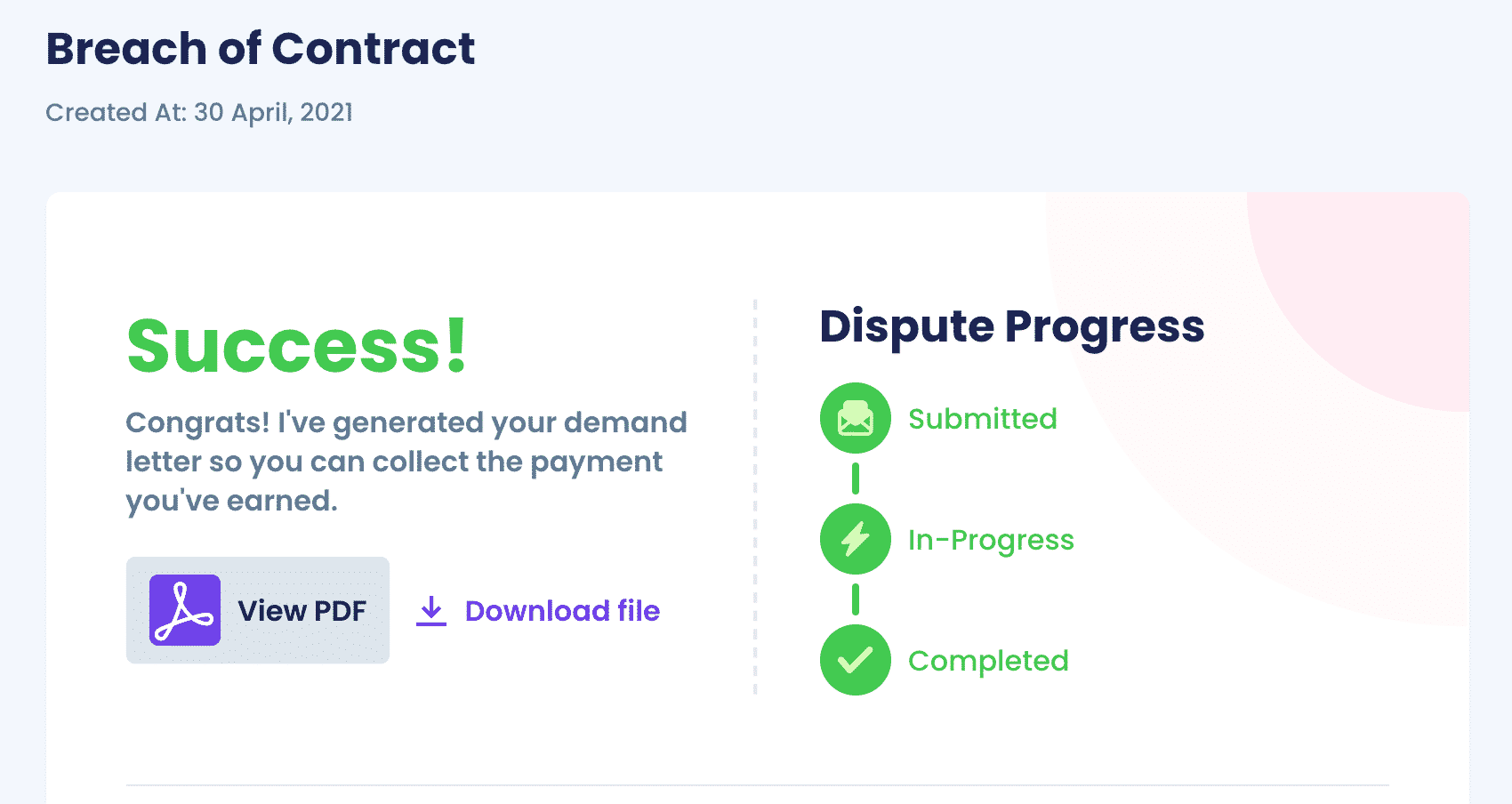 When To Sue for Breach of Contract Damages
DoNoPay can also help you take the matter to small claims court in case the breaching party is not willing to negotiate. You can sue a contractual party for damages when they have not performed their obligations under the contract.
Before initiating a lawsuit, you should determine the following elements:
The existence of a valid agreement—For a contract to be enforceable, it needs to include an offer, acceptance, and consideration
The material performance of contractual obligations—You need to prove you have fulfilled the terms of the contract
Failure to honor commitments—You will have to provide evidence of the other party's failure to perform the agreed-upon obligations (leading to, for instance, a material or anticipatory breach of contract)
Resulting damages—You should collect evidence of any losses you have suffered because the defendant has failed or refused to hold up their end of the deal
Keep in mind that the breaching party might prepare affirmative defenses that could dismiss your claim.
Learn About State-Specific Breach of Contract Requirements
Use the following table to get the details about state laws and procedures in:
DoNotPay Offers More Help for Your Business
Running a small business is no small feat. When you're drowning in red tape, DoNotPay is here to lend a helping hand. Whether you need to register your trademark or protect it later on, we have got it covered. With our help, you will keep your logo, slogan, and business name safe.
Are you also yet to register for an Employer Identification Number (EIN)? Not to worry—our app can file the IRS SS-4 form in a few clicks. With the world's first robot lawyer at your fingertips, you will also be able to create your 83(b) election forms with ease—ready for your employees to sign them right away.
In case you are struggling financially, we can assist you with a business loan application.
Communication Has Never Been Easier With Our App
Keeping up with clients can be challenging, especially if each has a preferred method of communication. Luckily, our multifunctional app makes it easy to both fax and mail contracts, letters, and documents.
You can also count on our assistance when you need to:
Fight fake negative reviews online
Deal with a client regarding a breach of contract
Dispute fraudulent chargebacks
Thanks to DoNotPay, there is no need for back-and-forth communication. We will handle the necessary demand letters and forward them on your behalf.
We can also help you manage your DMCA agent registration and Privacy Shield program self-certification.