All You Need To Know About Psychology Scholarships
Does your dream job involve understanding human behavior, learning how to communicate effectively, and utilizing those skills to impact others' lives? If the answer is yes, a psychology degree is meant for you. Once you enroll in a psychology program, you can apply for numerous scholarships and grants to reduce your college expenses.
You don't have to read other people's minds to get the information you need about psychology scholarships, though, because you'll find it in this guide! Learn how to look for awards you're eligible for with no fuss!
Where To Look for Psychology Scholarships
Since psychology is omnipresent in all professions, you can find psychology scholarships by:
Asking the financial aid consultant at your school about the available opportunities
Becoming a member of various organizations dedicated to people studying and working in the field of psychology, such as:

American Psychological Foundation
National Institutes of Health
Psi Chi, The International Honor Society in Psychology
Society for Military Psychology

Using scholarship websites
Contacting federal and state agencies
Finding psychology scholarships can be difficult as the resources are scattered. With DoNotPay, you don't have to go above and beyond to find the awards that work for you! Sign up to receive your custom list of psychology scholarships in a matter of minutes!
Requirements for Scholarships for Psychology Majors
Check the following table to learn about the two types of requirements you need to meet to apply for scholarships for psychology majors:
Which Scholarships Are on the Table for Psychology Students?
Some of the many categories of scholarships for psychology majors include:
Psychology scholarships for high school seniors
Psychology scholarships for undergraduates
Scholarships for graduate students in psychology
Forensic psychology scholarships
Scholarships for women in psychology
Military psychology scholarships
Psychology Scholarships for High School Seniors
High school seniors planning to enroll in a psychology program in the next academic year can apply for the following scholarships:
Jessica Lynn Herman Memorial Scholarship—for students attending high school in the Huntington Beach High School District who are interested in social sciences
Behavioral Health Academic Scholarship Program—for high school seniors who are planning to major in psychology, counseling, social work, nursing, or a related field
Psychology Scholarships for Undergraduates
Undergraduates majoring in psychology have the most scholarships at their disposal. Check out the following table to learn about some of them:
Scholarship
Eligibility Criteria
Family & Children's Services of Lebanon County
Applicants must:

Be residents of Lebanon County in Pennsylvania
Plan to major in a field of social sciences or human services, such as medicine, nursing, or social work

National Institutes of Health (NIH) Undergraduate Scholarship
Students must be:

Coming from disadvantaged backgrounds, for example, a low-income family
Planning to pursue a career in one of the following fields:

Biomedicine
Social science
Behavioral health

Psi Chi Undergraduate Scholarship
This scholarship awards academically brilliant students majoring in psychology
Sharon Stephens Brehm Undergraduate Psychology Scholarships
Applicants must demonstrate financial need
Scholarships for Graduate Students in Psychology
Graduate students typically have fewer scholarships to qualify for, but that is not the case in the field of psychology. Some of the scholarships graduate students can apply for include:
The Leonard And Helen R. Stulman Foundation Scholars Grant—for Maryland residents pursuing a graduate degree in social work or a mental health field
SHRM Graduate Foundation Scholarship—for students pursuing a master's degree in human resources or an HR-related field
Don Renschler Scholarship—for Washington residents planning to enroll in a mental-health-related graduate program. Priority is given to LGBTQ+ students, their families, and allies
Forensic Psychology Scholarships
Take a look at the following table to learn about scholarship opportunities for forensic psychology majors:
| Scholarship | Award |
| --- | --- |
| Ellis R. Kerley Forensics Scholarship | $2,500 |
| George H. Robinson Memorial Scholarship | $500 |
| Lizette Peterson-Homer Injury Prevention Grant Award | Up to $5,000 |
Scholarships for Women in Psychology
Future female psychologists can apply for many scholarships, such as:
Alice Conger Patterson Scholarship—for female students who are 23 or older and want to enroll in select institutions in North Carolina
Stephanie D. Brown Memorial Scholarship—for female high school seniors in Dutchess County, New York, majoring in teaching, drama, or psychology
The Carol Williams-Nickelson Award for Women's Leadership—for women pursuing a doctorate in psychology and participating in research that focuses on women's issues
Military Psychology Scholarships
Psychology students can pursue a career in military counseling. Depending on the branch of the U.S. armed forces they decide upon, they can apply for the following scholarships:
Army Health Professions Scholarship Program (HPSP)
Navy Health Professions Scholarship Program (HPSP) for Clinical or Counseling Psychology
Air Force Health Professions Scholarship Program (HPSP)
Find Psychology Scholarships With DoNotPay!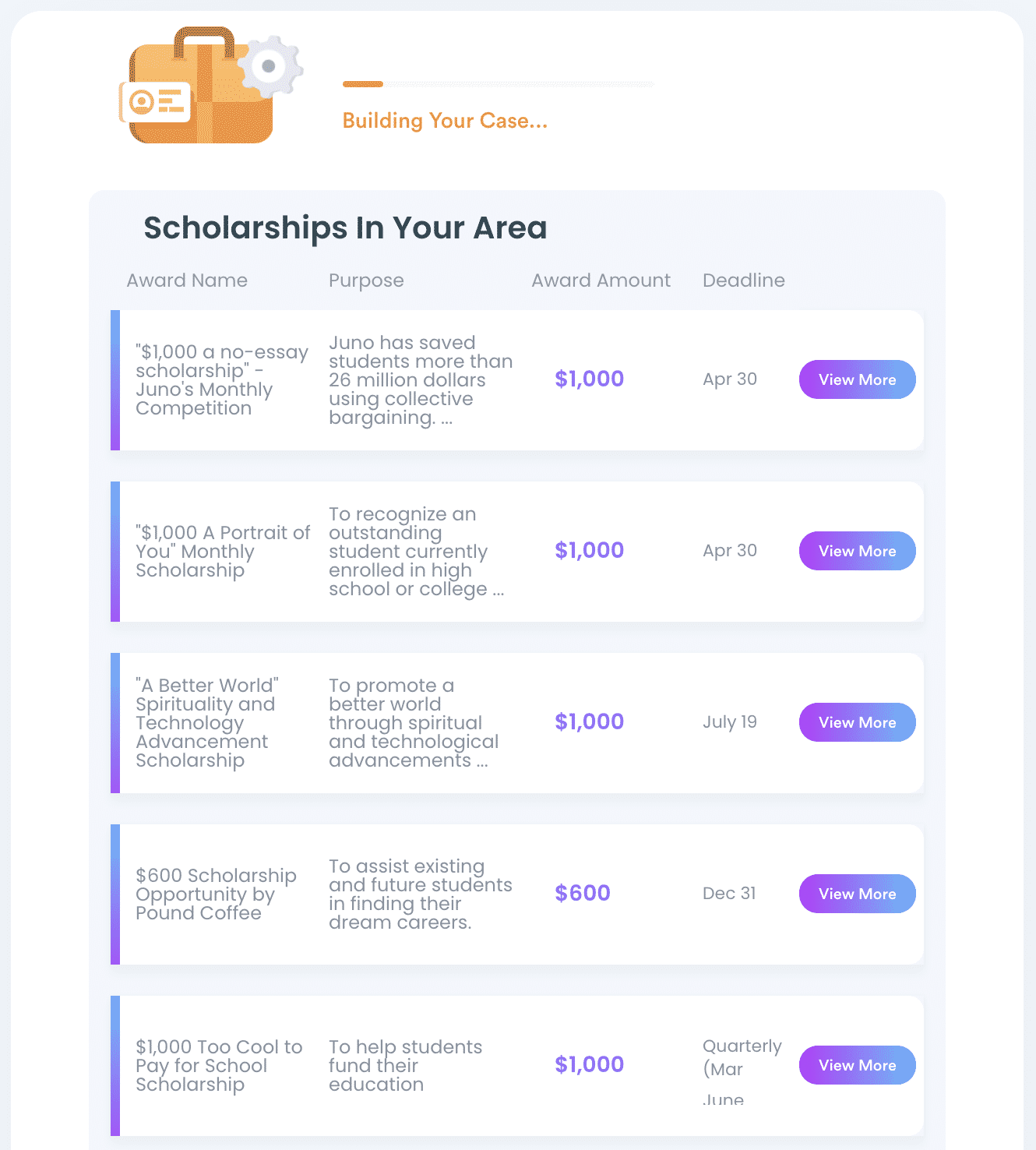 Psychology scholarships are available for many subdisciplines and levels of study, which makes it hard to evaluate which ones you qualify for. You don't have to scrape various resources to discover opportunities you're eligible for because DoNotPay can do it for you! You're three steps away from receiving a list of psychology scholarships based on your qualifications:
Navigate to the Apply for Scholarships product
Fill out the questionnaire
After you complete all steps, your list will be available in a matter of minutes so that you can sift through all available essay and no-essay scholarships in one place.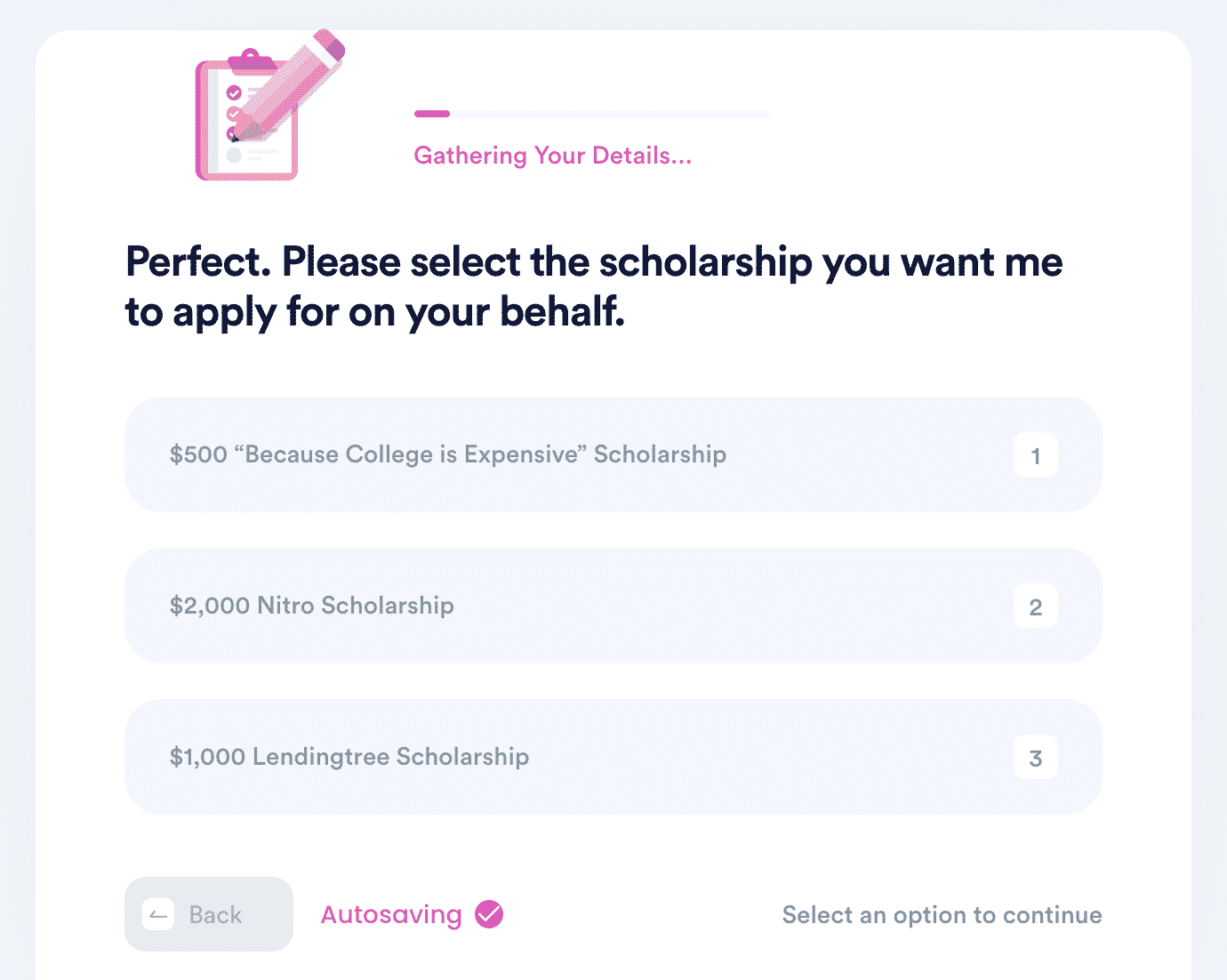 DoNotPay Helps You Run Errands Without Leaving the Comfort of Your Home!
If you're on a tight schedule and you can't afford to spend hours running errands, DoNotPay steps in with a perfect solution! You can skip going to the post office to request an item return or visiting a notary public to get your documents notarized—Our app will help you get it all done without going anywhere!
Visiting your local Walmart to have your passport photo taken is unnecessary since DoNotPay can help you get it at home!
Consult the list below to see what other tasks you can complete using our app:
Unsubscribe From Unwanted Services at Any Time
Companies tend to keep charging their clients monthly subscription fees automatically if they don't end their subscriptions. Stop wasting money on forgotten memberships—DoNotPay will show you how to terminate your subscription in a few clicks!
You can also learn how to sign up for a free trial without getting charged, create a burner phone number or a virtual credit card hassle-free!