The Best Tips on How To Protect Trademarks With Zero Stress
Have you just come up with a perfect slogan or logo for your small business? The best way to save it from infringement is to register it as a trademark. By doing so, you will keep your ideas original and emphasize the individuality of your company.
If you are still not sure what to do when you need a trademark and what the application procedure looks like, do not skip this guide! We will teach you how to protect trademarks yourself or to do it in record time!
Why Are Trademarks Significant?
While copyrights safeguard your artistic and literary projects, such as books or songs, trademarks protect distinctive elements of your business.
Whether you have a great domain name or an excellent podcast title, you need to get the exclusive right to use them without other people stealing your ideas. The easiest way to do it is to file a trademark and protect your solution legally. This way, you get the right to sue anyone who tries to use the same or even a similar mark.
Trademarks serve to protect goods and products. If you want to protect a particular type of service, you should consider service marks.
How To Protect Your Trademark From Infringement
There are three ways to prevent other people from stealing your mark:
| Method | Explanation |
| --- | --- |
| Use the trademark for commerce or business purposes without registration | You get common law ownership rights automatically once you start using a specific mark. The main disadvantage of this concept is that you can use the trademark only locally. People will still be able to use the same or similar mark in other parts of your state or worldwide |
| Register your idea as a state trademark | This type of trademark allows you to be the only person using a specific name, logo, or other protected business asset in the entire state. To register for a state trademark, you should complete an application form and submit it to the secretary of state |
| Apply for a federal trademark with the U.S. Patent and Trademark Office (USPTO) | The USPTO allows you to register your trademark on a national level. It means you can use it anywhere in the U.S. as long as you need it if you renew the registration regularly every ten years |
Criteria You Must Meet To Protect Your Trademark With the USPTO
Four main requirements you have to meet when registering your trademark with the USPTO are:
Filing the mark under your legal name—If you own a company, you can also register the idea under the official name of your business, partnership, or association
Stating your citizenship—You do not need to be a U.S. citizen to apply for a trademark, but you must disclose your citizenship details in your application
Opting for a specific filing basis—If your trademark is already a part of your official business, you should base your application on a use-in-commerce concept. Intent-to-use filing basis applies when you want to register a trademark you have not used so far
Providing the agency with a specimen/drawing of your idea—This step is required only if you are already using the trademark
What Does a USPTO Trademark Application Process Look Like?
If you opt for filing a federal trademark, the registration procedure includes the following phases:
Performing a USPTO trademark search to check if someone else is already using the solution you want to register
Defining the trademark class(es) for your goods
Paying the trademark application processing fees
Completing an application form with accurate information
Submitting the form online along with the supporting documentation
Waiting to receive a report from the Office and respond to its actions promptly
File Your Trademark Application in a Heartbeat With DoNotPay
When registering a trademark, you must take care of each detail of your application. Unfortunately, many people get rejected because they fail to provide correct details or choose the wrong class for their business.
DoNotPay helps you skip the hassle by guiding you through each step of the trademark application process. No need to use professional services and pay a small fortune for them! All you have to do is disclose a few important details and your trademark ideas. We do the rest at the speed of the light!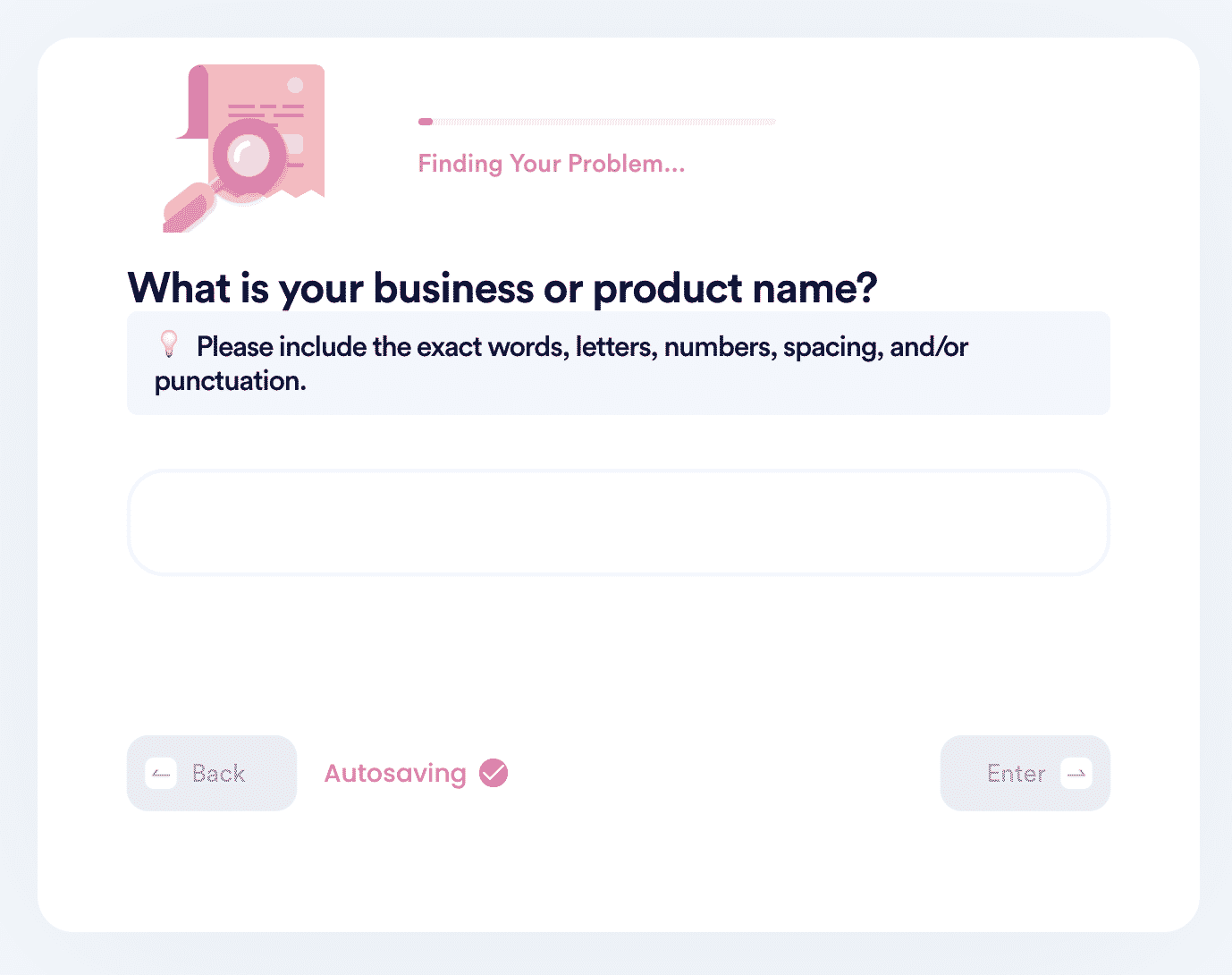 Here are the instructions you should follow:
from any preferred web browser or device
Pick Trademark Registration
Select the class and type of your trademark and describe it in more detail
Answer a few simple questions about yourself and your business
Verify the payment of your application processing fee
Once we receive your info, we will:
Check the trademark databases to ensure your mark is unique
Fill out the application form in your stead
Send it to the UTSPO automatically
Give you a tracking code that will allow you to check the application status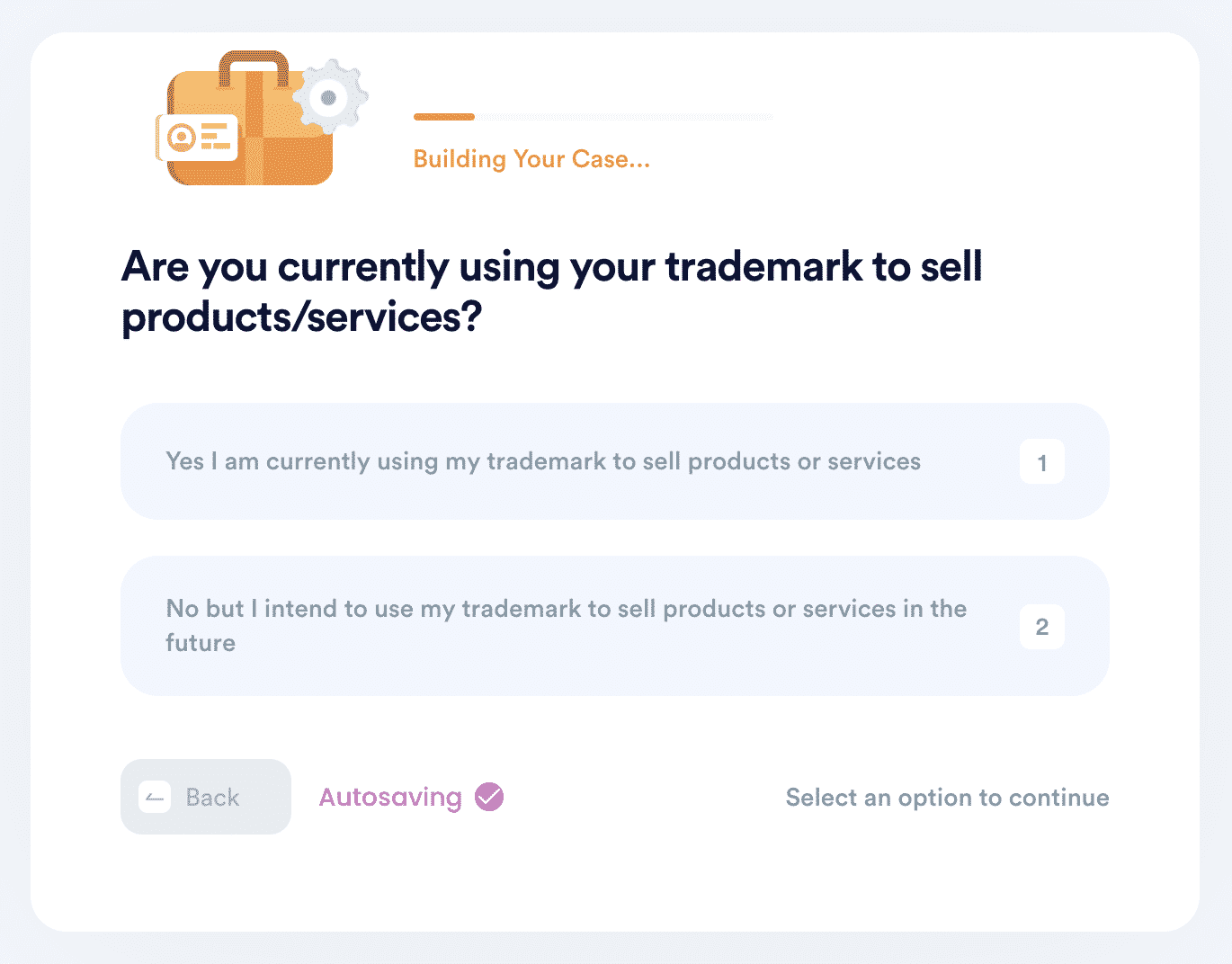 DoNotPay Goes the Extra Mile
Our app has much more to offer—products that will protect and elevate your business.
Count on DoNotPay when you want to:
Simplify Processes
Solve Issues

83(b) election form submission
Business loan application
Employer Identification Number (EIN) registration

Trademark infringement
Fraudulent chargebacks
Keep Your Company Safe
For your business to thrive, you need to be prepared for any problem that may come your way. This is where DoNotPay comes in! We can help you trademark your company name and even the logo or slogan. To avoid any copyright infringement issues in the future, you can use our app to register your DMCA agent. If you are worried about your clients' privacy, we will be glad to assist you in getting into the Privacy Shield program.
Are there any negative reviews online slandering your company? DoNotPay can help you get rid of fake comments potentially hurting your business.
As it all comes down to communication, we have developed a feature to help you reach your employees, associates, or clients the easy way. At no additional cost and no post office visit necessary, our AI-powered app can both fax and mail letters and documents.