The Essentials of Proprietary Information and Inventions Agreement
Many companies sign a proprietary information and inventions agreement (PIIA) with their employees to protect their intellectual property from disclosure.
Writing such a contract is a serious task since such legal documents require a flawless structure and contents to remain valid. This is why our guide provides you with the best tips on creating a solid PIIA and generating various other agreements without relying on inaccurate contract templates. Subscribe to DoNotPay and learn how to do it with zero effort!
What Counts as Intellectual Property and Proprietary Information?
Even though contracts usually define the main terms of the deal, not all of them include a list of all business aspects qualifying as proprietary information or intellectual property. There are four main types of intellectual property:
Copyrights

Trademarks

Patent rights

Trade secret rights
These categories include numerous elements that form part of the overall business profile. They include:
Names

Designs

Policies

Inventions

Strategies

Marketing plans

Customer details

Financial information

Personnel information

Specific business ideas

Literary and artistic works

Formulas and procedures

Research and development

Software and technology specifics
Definition of a Proprietary Information and Inventions Agreement
A proprietary information and inventions agreement (PIIA) is a contract that obliges an employee to keep the internal intellectual property and inventions of the employer confident. The worker agrees not to use or share the particular proprietary information unless the company (or inventor) gives them special permission to do it. This way, the employer ensures that the ideas and strategies they created will remain private and unavailable to third parties.
What Disclosures Can a PIIA Cover?
Some recommended clauses that a PIIA should include are listed in the table below:
Clause/Section
Details

General information

The introductory part of the agreement should state the names of the signing parties. Leave a place for signatures and the effective date at the end of the document

Confidentiality

A confidentiality clause states that the employee should treat the proprietary information and inventions as the exclusive property of the employer. They can't disclose any related details or share them with third parties

Assignment

The assignment section should contain the list of:

All inventions made by the employee

All proprietary rights the employer wants to assign to the employee if there are any

Non-competition

The employee should agree not to engage in any competitive business nor use the employer's intellectual property in it

Return of company document

The employer defines the precise types of documents that the employee should give back once the employment contract ends

Governing laws

The parties must note the state-specific laws and regulations the agreement must align with
Do You Need To Have Your PIIA Notarized?
All you need to do to make your proprietary information and inventions agreement legally binding is to sign it along with the other party. Some people decide to have it notarized for extra security, but this step isn't necessary.
How Can DoNotPay Help You Draw Up Contracts?
If you have tried to write a contract before, you probably know what a fuss it can be, especially if you aren't familiar with the law. To avoid mistakes and get a complete contract hassle-free, turn to DoNotPay and try out our Standardized Legal Documents feature!
We have developed a specific tool that enables you to generate various agreements and other legal documents in a few clicks! Say goodbye to failed drafts and overpriced legal services—DoNotPay provides a fast, affordable, and effective solution.
To get your agreement with our help, follow the instructions below:
Sign up for DoNotPay

and log in to your account

Look for the desired document by entering the keywords in the search box—

affidavit

,

NDA

, or

lease agreement,

for example

Specify the details your contract should cover
Once you complete this short procedure, you can access a personalized contract tailored to your needs and wishes!
If you sign up for our service, you will gain access to multiple standardized documents, including:
Quitclaim Deed

General Business Contract

Non-Compete Agreement

Child Care Authorization Form

Intent To Purchase Real Estate

General Affidavit

Promissory Note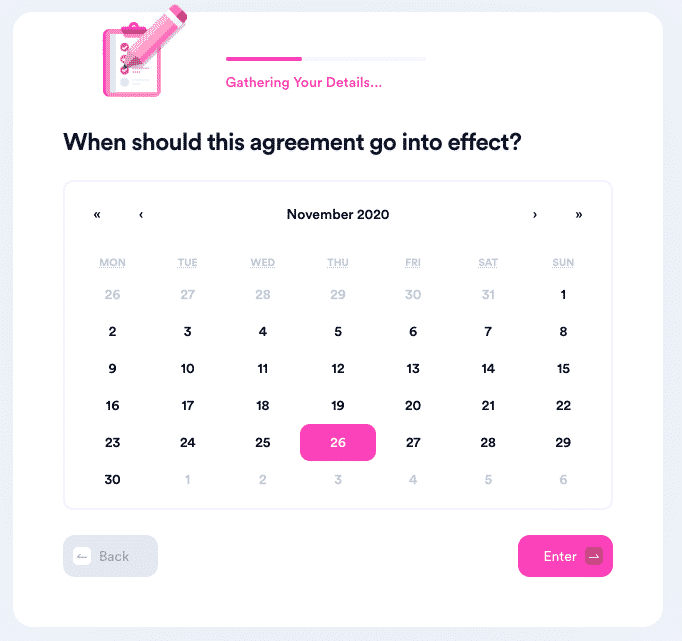 Is Standard Notarization Too Much Hassle? Find Online Notaries With Our App!
Some legal documents require notarization to bear more legal weight. Unfortunately, getting your signature validated in the presence of a notary is usually a lengthy and time-wasting task. Besides setting a date that will fit into the official's tight schedule, you must drive or walk to their office and wait in long lines. With DoNotPay, you can forget such complicated options and have your documents notarized remotely in a matter of minutes. 
Our service can connect you with online notaries that work 24/7, 365 days a year. By providing your email address, you get a chance to schedule an appointment on your preferred date and time! Here's how to do it:
Open DoNotPay

in any web browser

Choose the

Notarize Any Document

feature

Upload your document

Type in your email address
You will receive a link through which you can pick the time slot that fits in your schedule!
Learn About DoNotPay's Awesome Products!
DoNotPay is a multifunctional app that can solve numerous everyday challenges swiftly. 
You can use our app to protect your work from copyright violations, schedule your driving exam or any other appointment with the DMV, reduce your property taxes in a few steps, and similar.
We have created many useful products to help our users take care of their issues through the same app. With us, you can:
DoNotPay Connects You With Your Loved Ones
Sending letters to inmates can be difficult since you have to follow certain rules to a T to avoid having your letter rejected. The situation is even more complicated if you don't know where your incarcerated loved one serves time. DoNotPay's app can help you locate prisoners and correspond with them without worrying whether you're breaking any rules. 
Do you want to send a letter, but you don't feel like heading over to a post office? By using our mailing service, you can mail as many letters as you want from the comfort of your home. With DoNotPay, you can also send online faxes in under five minutes!
Email and text spam is something that everyone experiences at least once in their lives. DoNotPay has a solution for that too. Access your DoNotPay account and count on us to help you block spam and get compensation by reporting pesky robocalls.