Gifts, Estates, and the
Property Transfer Tax Exemption
Made Clear by DoNotPay
Transferring property happens all the time—through real estate sales, the owner's death, or a gift to a family member.
The U.S. knows this and is intent on taking advantage of every opportunity to increase its tax revenue. Every time your property's ownership is transferred, the tax authorities take a cut.
DoNotPay is the expert on reducing property tax, and transfer tax, while not directly connected to helping you pay your property taxes, is a related field that we can help you with.
What Is Transfer Tax?
Whenever you transfer your property to somebody else, you are liable to pay tax on the transaction.
The tax is calculated on the transaction's value and is administered by states, counties, or municipalities. It is usually a tax that you can't deduct from your income tax returns, and most states and counties see it as an excise tax or a tax on trade.
The key points to note about transfer tax are:
A property sale is not complete until the state or county transfer tax has been paid

In the case of real property, deeds of ownership will not be assigned to the new owner until the transfer tax has been paid
What Kinds of Transfer Tax Are There?
Transfer tax is payable on the sale of your property to a new owner. It is usually the seller's responsibility to pay the transfer tax, and before it is paid, the deed transfer will not take place.
Just as there are states that charge low rates of property tax, some states do not impose a transfer tax on the sale of real property. These states are:
Alaska

Idaho

Indiana

Louisiana

Mississippi

Missouri

Montana

New Mexico

North Dakota

Texas

Utah

Wyoming
Apart from the sales transfer tax, there are three inheritance-based kinds of transfer tax you must pay upon completion of a sale of your property, as follows:
Estate tax

Gift tax

Generation-skipping transfer (GST) tax
Estate Tax
Estate tax is usually only calculated and paid when you die and your estate is wound up. Upon death, the value of all your property is totaled up, and your will is scrutinized to determine who gets what. Each transfer of ownership as set out in your will is subject to transfer tax, which is normally paid by your estate.
If your will stipulates that your business partner should receive your portion of a joint business, the value of that bequest is calculated, and transfer tax is due on that amount.
Gift Tax
If you make a gift of your property to anyone, the amount of that gift is liable for gift tax. If you, for example, sell your old car to your employee for a nominal $5,000, whereas the car's market value is $10,000, you have effectively gifted your employee $5,000. This amount is taxable under transfer tax regulations.
Generation-Skipping Transfer Tax
The GST tax was introduced to stop people from avoiding transfer tax by transferring directly to their grandchildren and skipping the direct descendent. The GST tax means that you will pay transfer tax on any transfer of property that skips a generation, just as you would when transferring to your children.
How Can I Avoid Paying Property Transfer Tax?
There are property transfer tax exemptions available to anybody transferring their property, as follows:
Transfer Tax Type

Exemption Amount

Estate tax

Your estate is exempt from transfer tax if its value is calculated at less than $11,700,000. This amount is adjusted for inflation each year. The estate tax rate is between 18% and 40%

Gift Tax

You are allowed to give gifts of up to $15,000 each year without having to declare them or pay the transfer tax. There are also some circumstances under which you can gift more than this amount, namely:

Gifts to spouses who are U.S. citizens are unlimited

Charitable gifts to registered organizations are unlimited

No limit applies to gifts to educational institutions for an individual's tuition fees and gifts to medical facilities or healthcare professionals for a person's medical care

The gift tax rate is between 18% and 40%

GST tax

The exemption amount is $11,580,000, below which you do not have to pay the transfer tax. The tax rate on GST tax is a flat 40%
Bear in mind that inheritance transfer taxes are different from inheritance taxes, as follows:
| | |
| --- | --- |
| Tax Type | Explanation |
| Transfer tax | This is usually paid by the deceased's estate or the person making the gift |
| Inheritance tax | This is normally paid by the recipient of an inheritance |
How Are Transfer Tax and Property Tax Related?
Transfer tax is payable upon the sale of your property, whereas property tax is an annual levy based on the value of your property and the local property tax rate, which is driven by your county's funding requirements.
Buying a house can become an expensive exercise for both seller and buyer. The seller will normally have to pay the transfer tax on the sales of the property, whereas the buyer will face a new property tax assessment and the annual struggle to secure property tax discounts and exemptions. 
While transfer taxes are a fact of life in most cases, DoNotPay can give you expert help with your property tax burden.
How Can DoNotPay Help Me?
DoNotPay can give you personalized advice on all matters related to your property tax. Our app has a property tax feature that can create a customized guide on steps you can take to minimize your property tax liability.
The guide deals with two main topics:
Topic

Contents

Property tax exemptions

This deals with the exemptions you can claim in your area, the documents you will need, and the locations of your local authority. The most common exemptions covered include:

Homestead exemption

Veterans exemption

Property assessments

This covers your options for negotiating your property assessment down and

lodging an appeal

if you feel your property has been overvalued
How Can I Get DoNotPay's Property Guide?
Getting your personalized property guide is as easy as one, two, three:
Go to DoNotPay in your web browser and

sign up

Look for the

Property Tax

section

Fill in some details about yourself

Wait a few minutes while DoNotPay generates your guide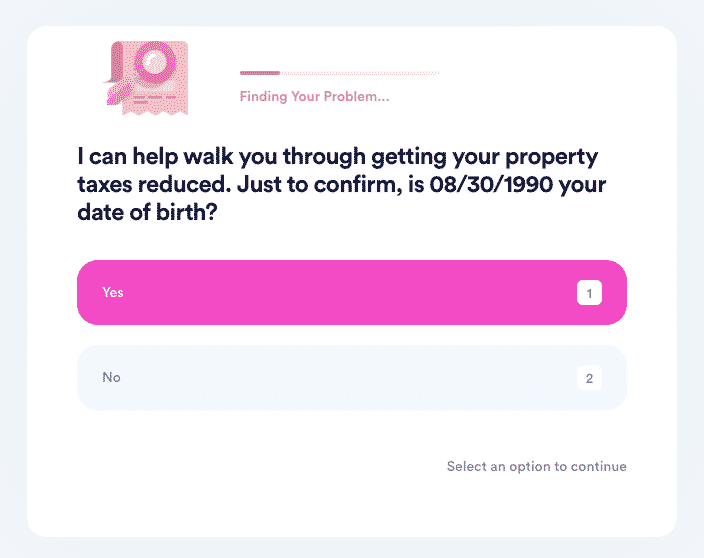 DoNotPay—The Easy Way To Save Money
If it looks like your wallet has a hole and the money keeps pouring out for unnecessary expenses, it might be time to come up with a better saving strategy. 
DoNotPay uses AI-powered technology to identify the best opportunities for some serious penny-pinching or earning a few extra bucks:
| | |
| --- | --- |
| Saving Money | Earning Money |
| | |
Do You Need Help With All That Paperwork?
Saving money is great, but cutting the time wasted on bureaucracy sometimes sounds even better. DoNotPay joins the best of both worlds and helps you avoid boring paperwork while preventing future unnecessary charges and expenses. 
With our help, you can enjoy free trials without any risk, file insurance claims, or handle issues with credit cards. 
You won't have to waste time on researching the right procedures or pay for help if you need to stop stalkers and harassers or put together all sorts of legal documents.