Property Taxes vs. Tax Assessment—How To Spot the Difference
Understanding elementary terms is a first and paramount step to learning how to lower your property taxes.
If you recently started your property taxes journey, you could benefit the most from learning about the property taxes vs. tax assessment distinction. DoNotPay has all the information that can help you with that.
What Are Property Taxes, and Why Do I Need To Pay Them?
Every individual and company that owns property in the United States is obligated to pay property taxes. Property tax rates are calculated and collected by local government taxation departments based on the rules and regulations of each state.
Property tax is based on the value of the real estate and surrounding land, but many jurisdictions also tax tangible personal property.
Since property tax rates and other regulations vary from one jurisdiction to another, it is best to get familiar with the applicable tax laws of your state of residency.
Local governments use the revenue from property taxes to:
Fund road, water, and sewage improvements

Finance education, fire departments, and law enforcement

Sponsor parks, libraries, highway construction, and other services that improve the community
Everything You Should Know About Tax Assessment
A property tax assessment is a process of estimating the value of a property. Tax assessment is used for determining the amount of property taxes that the owner has to pay.
The local tax assessors' office is in charge of handling property tax assessments. Depending on the state or county, tax assessment can be done once a year or less frequently.
The property tax assessor schedules a visit to the property and estimates its fair market value. A property is valued based on its:
Size

Surrounding land

Land-to-property ratio

Location within the state

General condition
What Is the Main Difference Between Property Tax and Tax Assessment?
While property taxes and tax assessment determine one another, they are not the same. People still confuse these terms, so we will try to clarify:
Property tax

—a tax that the government levies on the land, real estate, and certain types of personal property

Tax assessment

—a value assigned to a property for the purposes of levying and collecting property taxes
What Does Total Assessment Mean on Property Taxes?
There are several types of tax assessment-related values, including:
Appraised value

—a value of a property based on the fair market value—a price the buyer would be willing to pay for the property in question

Assessed value

—an adjusted value—a market value multiplied by the assessment ratio. The assessed value affects only the tax bill

Taxable value

—assessed value minus the applicable

property tax exemptions
The total assessment represents the value of every property in the state. How does this affect taxpayers? Tax rates in a state or county are determined based on the total assessed property value—a tax rate is a necessary revenue divided by the total assessed property value. Say that a state or county needs $1 million in tax revenue. If a total assessed property value is $100 million, the property tax rate is going to be 1%.
How To Lower Property Taxes on Your Own
If you need help paying your property taxes, there are a couple of strategies you could try out:
Prepare for a property tax assessment—avoid repairs and improvements before the scheduled assessment

Accompany the assessor to ensure they are doing the job correctly

Point out the damages to help lower the value of the property

Check out your tax bill for any irregularities

Find out if you are eligible for a property tax exemption

File a

property tax appeal

with

DoNotPay

's help
Take a look at the following table to see what the most common property tax exemptions are:
| | |
| --- | --- |
| Property Tax Exemption | Description |
| | The most common type of property tax exemptions which offers tax relief for people whose property is their primary residence |
| | Property tax reduction for senior citizens, usually including people who are 65 years old or older and meet the state's income eligibility criteria |
| | Property tax relief for people who served in the U.S. Armed Forces; some states offer this exemption only to veterans with service-related disabilities |
Each state offers different types of exemptions and has specific rules and requirements, so it's best to check with your local assessor's office.
Reduce Your Property Taxes Using DoNotPay
Handling your property taxes requires proper knowledge and having the right information at hand. You can try to find the info you need online or check with a state official, but that can take a lot of time and energy.
A solution would be to have a custom-made manual that you can check at any time, and DoNotPay can create one for you!
Our comprehensive database grants us access to every state's laws, rules, guidelines, and regulations—we can find out what the states with the lowest and highest property tax rates are in a flash!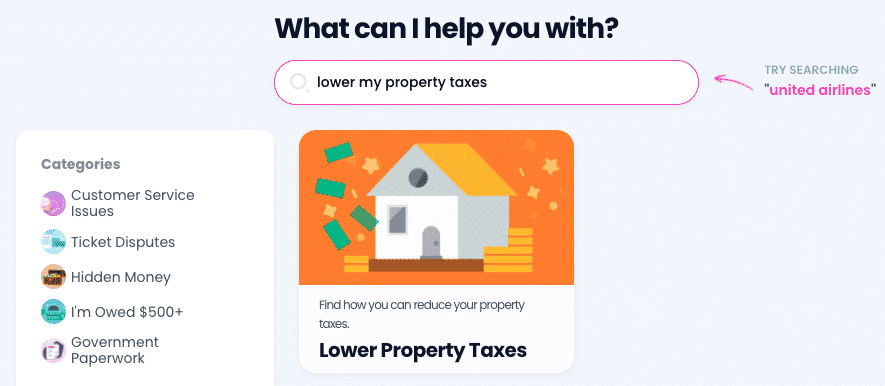 Using our service is simple and requires minimal effort. Here's what you need to do:
Access DoNotPay from a preferred

web browser

Opt for a

Reduce Property Taxes

feature

Answer several questions about yourself and your property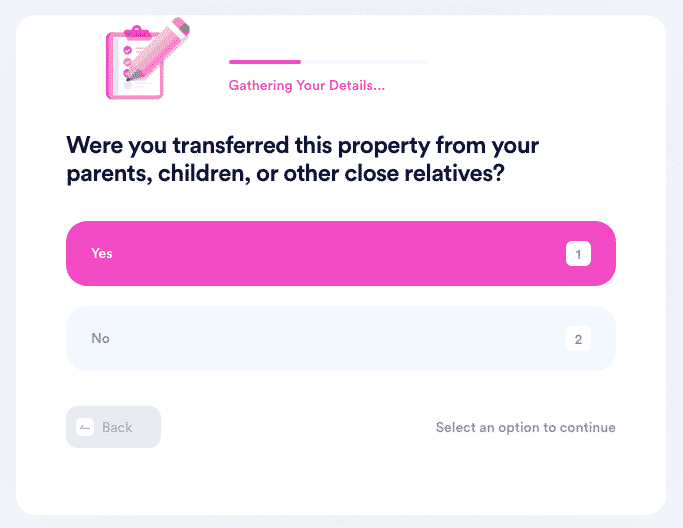 By using the information from your questionnaire, we will generate a personalized guide that you can use for dealing with property taxes. Besides checking your state's property tax regulations, our guide can help determine if you're eligible for any property tax exemptions. If you're unsatisfied with the assessment of your property, this customized handbook has all the necessary information about filing property tax appeals.
Keep Your Money Safe With DoNotPay
Don't let greedy companies threaten your consumer rights by holding back refunds, refusing to cancel your subscriptions, or charging you after your free trial ends.
DoNotPay helps you try out different services without providing your credit card info or phone number—you will never again have to deal with unexpected post free trial charges!
Our app also helps you avoid paying unnecessary parking tickets, delay challenging bills, or waive your college application fees. 
If any company refuses to issue you a refund or an airline won't compensate for canceled flights, we can help you sue them in small claims court.
DoNotPay Is a Time-Saving App
How many customer service reps do you have to deal with only to file an insurance claim or book your DMV appointment?
DoNotPay helps you sort out these tasks and much more in only a few clicks. 
Get your revenge on robocallers, report text scammers, find validated clinical trials, claim your warranties, get in touch with your loved ones in prison, and protect your creative content—all in less than five minutes. 
No more hours-long phone calls, emails, or in-person visits. 
We cover everything from freeing your inbox from spam to providing excellent prep tests for government exams! Save time with your all-in-one app!