Retirement Heaven With Reduced Property Taxes for Seniors in Florida
Florida is the dream retirement location—a mecca for seniors looking for rest, warmth, sandy beaches, and luxurious living. According to the 2010 census, the Sunshine State boasted more senior residents than any other state in the Union.
You've bought your dream retirement home in Florida, and you're looking forward to a life of sun, golf, and sand. The last thing you want is for your retirement finances to be hit by exorbitant property taxes every year.
Florida does not charge state income tax, meaning local authorities get no revenue from residents' earnings. The shortfall is made up of high property tax rates for Florida real estate owners.
This is potentially a serious hit for retirees, but Florida offers property tax support for senior citizens. DoNotPay can help you understand how to lower property taxes in Florida.
What Is Property Tax?
Property tax is a levy payable on the real estate you own. It is charged every year, and the revenue it generates is used to fund the local amenities you benefit from, such as:
Police

Fire department

Garbage collection

Street lighting

Road maintenance

Libraries

Public recreation facilities
Property tax is a necessary evil, but it is worthwhile exploring how you can reduce your annual bill.
How Is Florida Property Tax Calculated?
Property tax in Florida is calculated by multiplying two variable factors:
The local property tax rate

The value of your property
The Local Tax Rate
The tax rate—also known as the mill rate—is determined locally according to the funding needs of the community, and in Florida, it can vary from area to area.
The average Florida mill rate is 1.13%, meaning that the value of your property will be multiplied by this factor to arrive at your annual property tax bill. The U.S. average mill rate is 1.07%, so Florida does not qualify as one of the states with low property tax.
The Value of Your Property
The other part of the property tax equation is the value Florida places on your property. Every property in the state is assessed to determine its fair market value, and the process is administered through the Florida Department of Revenue.
The value of your property is assessed and fixed annually on January 1. In preparation for this, each of the 640 local tax authorities in Florida proposes a budget and holds open meetings between August and September, after which the budgets are ratified. This is called the Truth in Millage (TRIM) process.
The local authorities then divide the budget totals by the number of properties under their jurisdiction and set the mill rate for the next year accordingly.
Do Seniors Get a Property Tax Break in Florida
?
Florida offers the following property tax exemptions for senior citizens over the age of 65:
| | |
| --- | --- |
| Exemption | Explanation |
| Homestead exemption | Available to all residents and amounting to a maximum of $50,000 off the assessed value of the property |
| Senior citizens' exemption | Available in certain cities and counties only, this exemption offers up to a $50,000 reduction in property value assessment if certain income criteria are met. This exemption is in addition to the homestead exemption |
| Blind persons' exemption | $500 exemptions are available to blind Florida residents |
| Total and permanent disability exemption | Quadriplegics or people confined to a wheelchair may qualify for a total exemption on their property taxes |
| Veterans' exemption | Exemptions are available for veterans with varying degrees of disability and can fall between a $5,000 reduction in assessed property value and total exemption from property tax liability |
More information on Florida's property tax exemptions can be found here.
How Can I Get a Florida Property Tax Exemption?
Most of the information you require on claiming a property tax exemption as a senior citizen in Florida can be found here.
You have to apply for a property tax exemption through your local tax authority, the contact details for which are available from the Florida Department of Revenue. You can find their official search function here.
Applications can be made much easier by letting DoNotPay help you.
DoNotPay Can Help You Apply for a Property Tax Exemption for Seniors in Florida
Applying for a property tax exemption is never wholly straightforward, but DoNotPay can make the process easier.
Our app can check your location and give you customized advice on what exemptions are available in your area. The guide comes with two sections:
Property Tax Exemptions
Property Assessment Appeals

Information about the property tax exemptions available for seniors in Florida

A list of documents for you to fill in and submit

Instructions on how to submit your application

How to negotiate with a property assessor

How to appeal an assessment you think is wrong
How Do I Get DoNotPay's Property Tax Guide?
Our guide has all the information you need, and it's easy for you to get your hands on. Follow these steps:
Open DoNotPay using any

web browser

and look for the

Property Tax

feature

Give us a few details about yourself and your location

Wait a few minutes while DoNotPay generates your customized advice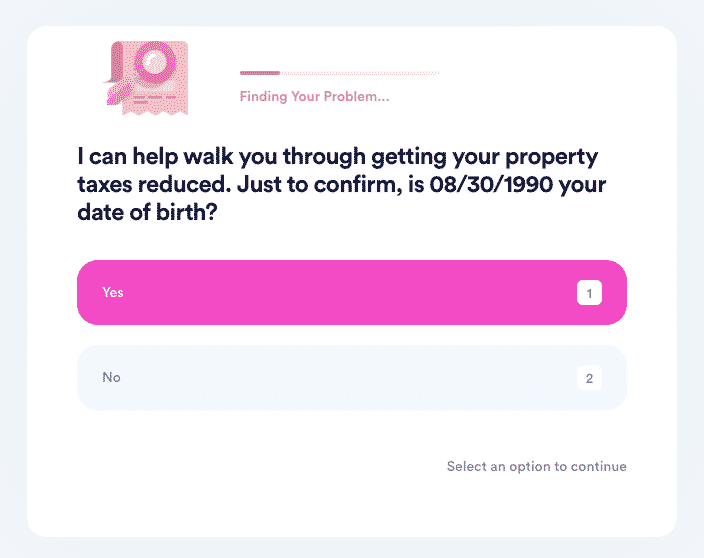 DoNotPay Is Your Resource for Lodging an Appeal in Florida
There are a few other things you can do to lower your property tax bill or get help paying your property tax in Florida. Try these tips:
Avoid any renovations or improvement work that could increase the value of your property

Check your property tax bill thoroughly for accuracy

Be there when the county assessor performs the assessment
As a last resort, you can appeal your Florida property tax assessment. This can be a scary process, but DoNotPay can help you understand the appeal procedure, prepare the documents you need, and lodge your appeal.
Falling for Scams Is Less Likely With DoNotPay
Thanks to AI technology, DoNotPay is a great resource for protecting your privacy and finances from potential scammers. Our bots can help you report robocalls, keep your inbox clean from spam email and shady text messages, or even deal with stalking and harassment, if it comes to that. 
In case the issues escalate, skip the expensive lawyers and sue the offenders in small claims court with ease. 
Another great way to increase your online security is to use our virtual credit cards and sign up for any free trial without risking unwanted charges. You can even avoid sharing your contact info with our Burner Phone feature. 
The Solution to Your Driving Woes
DoNotPay provides invaluable help to future and current drivers. By helping you ace that driver's license test, scheduling a DMV appointment the easy way, or contesting parking tickets, our app saves you money and time. 
If you need to file a car warranty or an insurance claim, we will help you deal with the necessary paperwork within minutes. Trying to get out of a car wash membership? DoNotPay can cancel it in an instant. 
Our platform works above ground as well. You can use DoNotPay to secure refunds from airline companies or compensation for delayed and canceled flights.