The Ins and Outs of Property Tax Relief
Calculating and paying your taxes can be nightmarish, especially in states with the highest property taxes, including Texas and New Jersey. Even if you live in states with low property taxes, you should familiarize yourself with ways to lower them.
We'll help you understand your property tax and guide you through different property tax relief programs.
What Is Property Tax?
Property tax is a tax you pay on the property you own. In the U.S., local governments calculate and collect property taxes. The collected money is used to fund different city improvements and services, such as:
Parks

Libraries

Hospitals

Education

Emergency

Transportation

Health and welfare

Law enforcement
How Is Property Tax Calculated?
The amount of money you have to pay for your property tax is based on a percentage that is calculated from your property's value. Typically, a tax assessor comes to your property to do a property tax assessment. The assessment usually takes place annually, but local governments can make their own schedules.
You can calculate your property tax roughly by yourself by multiplying your local property tax rate by the market value of your property. Some states and counties, such as Michigan and Miami-Dade, offer an online property tax estimator. This should give you an idea of how much money you'll be expected to pay.
Property tax rates vary across the U.S. Check out some states with the lowest and highest property tax rates:
| | | | |
| --- | --- | --- | --- |
| States With the Highest Property Taxes | Tax Rate | States With the Lowest Property Taxes | Tax Rate |
| Texas | 1.81% | Delaware | 0.43% |
| Nebraska | 1.76% | Hawaii | 0.26% |
| New Jersey | 1.89% | Alabama | 0.33% |
| New Hampshire | 1.86% | Louisiana | 0.18% |
| Wisconsin | 1.76% | District of Columbia | 0.46% |
| Illinois | 1.73% | West Virginia | 0.49% |
Property Tax Reduction—How Can I Lower My Taxes?
If you need help paying your property taxes because they are too high, you should know that there are ways to lower them. Check out some strategies in the table below:
Method
Brief Explanation

Avoid home improvements

If you do any home renovations right before your assessment, this will increase your home's market value

Check whether your tax bill has any mistakes

Errors happen, so it can't hurt to check your tax bill thoroughly

Be present when the assessor estimates your property's value

Answer any questions the assessor may have and make sure you are getting a fair assessment

See if you can apply for a property tax relief program

Property tax relief programs vary depending on the state you're in—you can check your state's government website and search for it

Find out whether you fall under property tax exemptions

You may qualify to be partially or fully exempt from paying your property taxes if you're a:

Agricultural property owner
What Property Tax Relief Programs Are There?
The purpose of a property tax relief program is to reduce the property tax bill for taxpayers. The programs usually target specific property (e.g., homestead) or types of individuals (e.g., low-income families).
Tax relief can come in the form of a check that is reimbursement for a paid tax, a tax break, or a placed limit on the tax rate, to name a few. Every state or county is different, so it's best to check if there's an ongoing tax relief program where you live.
We will break down several most common property tax relief types.
Property Tax Relief for Seniors
To qualify for a tax relief program for seniors, you typically need to be at least 65 years old. If your application is accepted, you may be eligible for a 25%, 50%, or 100% relief, depending on your income.
Property Tax Rebate for Low-Income Individuals
The property tax rebate for low-income individuals is a type of reduction or refund. It is granted to an eligible person whose property tax exceeds a certain percentage of their income.
Homestead Exemptions
A homestead exemption applies to homeowners who live in the property they own. This type of tax relief is typically a tax cut, and it's not based on the income level.
Property Tax Relief Programs and Exemptions Made Easy With DoNotPay
Finding ways to pay less for your property taxes doesn't have to include a never-ending web search. You can count on DoNotPay to help you reduce your property taxes.
Our Property Tax feature aims to provide people with a detailed and personalized guide on:
The property tax exemptions you are eligible for

Methods of

appealing

property assessments
Besides the relevant info on exemptions and appeals, you'll get instructions on obtaining the necessary evidence and forms and submitting your applications. With these two tax hacks, you'll never miss an opportunity for a tax reduction, and you'll always be in the know when it comes to your property tax.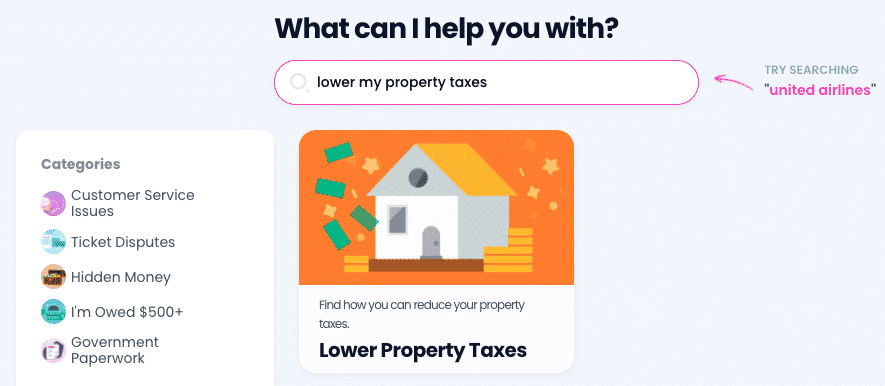 Check out how to snag our valuable guide:
Open DoNotPay in any

web browser

Click on the

Property Tax

feature

Provide the necessary info (e.g., your age, income, and location)

Answer a few questions about your property
Once you finish responding to our questions, we will generate your property tax guide.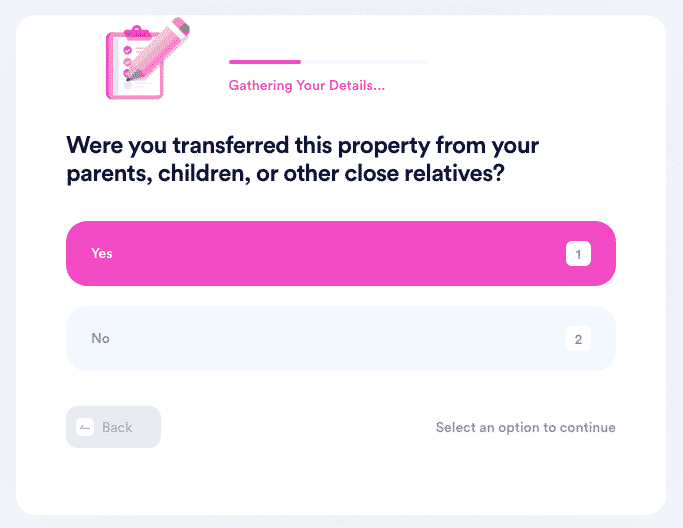 If you want to know more about tax relief in different locations, check our rundowns on:
Tired of Companies Not Taking You Seriously? Use DoNotPay To Put a Stop to It
If you're sick of companies that violate your consumer rights, DoNotPay is here to help. If you're struggling with reporting robocalls, requesting a refund, claiming any type of warranty, scheduling a DMV appointment, reporting spam text messages, or anything else, our robot lawyer will help you sue any firm or individual in small claims court.
With DoNotPay, you can also sign up for any free trial, cancel any subscription, avoid getting charged after your free trials end, and much more!
Want Your Money Back? DoNotPay Is Here To Help
Are you looking for your missing money? Do you want to get a refund for a delayed or canceled flight? Are you trying to flip the script on illegal robocalls and earn money off them? DoNotPay will assist you in dealing with any of these pesky issues!
We can also help you bypass phone number verification, sign up for clinical trials stress-free, ace any government test in a jiffy, and block spam emails for good.