How To Get Property Tax Relief for Seniors in Tennessee
Tennessee is one of the states with the lowest property taxes in the U.S., with an average effective property tax rate of 0.64%. Low property taxes are not a guarantee that everyone can pay them.
If you are 65 years old or older and need help paying property taxes, this article can be your guide to obtaining property tax relief for seniors in Tennessee.
What Are Tennessee Property Tax Rules?
If you own a property anywhere in the States, you are required to pay property taxes. This rule is the same regardless of where you live. Other property tax regulations vary from one state or county to another.
The Tennessee Department of Revenue is not in charge of collecting property taxes—each county's assessors estimate values of the properties, calculate tax rates, and collect property taxes.
The property tax rate depends on the revenue need in each county. The revenue from Tennessee property taxes is used to fund local public services and departments. 
How Does Tennessee Property Tax Assessment Work?
County assessors in Tennessee organize property tax assessments every four, five, or six years. The local assessor's office schedules property evaluations, executes the assessment on the location, and evaluates both property and surrounding land.
Several factors can affect the value of the property:
Size of the property

Location within the county

Value of the neighboring property

Overall condition of the property and land it's on
If you believe the assessor over-appraised your property, you can contact the appointed assessor for an informal discussion. In case you still can't come to an agreement, you can file a property tax appeal with the Board of Equalization of your county.
How To Lower Your Tennessee Property Taxes
If you're trying to figure out how to lower property taxes, there are several highly recommended strategies that you could try out. You can find a brief overview in the table below:
| | |
| --- | --- |
| Property Tax Reduction Strategy | Description |
| Avoid property improvements | Any repairs, renovations, and installations can increase the value of the property. Every change in the original structure is considered an improvement and can significantly enlarge your tax bill, so it's best to refrain from doing it before the scheduled assessment |
| Join the assessor during the evaluation | Even if your appointed assessor is doing an adequate job, if you are present during the assessment, they will pay attention and be more careful |
| Read your tax bill thoroughly | It is better to be safe than sorry—check your tax bill for any mistakes and irregularities and report them to the local assessor's office |
| Check your property tax exemption eligibility | The state of Tennessee offers several property tax relief programs, and if you qualify for any, your property tax bill could end up being significantly lower |
| File a property tax appeal | Being unsatisfied with a property assessment is nothing unusual. If you believe your property's value has been overestimated, you should file an appeal, and DoNotPay can show you how |
Tennessee Property Tax Relief Program
Property tax exemptions that the Tennessee state law provides include:
Property tax relief for senior citizens and disabled homeowners

—People over 65 and disabled citizens that reside in the assessed property are eligible for a property tax exemption

Property tax relief for disabled veterans or the surviving spouses

—People with disability caused by the service in the U.S. Armed Forces meet the requirements for obtaining property tax relief in the amount that depends on the severity of the injury. If they die, the surviving spouse is eligible for the same property tax exemption
What Is a Property Tax Freeze for Seniors in Tennessee?
Property owners who qualify for a property tax freeze can have their base property tax amount frozen, which prevents taxes from increasing, even when the tax rate increases. To qualify for a property tax freeze for seniors, you must file the application annually and meet the following requirements:
Owning a property that is a primary residence

Being 65 years old or older

Having an income that doesn't exceed the county income limit for the tax year
Tennessee Property Tax Exemption Application
To obtain any property tax exemption in Tennessee, you must submit an application with all the required documents first. The required documentation usually includes the following:
Proof of ownership—a copy of the warranty or quitclaim deed

Proof of age—a valid ID, driver's license, or passport

Evidence of disability

Financial information for the previous fiscal year

Picture of the property
Eligibility criteria and required documentation can vary from one county to another, and it is best to check the specifics before applying. You can learn more about your county's requirements and application procedures in DoNotPay's personalized guide.
Reduce Your Tennessee Property Taxes With the Best Virtual Assistant—DoNotPay
Dealing with property taxes can be a nightmare if you're not familiar with the rules and guidelines. DoNotPay made a feature that specializes in property taxes by using an extensive database with every state's and county's laws and regulations.
You can benefit from our service by following these steps:
Open DoNotPay in your

web browser

Find the

Reduce Property Taxes

feature

Respond to our chatbot's questions about you and the property you own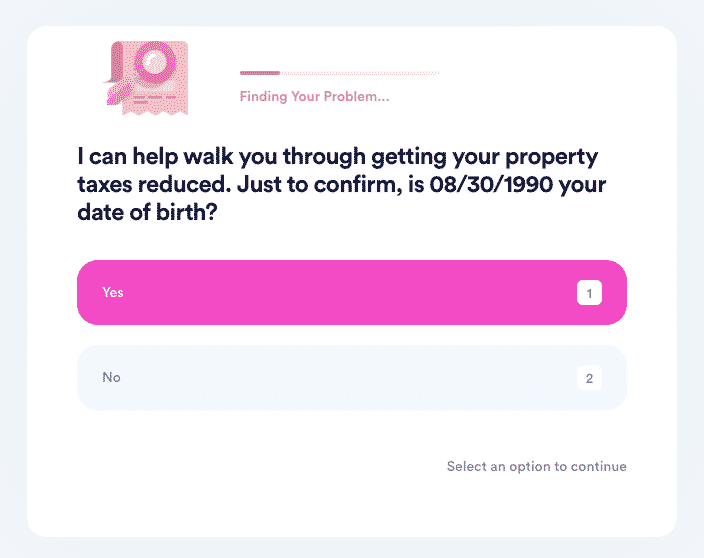 By answering these questions, you help us create a personalized property tax guide.
In this handbook, you can find all the necessary details regarding property taxes in your county. You can use your custom-made manual to determine if you're eligible for any property tax exemption. If you have any questions regarding property tax appeals, the guide will answer them.
Keep Your Money Safe With DoNotPay
Don't let greedy companies threaten your consumer rights by holding back refunds, refusing to cancel your subscriptions, or charging you after your free trial ends.
DoNotPay helps you try out different services without providing your credit card info or phone number—you will never again have to deal with unexpected post free trial charges!
Our app also helps you avoid paying unnecessary parking tickets, delay challenging bills, or waive your college application fees. 
If any company refuses to issue you a refund or an airline won't compensate for canceled flights, we can help you sue them in small claims court.
DoNotPay Is a Time-Saving App
How many customer service reps do you have to deal with only to file an insurance claim or book your DMV appointment?
DoNotPay helps you sort out these tasks and much more in only a few clicks. 
Get your revenge on robocallers, report text scammers, find validated clinical trials, claim your warranties, get in touch with your loved ones in prison, and protect your creative content—all in less than five minutes. 
No more hours-long phone calls, emails, or in-person visits. 
We cover everything from freeing your inbox from spam to providing excellent prep tests for government exams! Save time with your all-in-one app!