Property Tax Relief for Seniors in Massachusetts
—The Gist
Older people are often struggling financially, and any sort of help with paying property taxes is welcome. In the Bay State, you can check out the options for property tax relief for seniors in Massachusetts by using DoNotPay. Our app will tell you if you qualify for those property tax exemptions within minutes!
Massachusetts Property Tax Exemption for Seniors
—Who Qualifies?
To get a Massachusetts property tax exemption for seniors, you need to be 65 or older before the end of the year. This exemption is worth $700, and married people may be entitled to one exemption per spouse if they are 65 or over on the last day of the tax year.
If you are a senior citizen, you might also be interested in learning more about another tax relief option in Massachusetts—Senior Circuit Breaker Tax Credit.
What You Need To Know About the Senior Circuit Breaker Tax Credit
Elderly people living in the Bay State can apply for a refundable credit for the paid real estate taxes. It can be used for the property you own, rent, or occupy as your main residence.
Take a look at the table below to see who qualifies for this credit:
Eligible Individuals Must:
Ineligible Individuals Are:

Be Massachusetts residents or part-year residents

Be 65 or older

Have a total income that doesn't exceed:

$61,000—a single person who is not the head of a household

$76,000—an individual who is the head of household

$92,000—married couples

File a Massachusetts personal income tax return

Have property tax payments, together with half of their water and sewer expenses, exceed 10% of their total income for the tax year (for homeowners)

Have 25% of their annual rent exceed 10% of their total income for the tax year

Not residents of Massachusetts

Married and their status is ''married filing separately''

Dependents of another taxpayer

Recipients of a state and/or federal rent subsidy

Renters from a tax-exempt entity

Owners of a primary residence with an assessed value larger than $848,000
Other Property Tax Exemptions Available in Massachusetts
You should find out if you have the right to apply for any other Massachusetts property tax exemption available in this state. Property tax exemptions are available for:
Blind Persons

Surviving Spouses

and Minor Children
Property Tax Exemption for Veterans in Massachusetts
To qualify for the Massachusetts property tax exemption for veterans, an individual needs to be a former U.S. Military service member who has a service-connected disability. This exemption is also available to spouses of veterans as well as to surviving parents of military members who died on duty (Gold Star Parents).
Property Tax Exemption for Blind Persons in Massachusetts
If you wish to apply for the blind persons' property tax exemption in MA, you need to be declared legally blind. You will also qualify for this tax relief if you own and occupy your dwelling as a homestead.
Property Tax Exemption for Surviving Spouses and Minor Children
Individuals whose spouses passed away have the right to apply for this exemption. Children younger than 18 may also qualify in case one of their parents is deceased.
See if You Meet the Requirements for a Property Tax Exemption in MA
Finding out if you have the right to apply for a property tax exemption can be complicated and exhausting. You don't have to trouble yourself with figuring out the requirements by yourself—DoNotPay is here to help! Your virtual assistant will tell you if you qualify for exemptions in MA in under five minutes.
Heed these instructions:
Navigate to the

Property Tax

product

Answer several questions about yourself and the property in your ownership
After you see the results, you can apply for the exemption with DoNotPay's guidance!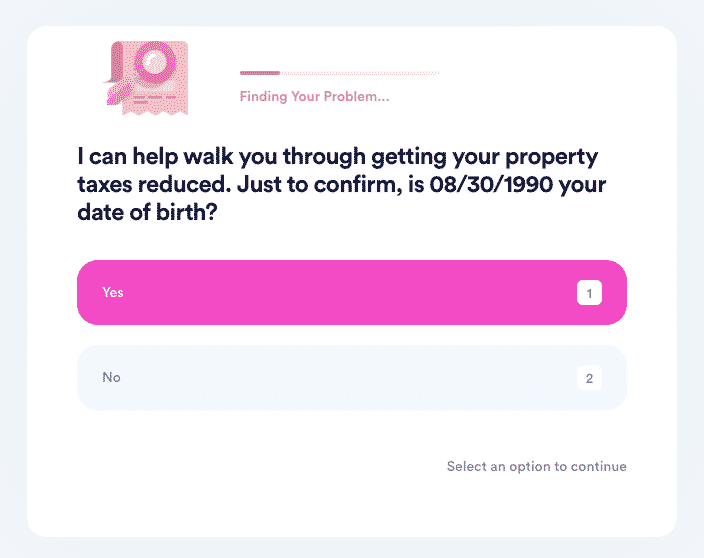 DoNotPay Handles Property Tax Appeals as Well
Filing property tax appeals is another effective property tax reduction technique. If you feel it is necessary, you can use DoNotPay to help you learn how to appeal your past property tax assessments. To do so, you only need to open our Lower Property Taxes product. 
Our app has tips for negotiations with tax assessors. We also know what evidence you'll need to lower the property tax assessment value and be ready for the property tax appeal hearing.
Can You Do Anything Else To Lower Property Taxes?
You may try some other property tax-lowering methods in addition to appeals and exemptions. They may not be as efficient, but there is a chance they might help. You should try:
Going around the house alongside the property tax assessor while they are making an evaluation—You may notice if they make a mistake immediately

Skipping home improvements before the property tax assessment—Your property taxes can only escalate if you renovate the dwelling

Checking your tax bill—It is possible to find a mistake that adds to the value of your property
Check Out States With Low Property Taxes
You can always consider moving to another state with more affordable property taxes. Some of the states with low property taxes you should keep in mind are:
DoNotPay Is Your Pocket-Sized Treasurer 
To pay or to DoNotPay—that is the question! Our nifty app finds money where you didn't even know you had it.
With our app, you can avoid college application fees, cancel unused subscriptions, explore free trials, and get out of paying for unfair parking tickets. 
We can also help you with high bills by composing due date extension letters or reducing property taxes, just as we can locate missing money that you can reclaim in any state you've ever lived. 
To top it all, we'll even assist you in requesting compensation from any airline—whether it is for poor in-flight Wi-Fi, a delayed, or a canceled flight.
Can't Find Your Head in All the Paperwork? DoNotPay Sorts It Out for You!
You no longer have to cash out on pricy legal advisors to do simple paperwork for you—our app can draft legal documents for you in a matter of minutes! 
We can write small claims court scripts, dispute letters for chargebacks and refunds, personalized letters to connect with inmates, DMCA takedown notices for copyright protection, and cease and desist letters for stalking and harassment protection. 
If you need to get a DMV appointment before taking a driving exam or any other government test, we're there to schedule it in your stead!