Get Property Tax Relief in California Stress-Free With DoNotPay

Are your property taxes in the Golden State too high? You should check if you qualify for property tax relief in California. Property tax exemptions can lower your tax bill, which can help you save a significant amount of money on an annual basis.
Determining which exemption you qualify for can be challenging. That's why DoNotPay has created a feature that will help you lower your property taxes in California in a snap!
A Word or Two About California Property Taxes
Homeowners frequently wonder what influences their property tax bill and what the taxing jurisdiction uses the money for. The property tax rate in California is 0.75%, which is lower than the nation's average rate of 1,07%. The jurisdiction uses the tax money to invest in important public services, such as:
Property taxes depend on two factors—your home's assessed value and the county's property tax rate. Each jurisdiction has an assessor who inspects properties and determines their market value. Once the assessor performs a property assessment, he or she will multiply the assessed value by the county's property tax rate to calculate the annual bill. 
Here's a short overview of California's most populated counties and their median property taxes: 
How To Lower Property Taxes in CA
Even though California property taxes aren't as high as taxes in Texas or New Jersey, many homeowners can't afford to pay them. Even if you lived in Louisiana, Hawaii, or any other state with low property taxes, you could still try to reduce the bill if it poses a burden on your income. These are common strategies that many homeowners use:
Learn About the California Property Tax Relief
The best way to reduce property taxes in California is to apply for one of the following property tax exemptions:
Homeowners exemption

Senior citizens exemption

Disabled veterans exemption

Family transfers

Disaster relief
Homeowners Exemption
The exemption reduces the first $7,000 of your primary residence's value, regardless of your income.
Senior Citizens Exemptions
California seniors can apply for three property tax exemptions:
Senior Citizens Exemptions in California

Description

Requirements

Property Tax Assistance for Seniors

The exemption applies to the first $34,000 of the home's assessed value. Eligible individuals will get a reimbursement of a part of their property tax bill

Seniors

older than 62

Blind and disabled residents

Applicants whose income doesn't exceed $13,200 

Property Tax Postponement Program

Eligible homeowners can postpone paying their taxes. The state will cover the costs until the homeowner in question moves, passes away, or sells the property. The property taxes have to be paid eventually with interest

Seniors older than 62

Blind and disabled residents

Citizens whose income is lower than $45,000

Applicants who have at least 40% of equity interest

Replacement Housing Program

Homeowners participating in this program can transfer their old home's value to the new property if:

The new home is in the same county 

They purchase a new property within two years from selling the previous one
Veterans Exemption
You will get an exemption of up to $4,000 if you fit in one of these categories:
Veterans currently serving in a war

Applicants who have served in a war

Honorably discharged veterans

Surviving spouses of eligible veterans who haven't remarried

Surviving parents of eligible veterans
Disabled Veterans Exemption
If you're disabled because of a service-related injury, you can get an exemption higher than $4,000. The exempt amount depends on your age, income, and disability level.
Family Transfers
The property you purchase from your kids or parents doesn't have to undergo a full reassessment.  
Disaster Relief
Has your property been seriously damaged in a disaster? You might be eligible to get an exemption while the property is being repaired.
How To Reduce Property Taxes in California Fast and Easy—With DoNotPay!
California residents who need help paying their property taxes can rely on DoNotPay. We've come up with a feature that will help you determine which exemption you qualify for in less than five minutes. We will also generate a personalized guide to make the application as effortless as possible. 
To reduce your property taxes in a few clicks, do the following:
Access your

DoNotPay

account

Open our

Property Tax

feature

Provide the necessary answers

Follow the instructions from our guide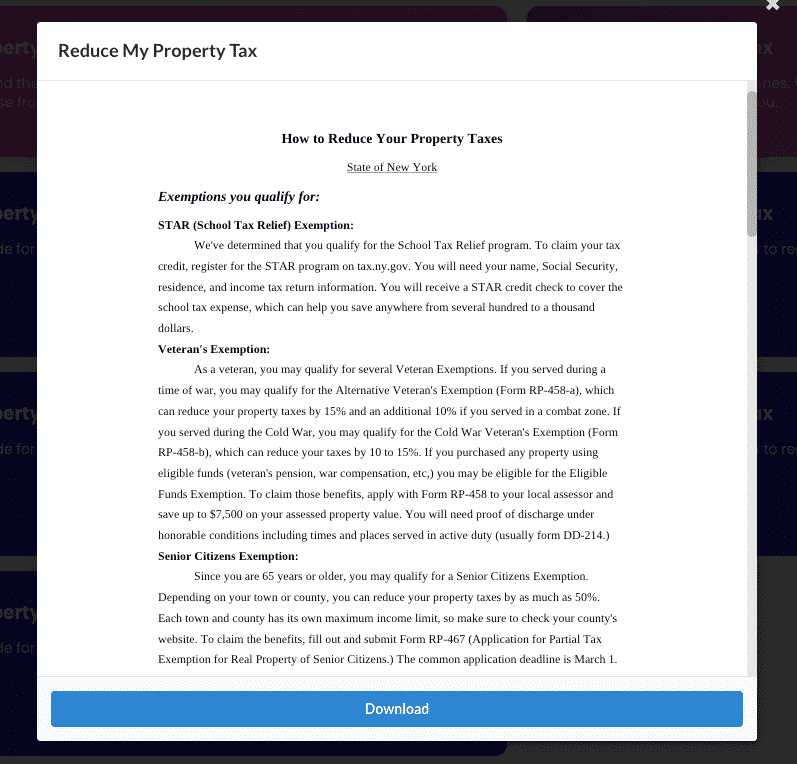 You will get all the necessary info in one place, which will make the process super efficient. Our feature will help you lower your property taxes in any state and county, including:
DoNotPay's Guide To Filing a Property Tax Appeal
Another useful aspect of DoNotPay's Property Tax feature is our property tax appeal guide. Thanks to our help, you'll learn how to negotiate with the assessor, which forms to complete, and which evidence to gather to support your appeal.
What Else Can Our Award-Winning App Do for You?
If you think that's impressive, wait until you've heard about other features we boast!
Our powerful app can draft paperwork for you, locate unclaimed funds under your name, cancel subscriptions, sue robocallers, and protect you from stalkers and harassers—all in one nifty browser app!
Our legal services have been recognized by the esteemed ABA Brown award, serving as a testament to our abilities to assist you with your small claims issues, free trial auto-renewals, college fee waivers, public records, copyright protection, and much more!
More Benefits of DoNotPay
DoNotPay is a useful tool for handling many otherwise annoying life's trifles, including: