A Guide to Understanding the Property Tax Reduction Services
If your property taxes get too high, looking for ways to lower them is the next logical step. The property tax reduction services can sometimes come in handy and help you reduce the excessive amount of your taxes. We provide you with all the info regarding the property tax reduction options and how to use them to your advantage!
Property tax exemptions are still the number one way of lowering your taxes, and DoNotPay identifies the ones you are eligible for in a snap!
How Do Property Tax Reduction Companies Work?
Your property tax bill can be much higher than you anticipated as a result of many issues. It's important to know that you have options if and when a situation like this occurs.
Property tax reduction companies and services can take some burden off your back by determining the market value of your property and handling the appeal process on your behalf.
Another downside is that they often require you to pay a hefty amount to use their services.
You have to be careful with the property tax reduction companies because they aren't the most reliable option and can sometimes prove to be a scam. If you are going to give money out of your pocket, you should be certain where that money is going. That is often not the case with these companies.
A better and more efficient option is to identify the property tax exemptions you qualify for and apply for them. You don't have to do it on your own! DoNotPay can identify them based on the info you provide and assist you in applying!
Ways To Get the Property Tax Reduction in Long Island, New York, and the Other States
If you are interested in property tax reduction options, but you don't want to overwhelm yourself with finding them yourself, we'll identify and explain them for you!
The common property tax exemptions in most of the states are:
STAR Exemption
The School Tax Relief Program (STAR) allows all New York residents who own their home or property and use it as their primary residence to apply for the STAR exemption. The basic STAR exemption lets you exempt $30,000 of the full value of your property from school taxes.
Senior Citizens Exemption
Long Island's senior citizens can qualify for the senior citizens exemption if they are:
Owners of the home or property

65 years of age or older

Meeting certain income limitations and other requirements
Veterans Exemption
There are three different veteran exemptions to choose from:
We can also assist in applying for a veteran exemption if you're from:
Persons With Disabilities Exemption
If you are a person with a disability, you may be eligible for a special exemption. Here are the criteria you have to meet to qualify for this exemption:
Have a document proving your disability

Meet the income limitations and the rest of the requirements
This exemption lets you reduce 50% from the assessed value of your home or property.
Other Efficient Methods of Lowering Property Taxes
Looking for property tax reduction companies and applicable exemptions isn't the only way you can reduce your property taxes! We offer you three other options that can prove super useful when it comes to getting help paying your property taxes:
Skip on the home improvement projects

Check your bill for mistakes

Appeal your property tax bill
Skipping on the Home Improvement Projects
Enhancing your home value by renovating and doing any home improvement projects, in general, will only result in your bill increasing significantly. You should avoid doing it before the assessor comes to evaluate your property to ensure you pay the lowest amount when your property tax bill arrives.
Checking the Tax Bill
Property tax bills often contain errors, and that is something you don't have control over. You can double-check your bill and find mistakes or inaccuracies. Once you do that and find errors, you can opt to appeal the assessment.
Appealing the Property Tax Bill
You can file an appeal if you conclude that the assessment of your property wasn't done properly. The easiest way to do it is by using DoNotPay's guide that will walk you through the property tax appeal process in an instant!
Use DoNotPay To Reduce Your Property Taxes Care-Free!
DoNotPay offers you an abundance of nifty features that make your day-to-day life easier and enjoyable! One of them is a Property Tax feature. Why bother with an endless search and complications when you can lower your taxes in a few steps?
By using this feature, you will get a step-by-step guide on applying for all property tax exemptions you are qualified for.
Once you go to DoNotPay in your web browser, follow the next instructions, and you will be all set for your property tax reduction:
Find and tap the

Property Tax

feature

Answer a few short questions regarding your property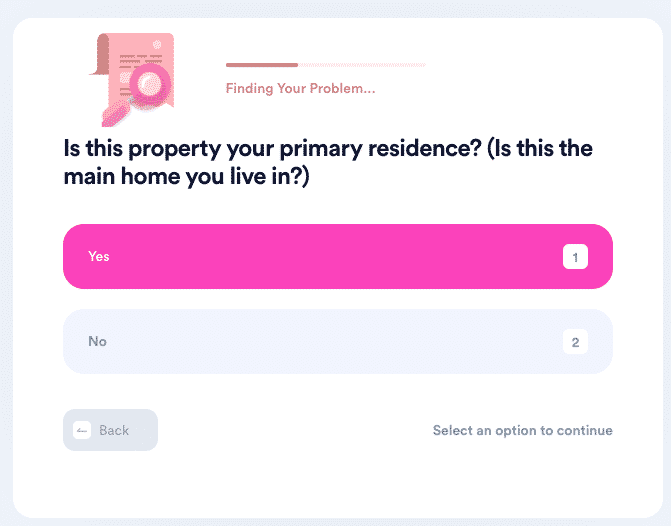 That is all it takes on your part! You will acquire your guide, and all that is left is to follow the steps and apply for the exemptions instantly!
If you are a New Yorker searching for further assistance, we'll help you with:
Can't Afford a Lawyer? DoNotPay Will Jump In!
Did you know that you don't have to waste money on expensive legal help just to get rid of some minor bureaucratic issues? DoNotPay is here to save you hundreds of dollars with ready-to-use solutions that require mere minutes. 
Our AI-powered bots gather the most important information via short questionnaires, draft required legal documents, and provide you with online fax services. If you need specific public records to support your case, we'll point you in the right direction.
With our virtual lawyer's help, you will be able to:
Spend Your Time on More Enjoyable Activities
With DoNotPay's help, you're bound to have more free time. If you're considering a new streaming platform subscription, make use of its free trial without worrying about unwanted charges. Need to get rid of other subscriptions? Use DoNotPay to cancel them without contacting customer support centers.
Don't worry about phone number identification at the signup. With our Burner Phone feature, spam text messages won't be bothering you ever again!