Get a Property Tax Reassessment Exclusion in California Seamlessly
Owning a property in California is a big deal. If you've succeeded in purchasing a home, you know how high property taxes can go in this U.S. state.
If you decide to transfer your property to a child, spouse, or grandchild or to purchase another home, the tax will likely be reassessed, and the new owner may end up paying a hefty sum. 
DoNotPay helps you find out whether you're eligible for any property tax reassessment exclusion in California. Our AI-powered app assists you with property tax assessment and exemptions for senior citizens and other groups. 
We'll show you which states have low property taxes and how to lower property taxes and pay them with no problems. 
Property Tax Reassessment Exemptions
In the State of California, when you decide to sell or transfer your property, it must be reassessed. It can lead to a significant increase in property taxes.
Some transfers may be exempt from required property tax reassessment automatically. The majority require you to file an application and additional documentation in due time if you qualify. 
Automatic Exclusions
Paperwork Required 

Name change (e.g., when married)

Transfer of the property into or out of a revocable living trust

Title change for lender's security interest or financing purposes 

Change of the trustee of the trust holding the property

Transfers:

Between parents to children

From grandparents to grandchildren

Between original joint tenants

Of interest in a legal entity 

Home replacement for people who are 55+ years old
Limitations to a Property Tax Reassessment Exclusion in California
As there might be certain limitations to these exclusion criteria, you need to inform yourself well to know if you qualify and how to file your claim.
The parent-child property tax exclusion in California, for example, will change with the introduction of a new Proposition 19. When the proposition takes effect, this parent-child property tax exclusion will apply only if the child uses the transferred property as the primary residence. 
It limits the possibility of using the transferred property as a vacation home or a rental. Apart from that, should a parent transfer a home to more than one child, all children must use that property as their primary residence to qualify for the parent-child exclusion. 
As there are lots of issues you need to take into account when applying for a property tax reassessment exclusion in California, you might want to seek assistance. 
DoNotPay can provide the help you need. We can guide you through the whole process efficiently. 
Check Whether You Qualify for a California Property Tax Reassessment Exclusion With DoNotPay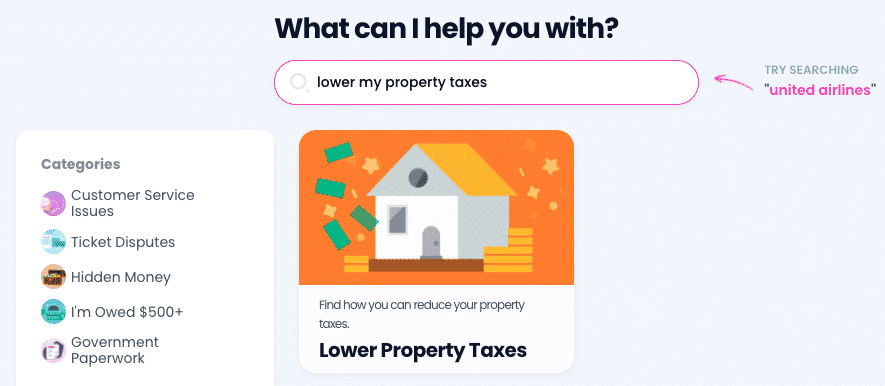 DoNotPay has all relevant information on tax exemption procedures in various U.S. states. We can help you determine whether you can get a tax reassessment exclusion in California in a few clicks.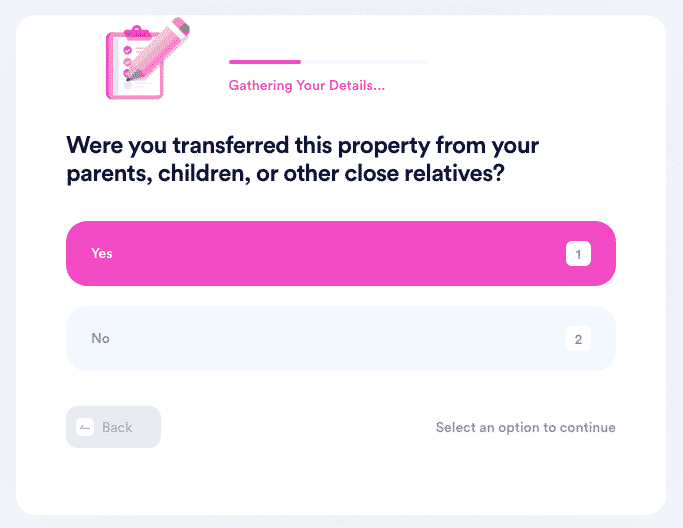 You'll be able to get all the required data in one place and from the comfort of your home. Here's how:
Sign up for DoNotPay in a

web browser

 

Locate the

Property Tax

feature

Answer a few questions about you and your property

Wait until the app generates your personalized guide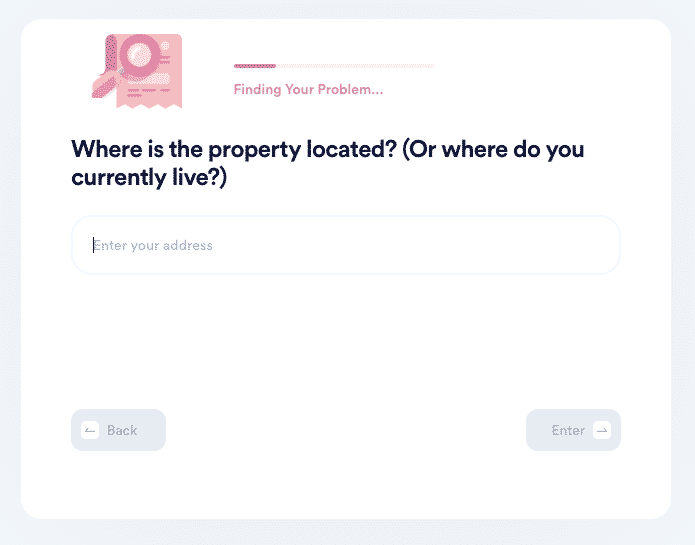 We can also help you with the following tax-related issues in California:
Appeal Property Tax Assessment With DoNotPay
Our app can also help you submit a property tax appeal for past assessments. 
Review our thorough guide to learn how to negotiate with a state assessor and collect sufficient evidence to decrease the assessed value of your property.
DoNotPay shows you how to find comparables for a property tax appeal and prepare for a property tax appeal hearing.
California Property Tax Ratings
According to the findings of WalletHub, California has the following real-estate tax values:
The effective real-estate tax rate of 0.75%

Annual taxes on a $250,000 home of $1,557

The state median home value of $475,900

Annual taxes on a home priced at the state median value of $3,617
If you believe you can transfer your real-estate to your child, spouse, or partner without any hassle, you're partially right. You've got every right to put your property in the trust. 
What you need to consider is that the above-listed property taxes can go higher for new owners in California. The first thing you should do is find out about conditions for a parent-child property tax exclusion in California.
Another point worth considering is your future retirement, as tax rates can become a burden then. You should check if you qualify for a California property tax reassessment exemption. 
Types of Property Tax Exemptions in California
Here's a list of property tax exemptions and qualifying criteria in California:
Tax Exemption Type
Qualifying Criteria

Homeowners

The property must be the owner's principal residence

Disabled veterans

Veteran has to meet the definition of a disabled veteran

Claimant can be a disabled veteran or the veteran's unremarried surviving spouse 

Property has to be the claimant's principal residence

Veteran's discharge character has to fall under "other than dishonorable" conditions

Veteran had to do military service during a period listed in

Revenue and Taxation Code section 205.5, subdivision (b)(1)(A)

Veterans

You must:

Meet the government defined veteran criteria

Be the living qualifying claimant of a veteran who fought in one of the

listed wars or campaigns
The following also qualify for a property tax exemption in California:
Nonprofit and religious organizations

Public schools and colleges

Lessors
You can get more details on the Board of Equalization website. Since the rules and legal jargon tend to be tricky, DoNotPay can provide relevant information and precise guidelines.  
How Else Can DoNotPay Help You Find and Save Cash
Our Missing Money feature helps you find any unclaimed assets in your name in any state. An additional perk is that you can claim your money right in the app—no need for further research!
We can also make sure you don't pay for any unfair parking citations and get the rightful compensation from airlines for any canceled or delayed flight. 
Don't let big companies scare you into not claiming your warranties or insurance. DoNotPay helps you file these claims and appeal any rejections in minutes, which brings you closer to getting your money.
We can also delay your bill payments, get your college fees waived, or sign you up for paid clinical trials to earn some extra cash!
DoNotPay Keeps the Spammers Away
Whether you're dealing with email spam, text scammers, robocalls, or severe harassment, DoNotPay can help. 
Use our virtual credit card or the Burner Phone feature to sign up for free trials safely—without revealing your real info. DoNotPay will make sure that no company can reach you when you use our tools. 
We provide a fake email address, credit card info, and phone number that are in no way connected to your real data. 
We can also help you cancel services or request a refund without you having to contact the company directly.