Property Tax Freeze for Seniors in Illinois—All Questions Answered
Property taxes are one of the most common yet nerve-wracking concerns. Every person who owns taxable property must pay their dues to local authorities. 
The amount may be a real inconvenience for certain demographic groups, such as seniors. The main reason is that the value of their homes increases with time, while their income becomes limited as they retire.
Fortunately, all states in the USA—including Illinois—developed special senior tax exemptions to help elderly citizens lower and pay their property tax bills with less hassle. Learn how to apply for the property tax freeze for seniors in Illinois and all other available property tax exemptions in our detailed guide!
What Property Relief Options Does Illinois Offer?
Illinois offers a few property tax exemptions, including:
Long-time occupant homestead exemption—only in

Cook County

Homestead

exemption for disabled people

Natural disaster homestead exemption

Senior citizens homestead exemption

Senior citizens assessment freeze homestead exemption (SCAFHE)
You can see the rest of the available options on the official IDOR website.
Details of the Illinois Property Tax Freeze for Seniors
According to the Illinois Compiled Statutes, Section 200/15-172, an Illinois citizen is entitled to a senior assessment freeze if:
They are 65 or older

They are a surviving spouse of a person who was 65 or more when they passed away

Their total income doesn't exceed $65,000 (the maximum income can change from year to year)
As long as the applicant is qualified for this exemption, the government will keep the equalized assessed value of their home "frozen" during the current year. This doesn't mean that this tax relief method freezes tax rates—they can still increase, depending on the local parameters.
The exemption doesn't renew automatically. If you apply for it and claim it, you need to submit a Form PTAX-340 each year to keep using the tax benefits.
Check the Available Property Tax Exemptions With DoNotPay
Elderly citizens aren't always tech-savvy enough to find all the information about available property tax exemptions on the internet. They usually keep paying huge amounts every year, and even if they find out about the potential benefits, they don't know how to use them.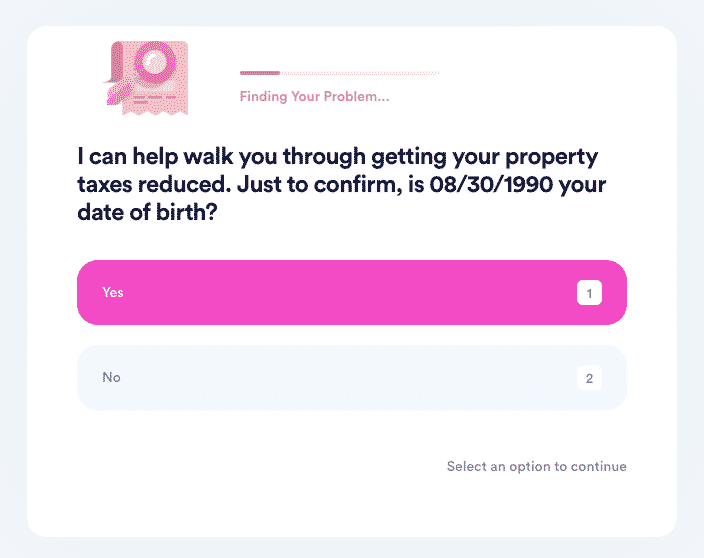 DoNotPay has come up with a feature that can help you find out all about property tax exemptions and related application procedures. All you need to do is follow the instructions below:
Visit DoNotPay in your preferred

web browser

Find the

Property Tax

service

Give us more details about your age, location, and the property you own
Once you answer our chatbot's questions, we will create a comprehensive guide with all necessary instructions for a proper exemption application process. A user-friendly interface makes our app suitable for people of all generations or demographics, meaning that elderly citizens can use it with ease!
If you want to know more about senior property exemptions in Maine, Indiana, Michigan, New York, South Carolina, or any other U.S. state, check out our vast knowledge base!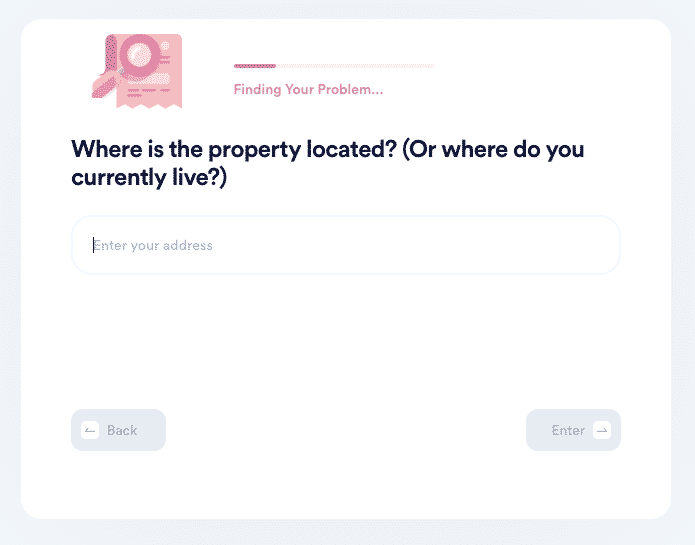 Let DoNotPay Create a Full Property Tax Appeal Guide for You
Besides the best tips for property exemption applications, DoNotPay's personalized guides offer tips on appealing your previous property assessments. We'll help you find out:
How to fill out the appeal form

Where to find all the necessary supporting documentation

What information you need to include in your appeal letter
In our articles and guides, you can check out the appeal procedures in:
Popular Ways To Lower Your Property Tax Bills in Illinois
Despite being a vital source for improving other public services, property taxes leave a huge hole in citizens 'pockets. 
While the annual tax amounts in states, such as Louisiana or Alabama, are low and tolerable, other parts of the USA struggle with high tax bills. Most people are unaware that they can lower these expenses using various methods. 
Below is the table showing a few ways to get a property tax relief in Illinois:
Method
Details

Avoiding renovations and improvements on your property

Building additional premises or a pool on your property can significantly increase your taxable property value. The bigger your home value is, the higher your tax bills will go. Make sure you don't perform any improvement works on your house before the

property tax assessment

Checking your previous tax bills

If your home value isn't increasing, but your taxes are getting higher, you should revise your previous bills and contact the

Illinois Department of Revenue (IDOR)

to report a potential mistake

Checking your tax records

You can access your tax records on the official website of the county you live in. Revise them and make sure the assessor didn't make any mistakes while evaluating your property, such as:

Entering the wrong property size

Noting the wrong number of rooms

Double-assessing some parts of the property

Specifying home improvements you didn't perform 

Failing to report damages and defects on your property that may decrease its value

Taking part in the assessment procedure

Be present while the officials are evaluating your property. This way, you can notice potential mistakes right away and prevent the local authorities from charging you more than they should

Checking if you qualify for any Illinois property tax age exemptions

IDOR proposes several property tax exemptions for various social groups. You should get more information on the official website and find out how to apply for them

Submitting a property tax appeal

If you compare your estimated house value to the value of the properties similar in size and find discrepancies, you have the right to file an appeal. You can do the same if you believe that the assessor has made an error that may have increased your taxes and made your bills higher
Our Robot Lawyer Gets Rid of All Admin Tasks
What makes DoNotPay so unique is that it helps you get back what is rightfully yours in many different ways. You can appeal parking tickets, find unclaimed money, demand a refund for canceled or delayed flights, get help with bills you cannot pay, or get your college application fees waived with the help of our platform.
If you're sick and tired of annoying robocalls, spam emails, copyright violations, text message spam, or stalkers and harassers, DoNotPay can assist you in getting rid of them once and for all.
DoNotPay Can Help You Save Money
Have you ever subscribed to a service's free trial you forgot about after a few days? Many Americans have, which is why DoNotPay has a free trial feature that will help you avoid getting charged once the trial is over.
If you want us to scan all your active memberships and help you not pay for the ones you don't use, connect your email address or credit card to DoNotPay. Our cancel feature will ensure that you don't waste your money on subscriptions you don't even remember exist.
If a merchant charges you once the free trial is over, though, you can use our robot lawyer to request a refund and skip the phone queue when doing so.
In case a company refuses to grant you a refund, you can also use our app to sue them in small claims court.