Learn How To Apply for a Property Tax Exemption in a Few Clicks!

Paying property taxes is challenging for many homeowners, especially those who live in states with high property tax rates, such as New Jersey and Texas. If you're a low-income homeowner, you're probably struggling to pay your annual property tax bill. Applying for a property tax exemption could be one of the best ways to lower your property taxes. 
If you'd like to know whether you qualify for an exemption, you're in the right place. DoNotPay will help you determine if you're eligible to get an exemption and explain how to apply in less than five minutes!
What Are Property Tax Exemptions?

Property tax exemptions reduce the amount a homeowner has to pay for property taxes. The exemption usually reduces a percentage of the property's assessed value, which consequently lowers the bill. If you wish to save some cash, you should consider applying for an exemption even if you live in a state with low property taxes.
While all counties have different property tax relief options, most of them offer exemptions for the following:
Besides exempting a portion of the property's assessed value when calculating the tax bill, some jurisdictions also offer property tax refunds on an annual basis. For example, some counties in Pennsylvania refund a portion of the property tax bill to seniors and disabled individuals.
Counties in Oregon, California, and some other states offer property tax deferral programs. Eligible individuals—usually seniors—can postpone paying for the taxes until they move or sell the property.
Another option available in most counties is a property tax relief program that freezes the property's assessed value. The program keeps the tax bill the same even if the property's market value increases unless the property tax rate changes.
Who Qualifies for a Property Tax Exemption?
Each type of exemption has different qualification requirements, which can be confusing for homeowners. While every taxing jurisdiction has its own rules regarding eligibility, most of them have similar basic requirements, such as:
Homestead exemption applies to the primary residence of the applicant, regardless of age and income

Senior citizen exemption is designed for low-income 65-year-old seniors or their 55-year-old widow(er)s

Disabled veterans get an exemption if they:

Are disabled because of a service-related injury

Were honorably discharged

Other disabled citizens qualify for an exemption if they can provide legitimate proof of disability

Surviving spouses of veterans or seniors who enrolled in an exemption program can continue to use the benefits unless they remarry  
Find Out if You Qualify for a Property Tax Exemption With DoNotPay
Instead of navigating your county's assessor's website to determine if you qualify for one of the exemptions, you should rely on DoNotPay and save time. We have created the Property Tax feature to help you pay property taxes by applying for an exemption in a few clicks.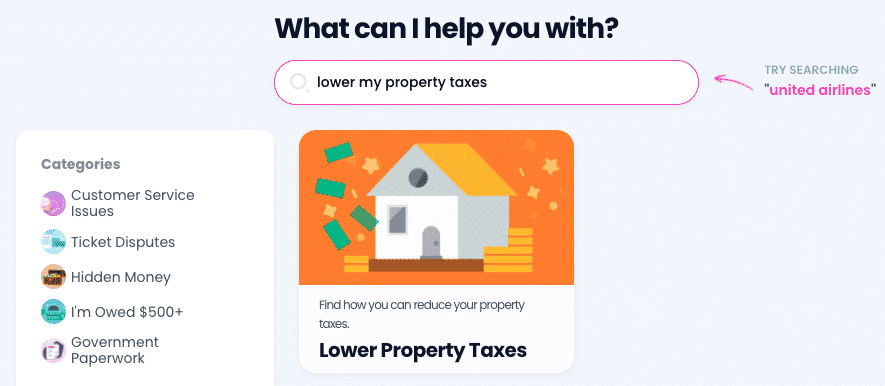 Here's how our feature works:
Sign in to

DoNotPay

Select our

Property Tax

feature

Provide the necessary info

Follow further instructions
DoNotPay will determine which exemption you qualify for based on your answers. Once we do that, we will generate a personalized guide to help you apply for the exemption stress-free. You won't have to waste ages trying to figure out which forms to complete and where to submit them because our guide will cover everything.
Since each county has different exemptions, rules, and forms, having every piece of info in only one place can help a lot. DoNotPay will help you apply for a property tax exemption in any state or county, including:
Why Do You Have To Pay Property Taxes?
Paying property taxes is an obligation of every homeowner. The county you pay your taxes in uses the revenue to fund crucial services every citizen benefits from. Some of those services are road constructions, fire departments, libraries, and hospitals. The property tax rate of the jurisdiction you live in depends on the county's financial needs, and it influences your annual tax bill. 
The property tax rate varies from state to state. Louisiana, Hawaii, and Alabama have the lowest, while New Jersey and New Hampshire have the highest average property tax rates. 
Property Tax Assessment Explained
Another factor that influences your property tax bill is your home's assessed value. Your county's assessor's job is to inspect your home, appraise it, and perform property tax assessment. He or she will multiply the assessed value by your jurisdiction's property tax rate to calculate your annual bill. 
Other Ways To Reduce Your Property Taxes 
In case you don't qualify for one of your county's property tax exemptions, you could lower your tax bill by trying one of the following strategies:
Participate while the assessor appraises your home to make sure the assessment is fair

Report inaccuracies in your bill

Put off home improvements until after the assessment

File a

property tax appeal
DoNotPay Helps You File a Property Tax Appeal Quickly
If you choose to appeal your property taxes, DoNotPay's feature can help you. Besides describing the process of applying for an exemption, our guide will also explain how to negotiate with the assessor and file a property tax appeal.
DoNotPay Can Do Your Paperwork for You! 
Feeling like you're in bureaucratic hell? Our app will draft the paperwork you need and get you out of any hurdle before you know it! 
We can compose most of the documents that you require for any administrative purpose in your jurisdiction, most notably:
More of What We Can Do for You 
Our multifaceted app can call and record the conversation with the customer service of the company that just won't let you go! If you are having trouble canceling an unwanted service via the traditional channels, use DoNotPay to get it over and done with!
We can help you stop the persistent robocalls and robo texts from the nagging company and request a refund for unused services in a matter of minutes.
We'll also lend a helping hand in stopping spam mail—whether it's electronic or paper. Our Spam Collector product unsubscribes you from unwanted emails and cleans up your physical mailbox too!