Every Property Tax Exemption in NJ Explained
Reducing property taxes is important for your budget, especially if you live in New Jersey, which is one of the states with the highest property tax rates—2.19%. In 2019, New Jersey citizens paid around $8,861 in property taxes.
Lowering your property tax doesn't need to involve moving to states with the lowest property taxes. If you qualify for a property tax exemption in NJ, this could reduce your tax bill considerably.
Understanding Property Taxes in New Jersey
When you are a property owner, you have to pay taxes on that property. After a property tax assessment, the assessor determines your property's value and multiplies it with the local tax rate to calculate your tax bill. Even if the value of your property isn't that high, considering the high tax rates in New Jersey, you probably won't be happy with your bill.
NJ property taxes are the main source of revenue for:
Education costs

Police departments

Community services

Maintenance services

County and municipal expenses
Types of Property Tax Exemptions in New Jersey
Property tax exemptions exclude a portion of your home's value from being taxed. New Jersey offers different tax relief programs—not only typical exemptions but also deductions of $250 and deferments or postponements of tax payments.
Here are the programs that can help you lower property taxes in NJ:
$250

veteran

property tax deduction

100% disabled veteran property tax exemption

Active military service property tax deferment
NJ Veterans Property Tax Exemption
If you want to receive a veteran property tax deduction, you need to:
Be a homeowner

Be a legal resident of New Jersey

Have active duty service in the U.S. Armed Forces with an honorable discharge
NJ Property Tax Exemption for Disabled Veterans
To qualify for the 100% disabled veteran property tax exemption, you need to meet the following requirements:
Being a legal New Jersey resident

Owning and occupying your property as your primary residence

Having active duty service in the U.S. Armed Forces

Being honorably discharged
Active Military Service Property Tax Deferment
You may be eligible for the active military service property tax deferment if you're a serviceperson who was deployed or mobilized for active service in time of war. Once your deployment is complete, you need to pay your property taxes within 90 days.
Property Tax Deduction for Senior Citizens and Disabled Persons
The property tax deduction for senior citizens and people with disabilities covers $250. To be eligible for this deduction, you should:
Own and live in your home

Stay within the

income threshold

Be a legal NJ resident for at least one year
How Else To Reduce Property Taxes in NJ
If you live in your primary residence or if you're a senior, you can also count on other tax relief programs besides the exemptions and deductions, including:
Homestead

benefit program
Being a senior or living in your home won't automatically make you eligible for a tax reduction. Here's an overview of the eligibility requirements that you need to meet to qualify for these programs:
Program
Eligibility Criteria

Homestead

Be a resident of New Jersey

Own and occupy your NJ home as your primary residence

Pay your property taxes

Complete the income requirements:

$150,000 or less for homeowners aged 65 or over, blind, or disabled

$75,000 or less for homeowners under the age of 65 and not blind or disabled

Senior freeze

Age and disability:

Be 65 or older or

Get federal Social Security disability benefit payments 

Residence—Be a renter or a homeowner in New Jersey 

Homeownership:

Be a homeowner

Be a mobile homeowner

Income limit (changes every year):

Earn $91,505 or less in 2019

Earn $92,969 or less in 2020

Property taxes and site fees:

Have paid property taxes on your home or

Have paid site fees on your mobile home
How To Reduce Property Tax in NJ With DoNotPay
Managing your property taxes in New Jersey can be a convoluted process. While there are many tax reduction options, the eligibility requirements and the application process seem like too much to handle. 
This is why DoNotPay has created the Property Tax feature! Once you get our guide, you won't look for help paying your tax bills because you'll have all the tools you need.
Our guide consists of two parts:
Tax Exemptions
Property Assessment Appeals

All the property tax exemptions you are eligible for

Instructions for getting the necessary forms to apply

Guidelines for submitting your application

Hacks for negotiating with the local assessor

Tips on gathering evidence for your

appeal

Instructions for filling out a

property tax appeal form

and submitting it
To get your hands on the valuable Property Tax guide, follow these instructions:
Open DoNotPay in any

web browser

Locate the

Property Tax

feature

Answer questions about yourself

Provide the necessary info about your property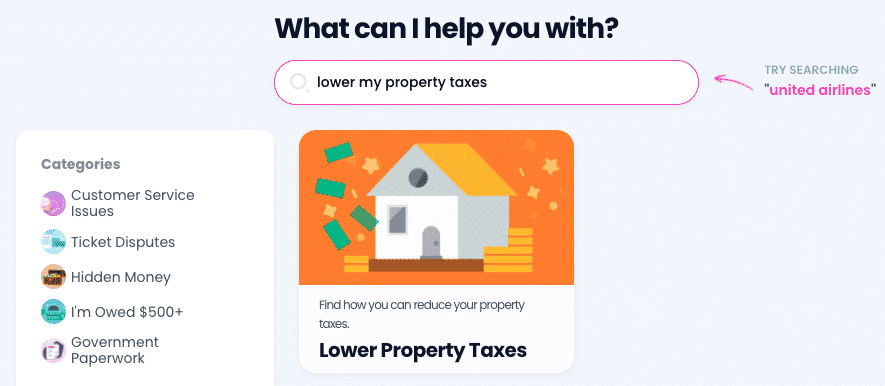 Tired of Companies Not Taking You Seriously? Use DoNotPay To Put a Stop to It
If you're sick of companies that violate your consumer rights, DoNotPay is here to help. If you're struggling with reporting robocalls, requesting a refund, claiming any type of warranty, scheduling a DMV appointment, reporting spam text messages, or anything else, our robot lawyer will help you sue any firm or individual in small claims court.
With DoNotPay, you can also sign up for any free trial, cancel any subscription, avoid getting charged after your free trials end, and much more!
Want Your Money Back? DoNotPay Is Here To Help
Are you looking for your missing money? Do you want to get a refund for a delayed or canceled flight? Are you trying to flip the script on illegal robocalls and earn money off them? DoNotPay will assist you in dealing with any of these pesky issues!
We can also help you bypass phone number verification, sign up for clinical trials stress-free, ace any government test in a jiffy, and block spam emails for good.