Property Tax Exemption Arizona
—From A to Z
Arizona's property tax rate is 0.62%, which is significantly lower than the national average of 1.07%. Even though Arizona is one of the states with the lowest property tax rate, some people still have difficulties paying their property tax bills. This guide will help you learn all about property tax exemption in Arizona and other options for lowering your property taxes. 
Property Tax Explained
Each year, property owners need to pay taxes based on the value of the property. The local government uses tax money to fund crucial service improvements, including education, law enforcement, road construction, and similar.
All jurisdictions have different tax rates that range from 0.18% in Louisiana to 1.89% in New Jersey. You should take the tax rate into account when purchasing a property if you can't afford high tax bills.
How Is Arizona Property Tax Calculated?
Every county in Arizona has its own tax assessor hired to estimate the value of a property and calculate taxes accordingly. The assessor usually performs the property tax assessment by coming to the property. He or she can also do it remotely using the software with updated tax rates.
The first step to determining the tax bill is estimating the market value of the property. Multiple factors can affect your property's value:
Number of bedrooms

Location

Curb appeal

Facilities on the land

Neighborhood 

Vicinity of schools, hospitals, and shops

Public transport
Once the assessor establishes the value, he or she will multiply it with Arizona's tax rate. The result will be your annual property tax bill. 
Can I Lower My Property Tax Bill?
You might be eligible to lower your property tax bill if you think it's too high. Here are some strategies you can try out:
Strategies

Why You Should Do It

Participate in property assessment

You'll get the chance to showcase both the good and the bad inside your home and get a fair assessment

Don't renovate right before the assessment

Each property upgrade and renovation can increase the value of your property and, consequently, the tax bill

Check if you're eligible for property tax exemption

Some states reduce property taxes to people who qualify for one of the following categories:

Agricultural property owners

Look for the mistakes on your tax bill

If you think that there have been inaccuracies with your annual tax property bill, you should contact the assessor and request a reassessment 
Learn About
Arizona Property Tax Exemptions
If you're having difficulties paying your property tax bill, you'll be happy to know that you might qualify for Arizona property tax reduction. Arizona counties reduce property tax bills to:
Senior citizens

Disabled people, including veterans
Arizona Senior Property Tax Exemption
Low-income seniors can apply for two government programs to lower their property tax bill:
| | |
| --- | --- |
| Government Program | Description |
| | The program helps by "freezing" the market value and the amount charged for taxes even if the value of the property increases. Seniors need to re-apply for the program every three years to maintain the same tax bill |
| | Maricopa senior citizens participating in the program get property tax aid (around $200) that cuts their tax bills in half. If you're already registered in the Senior Property Valuation Protection Program—and you live in Maricopa County—you'll be automatically enrolled in the Elderly Assistance Fund |
Arizona Disability Property Tax Exemption
Disabled citizens and veterans could get a $3,000 property tax exemption, given that the assessed value of their property is less than $10,000. In Maricopa County, the exemption amount goes to $3,965. Widows and widowers should also be eligible to get the exemption.
What Is
Arizona Homestead Property Tax Exemption
?
Even though it might seem that homestead property exemption could affect your property tax bill because of its misleading name—it doesn't. The purpose of the homestead exemption is to protect your property ($150,000 in equity) in the case of bankruptcy. While your equity will be protected, you'll still have to pay the full assessed tax price. 
You Can Reduce Your Arizona Property Taxes Fast and Easy With DoNotPay!
Arizona citizens who need help paying their property taxes can rely on DoNotPay. We offer a feature that will give you instructions on how to lower your property taxes the most efficient way. DoNotPay will determine which exemption you qualify for and create a user-friendly guide.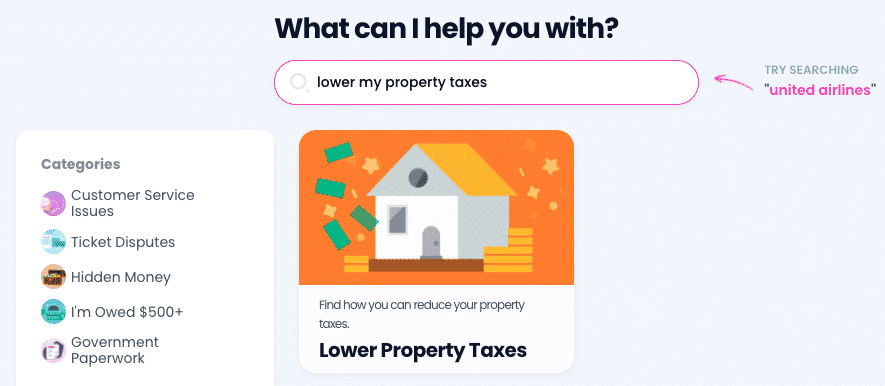 Once you access DoNotPay, follow these steps:
Open our

Property Tax

service

Provide required info

Follow DoNotPay's personalized guide and reduce your property taxes hassle-free
We will help you reduce property taxes in Arizona and any other country in the U.S., including:
DoNotPay Can Help You Send Property Tax Appeals 
In case your property tax relief request gets denied, you should file a property tax appeal. DoNotPay's feature helps with that too. Our guide will explain how to collect evidence, fill in your property tax appeal forms, prepare for the appeal hearing, and much more.
Clear Your Schedule With the Help of DoNotPay
DoNotPay is renowned for making our users' lives infinitely easier. Not only can we root out unwanted subscriptions for you—you don't need to do it manually one by one any longer—but we can unsubscribe you from unwanted email and snail mail lists.
Fire up our app and let it navigate the phone tree instead of you or use it to make a DMV appointment at your earliest convenience. Forget about googling clinical trials near you—DoNotPay can sort them out according to your needs and their individual eligibility criteria. 
We can fill out the paperwork that you need to file at your local small claims court to initiate a dispute. You can work around the U.S. penal system and have DoNotPay locate an imprisoned loved one instead of you trying to reach individual prisons attempting to do it yourself.
You don't need to go to great lengths to get in touch with a counselor to sign your college fee waiver either—DoNotPay does it for you and then forwards the necessary documents on your behalf. 
DoNotPay Never Ceases To Amaze
Where there's one useful feature, there are nifty features galore!
Use our Virtual Credit Card to sign up for free trials and stop robocalls and spam text messages from reaching your phone. If you feel a free trial unrightfully turned into an expensive paid membership, we can help you request a refund or chargeback for the inconvenience.
We can further assist you in exercising your consumer rights by making a warranty claim in your place and verifying your online accounts with temporary phone numbers.
We can also break down the Freedom of Information Act for you and introduce you to online fax options and property tax reductions.