The Full Story on a Property Tax Assessment
We have all been there—just when you thought all the bills were paid and everything was up to date, a bill labeled Property Tax arrives out of nowhere, and your finances take a huge hit. Here is what you need to know about a property tax assessment and what you can do about it.
What Is a Property Tax Assessment?
A property tax assessment looks at your property and tries to put a fair value on it so that your local authorities can tax you accordingly. The types of property that are subject to property tax include:
Homes

Farms

Business premises

Non-removable building fixtures
The revenue your local administration receives from property tax is important, generally being used to fund public amenities such as local police, fire services, street lighting, or civic cleaning and maintenance.
How Does Property Tax Assessment Work?
Each state appoints several assessors who carry out regular appraisals of property values and record the results.
The assessment aims to determine a fair market value for each property and generally uses one of these methods:
| | |
| --- | --- |
| Approach | Explanation |
| Sales comparison approach | The property is compared to other similar-sized properties in the area that have sold recently, indicating how much the property would fetch if it were to be sold |
| Cost approach | The assessor estimates how much it would cost to build a property at today's rates |
| Income approach | For commercial properties, the rental income a property generates is used to calculate its value |
There are other factors that influence your assessed property value, such as:
Access to public services (sewer, water, electricity, and similar)

Development potential

Recent renovation or improvements carried out
Once the assessor has determined a fair value for the property, the value is multiplied by the state or local tax rate to arrive at your tax bill. This rate is called the Mill Rate and varies from state to state. In some of them, the tax rate is lower than in others.
How Can I Lower My Property Tax Assessment?
Property tax assessments take into account the current value of your property, so any recent improvements you have made will be reflected in the next assessment.
You should check your tax bill for any inaccuracies and be present when your property assessment is made.
The most successful ways of reducing your property tax bill are these two:
Looking for

property tax exemptions

Appealing your tax assessment
Looking for Property Tax Exemptions
If you fall into certain categories, you may be eligible for property tax credits or even a full exemption. We will look at the applicable categories below.
Appealing Your Tax Assessment
As a last resort, you can appeal your property tax assessment. This process varies from state to state, but the principles remain the same. The appeals process is explained below.
What Are the Typical Property Tax Exemptions?
Most states use similar exemption criteria to qualify for a tax credit or exemption that can reduce your tax bill:
Senior tax credit

Income-based tax credit

Homestead tax credit

Renters' tax credit

Veterans' tax exemption
Senior Tax Credit
Homeowners over 65 who use the property as their main residence may qualify for a senior citizens' credit on their property tax
Income-Based Tax Credit
Property tax is not designed to overburden taxpayers, so credits are widely available if your tax bill exceeds a certain proportion of your income.
Homestead Tax Credit
If your latest assessment represents a significant increase compared to the previous one, you may be eligible for homestead tax credit. This limits the amount your tax bill can increase each year to 10% or less, meaning that your new assessment is phased in over time rather than being applied in one go.
Renters' Tax Credit
If you rent a property, many states consider that you are already de facto paying property tax through your monthly rental payments. In this case, you may be able to apply for renters' tax credit and reduce your property tax liability.
Veterans' Tax Exemption
In many states, veterans with 100% disability and some veterans' spouses may qualify for full veterans' property tax exemption.
DoNotPay Helps You Reduce Your Property Tax Bill
Property tax may seem confusing and arbitrary, but DoNotPay can help you. Follow DoNotPay's guidance, and we can help you solve your property assessment problems and reduce your tax bill.
Our app has a powerful property tax tool that gives you a customized recommendation on what you can do to reduce your property tax bill. The guide comes with two sections:
Property Tax Exemptions
Property Assessment Appeals

Information about your local property tax exemptions that may apply to you

A list of documents you must fill in and submit

Instructions for the submission process

How to deal with a property assessor

How to appeal against an assessment
How Do I Get DoNotPay's Property Tax Guide?
Our guide is simple to get—all you need to do is simply follow these three steps:
Go to DoNotPay in any

web browser

, sign up, and find the

Property Tax

feature

Answer the questions about yourself and your property

Wait for the app to give you a customized guide to property tax reductions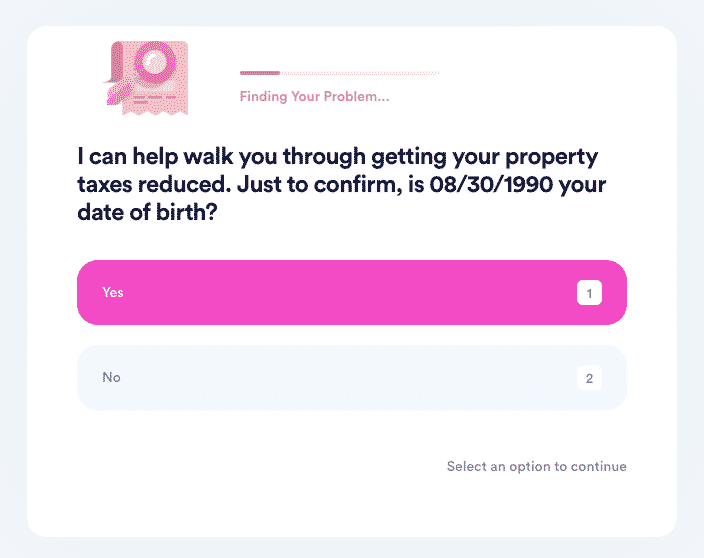 Can I Appeal Property Assessments?
All states have an assessment appeals process, but it should only be used as a last resort.
An appeal against your property assessment can be a daunting process, and you may be tempted to avoid it altogether.
DoNotPay can help! With our dedicated service for lodging a property tax assessment appeal, you will find all the information you need for your area to get your property tax assessment reduced.
Explore the Full Range of DoNotPay's Services
Don't let annoying bureaucracy stop you from exercising your rights or finding new opportunities. DoNotPay—the world's first robot lawyer—comes with a diverse portfolio full of practical shortcuts for:
Struggling with finances? Our app will help you manage unpaid bills, find and claim lost money in any state, or get college application fee waivers. 
Minimize Paperwork With DoNotPay
Writing letters, filing claims, sending requests—these chores are nobody's idea of fun. Thanks to DoNotPay, you can bypass these menial tasks with a few clicks in your browser. 
Our platform is full of useful tips and features for filing insurance and warranty claims, dealing with parking tickets, getting refunds and chargebacks, or writing harassment cease-and-desist letters. 
DMV offices don't have to be the place where hope goes to die. With DoNotPay, you will be able to schedule any DMV appointment without the nightmare of waiting in lines. While you're at it, you can check out our guides and practice tests for the best driving exam preparation!