Property Tax Assessment vs. Market Value
—What Is the Difference?
Are you trying to understand property taxes and how the government calculates your tax bill? Going into details about property tax assessment vs. market value is one of the crucial steps to reaching that goal. DoNotPay knows everything about this topic and can tell you how to lower your property taxes!
Property Tax Assessment vs. Market Value
—What You Should Know
The terms market value and assessed value (property tax assessment) might seem similar, but the two differ. Market value is the estimated amount buyers would pay for a property. This property value is useful for property sales only. The person who comes up with the market value of a house or apartment is the appraiser.
The assessed value of the property is decided by a property tax assessor. This figure is used to determine how much a homeowner will pay for their property taxes. This is how the assessor calculates property taxes:
Deduct

property tax exemptions

from the assessed value

Multiply the result by an assessment rate (assessment ratio)
The assessment rate is a percentage set by each tax jurisdiction—normally 80–90%.
In some U.S. counties, the assessed value is a part of the market value. This usually leads to the former one being lower than the latter. This is good for property owners because the lower property tax assessment value means lower tax bills.
Factors That Determine Market and Assessed Value of a Property
Both the property tax assessor and the appraiser look at the same factors when establishing how much a property is worth. This includes:
Age

Property size

Lot size

Energy efficiency

Condition (exterior and interior)

Number of rooms

Public utility options

Location

Amenities

Heating and cooling systems
What Can You Do if You Are Not Satisfied With Your Property Assessment?
If you are a homeowner who believes their property tax assessment is too high, you have the right to file a property tax appeal! This is one of the popular property-tax reducing techniques. You should take this step in case you notice a significant difference between the current and previous assessments. It is not rare for property tax assessors to make a mistake and assess your value more than once or include some of the property you used to own.
Use DoNotPay To Help You With Property Tax Appeals
DoNotPay is at your service when it comes to appealing property tax assessments. If you sign up for our app, you can find the Property Tax product and use it to learn more about property tax appeals. We offer tips for property tax assessor negotiations. Your virtual assistant also knows what documents can serve as great evidence if it comes to a property tax appeal hearing.
Can You Lower Your Property Taxes in Other Ways?
You can try some of the other available options for lowering your property taxes. Some of the popular choices include:
Checking the tax bill for discrepancies

—You should let the local property tax authorities know if you notice any mistakes

Being present when the property tax assessor is in your house

—It is useful to shadow the assessor while they are making an evaluation so you can notice any potential mistakes right away

Not renovating the property

—You should avoid adding any improvements to your home before the property tax assessment to ensure the value doesn't increase

Applying for property tax exemptions

—Looking for these tax relief options can cut your costs significantly
DoNotPay is a great option for finding out if you are eligible for any of the property tax exemptions available in your state.
See if You Meet the Requirements for a Property Tax Exemption With DoNotPay
Whatever part of the country you live in, you will be able to find certain property tax exemptions created to help people who could use some tax relief. The property tax exemption programs usually apply to veterans, senior citizens, and disabled people. DoNotPay can assist you with finding out whether you can apply for any of the exemptions available in your state in under five minutes. You only need to follow these steps:
Sign up for DoNotPay

in your web browser

Find and open the

Property Tax

product

Tell us more about yourself and the property you own
We will also help you apply for the exemption if you meet the criteria!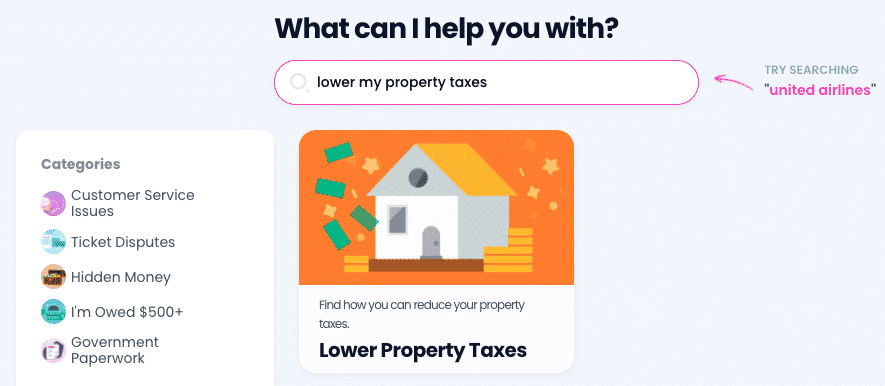 Some of the States With Low Property Taxes
If you are interested in finding out what states have low property taxes and want to see median assessed home values, you can check out the table below:
| | | |
| --- | --- | --- |
| State | Property Tax Rate | State Median Home Value |
| Wyoming | 0.65% | $256,427 |
| Arizona | 0.63% | $252,500 |
| Delaware | 0.62% | $270,911 |
| West Virginia | 0.61% | $107,762 |
| Tennessee | 0.61% | $192,275 |
| Nevada | 0.58% | $276,800 |
| Utah | 0.56% | $373,049 |
| Colorado | 0.52% | $418,363 |
| Alabama | 0.48% | $149,996 |
| Hawaii | 0.36% | $648,194 |
Keep Your Money in Your Pocket and Save Time
With our assistance, you can also appeal parking tickets in any city, get help with bills, make an appointment with the DMV, protect your copyright, and avoid phone number verification!
If you feel like you were wronged either by a faulty product or a delayed or canceled flight, DoNotPay will also help you request a refund from any company or airline hassle-free.
Being on a tight budget isn't easy—knowing that, we've developed features that will get you free trials, unclaimed money, extended warranties, college application fee waivers, and so much more!
Fend Off Scammers With DoNotPay's Help
Are you sick of having a cluttered inbox or getting robocalls? So are the majority of Americans. If you want to get rid of email spam, text message spam, or annoying robocalls, DoNotPay can help you put a stop to them once and for all.
Do you feel like serving justice to companies that wronged you or stalkers and harassers that won't give you a break? Use our AI-driven app to fight for your right!