Property Tax Appeal Service Explained
If you are a homeowner in the U.S., you know how high property taxes can be. Many people struggle with making tax payments and search for ways to lower their property tax rates.
This is where property tax appeal services can come in handy. They can help you assess the true value of your home and file an appeal to reduce your property taxes.
 If you feel like your tax payments have become too much to bear, DoNotPay can help you understand how to lower them in a blink of an eye!
The Trouble With Property Taxes in the U.S.
Paying property taxes can be a major inconvenience or a small issue, depending on your status and the state you reside in. The average American homeowner spends around $2,375 on property taxes. Considering that around 64% of the U.S. citizens owe tax money and the other 36% struggle to make regular payments, it is no wonder people need help to pay their property taxes. 
Take a look at the table below to find out which U.S. states have the highest property tax rates:
| | |
| --- | --- |
| U.S. State | Average Real-Estate Tax Rate |
| New Jersey | 1.89% |
| New Hampshire | 1.86% |
| Texas | 1.81% |
| Nevada | 1.76% |
| Wisconsin | 1.76% |
The government uses the property tax money to fund various services and the public school system. While paying taxes is obligatory, there are concerns about whether the tax system is really transparent. Most people make their payments regularly, without second-guessing the sum. In many cases, errors happen, and it is worth exploring the possibility of getting property tax relief. 
How Can You Lower Property Taxes on Your Own?
You can use certain tricks to verify that you are not being overcharged in your property tax payments. Even if you live in a state with low property taxes, there is no harm in checking if you should be paying less. The most common methods of lowering your property taxes are:
Avoiding home improvements

Looking for errors in your tax card

Checking property tax bills of neighboring homes

Making sure you qualify for a

property tax exemption

Filing a property tax appeal
Submitting a property tax appeal presents the last step in your efforts to lower tax rates. One way to appeal is to hire a property tax appeal service.
How Can Property Tax Appeal Companies Help?
Property tax appeal companies promise to do all the legwork for you. Depending on the company, their offer may include:
Making a home assessment

Doing the research to establish the grounds for an appeal

Filing an appeal in your name

Negotiating with the county tax assessment office

Preparing for the Board of Equalization hearing
You can expect to be charged a hefty sum for these services, depending on the company you choose and the level of service you wish to obtain. In most cases, you don't have to pay so much to file an appeal. With proper guidance, you can do it yourself without any problems!
Are Property Tax Appeal Services Reliable?
If you are still considering hiring a property tax appeal company, you should make sure it's legit. The best methods for ensuring a property tax appeal company's reliability include:
Looking for A+ ratings

Checking company's qualifications

Searching for possible users' complaints and checking if the company has resolved them

Making sure that companies' estimates agree with your county's latest assessment value—many companies solicit clients through email and include these estimates as a part of the offer
No company can promise that your property tax appeal will be granted, so there is no point in overpaying for a service you can perform by yourself. DoNotPay has a more practical and affordable method to offer!
DoNotPay Can Help You File a Property Tax Appeal on Your Own 
DoNotPay understands how frustrating it can be to file an appeal for tax relief. The hardest part of the process is searching for information on relevant documents, and we can make that problem go away!
With our help, you'll be able to acquire all the necessary data without leaving the house! Here's how the process works:
Access DoNotPay from a

web browser 

Find the

Property Tax

feature

Provide information about you and your property
Our app uses the relevant data you provide to create a personalized guide containing everything you need to know about filing a property tax appeal. You can use our guide to find out:
Which forms you need to fill out 

What documents you are required to gather

How to present your case at the Board of Equalization hearing
 With our guide, appealing for a tax reduction will be a piece of cake!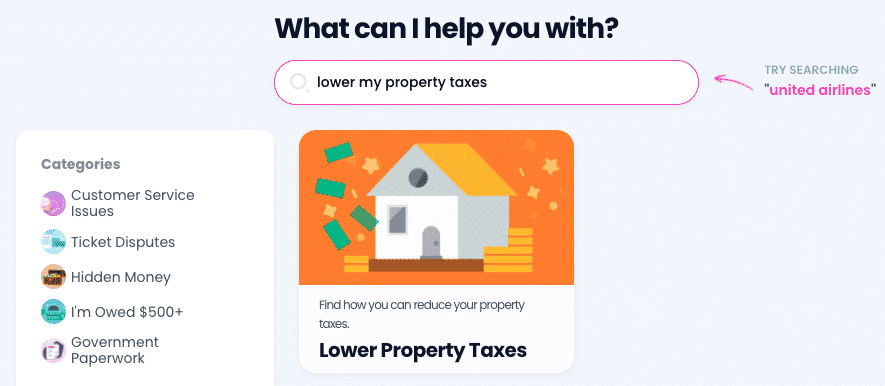 If you want to know more about property taxes, you should check out our learning center. We have information on: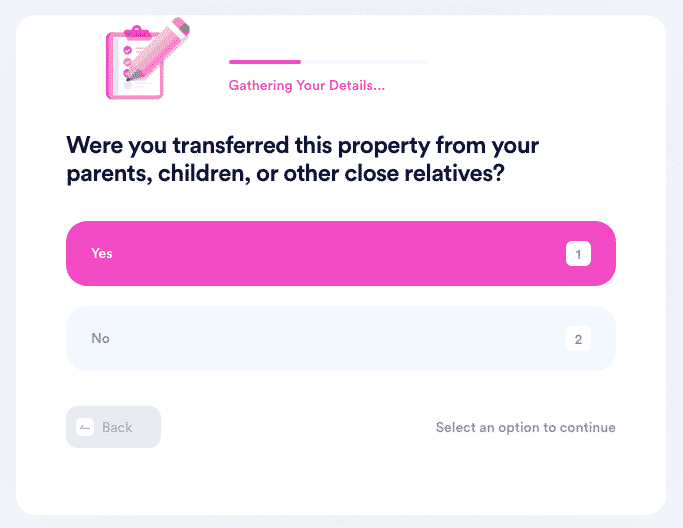 DoNotPay Leads the Way Against Spammers
Browsing the internet has never been more popular than today, but you must not forget to keep your private and financial information safe. You know you can cancel any streaming service or magazine subscription easily, but that won't stop them from using your personal details for marketing purposes.
DoNotPay has a solution for that! 
Is a company pestering you with incessant robocalls, spam emails and text messages? Use our Virtual Credit Card to catch them in the act and claim compensation for your troubles. 
To prevent that from happening ever again, use our card to sign up for free trials—not only will you not pay a dime for the service, but you will be automatically unsubscribed as soon as the trials are up! 
If you want to avoid revealing your personal phone number, we'll generate a temporary burner phone for you so the company won't have any way to reach you.
Already Been Scammed? DoNotPay Knows the Way!
If you've already made the mistake and divulged your personal info to the wrong party or experienced any other kind of crime or injustice, you don't have to sit tight and suffer the consequences. DoNotPay can assist you in taking anyone to small claims court!
We'll help you gather evidence—correspondence proving stalking or harassment took place, customer service call recordings, denied chargeback and refund claims, online fax transcripts, or proof of copyright violation. Then, we'll fill out the relevant legal documents for you and draft a court script that you can use in your hearing.