Get the Scoop on the
Property Tax Appeal in Los Angeles
California is one of the states with the highest property taxes in the country, and local residents should learn about the ways to lower these expenses. Property tax rules differ across counties. If you want to learn more about how property tax appeal in Los Angeles County works, you can count on DoNotPay for the information.
LA County Property Tax Assessment Appeal
—When Should You Appeal?
If you live in LA County and are not satisfied with the property tax assessor's evaluation of your home, you can file a property tax appeal. The reasons for doing so may involve you seeing that the assessor evaluated your property twice. Other times it could be that you notice a significant difference in the amount of your tax bill compared to previous years.
Whatever the reason you find the property tax assessment unfair, you should first get in touch with the Assessor's Office in LA County. If you don't manage to solve the issue this way, you should file an appeal with the Assessment Appeals Board. You don't have to deal with the procedure on your own—use DoNotPay to help you!
Appeal Property Tax Assessments With DoNotPay's Assistance
If it's necessary to appeal past property tax assessments, you can turn to DoNotPay for help. Your virtual assistant will gladly show you the ropes of negotiating with the assessor. We can also tell you more about the evidence and documents you'll need to strengthen your case. 
You only need to:
Sign up for DoNotPay

in your web browser

Open the

Property Tax

product

Answer some questions about your property
You will get a personalized guide with concise info that will lead you through the appeal process. With the info you gather, you will be ready for a property tax appeal hearing in no time!
Other Options of Lowering Property Tax in Los Angeles
You don't have to wait for the property tax appeals to lower your property tax. There are other options that can help you prevent getting a high tax bill. Check out the table below for more details:
Lower Your Property Tax By:

Explanation:

Applying for

property tax exemptions

Property tax exemptions are one of the most efficient ways of lowering your property tax. They are available in all states and target people who need

help paying property taxes

such as:

Avoiding home renovations

It is best to wait for the property tax assessor to make their evaluation before renovating your property. Any home improvement adds to the house value and thus to your tax bill

Shadowing the property tax assessor in your home

You should be present while the property tax assessor is doing their job to make sure everything is done according to the rules. If you notice a mistake, you can react right away

Checking the tax bill for discrepancies

Any suspiciously high property tax bill needs a double check. You can notice a mistake and let the responsible property tax authorities know on time
DoNotPay can help you find out if you can apply for property tax exemptions in Los Angeles!
Do You Qualify for LA Property Tax Exemptions? Find Out With DoNotPay!
If you wish to play it safe and find out whether you can apply for a property tax exemption in LA, you should use DoNotPay. We will have your answer in a matter of minutes. The procedure is as simple as it gets—you only need to follow these instructions:
Sign up for DoNotPay

in your web browser

Navigate to the

Property Tax

product

Provide necessary info about the property you own

Answer several questions about yourself
You can also find answers about the application process in our app!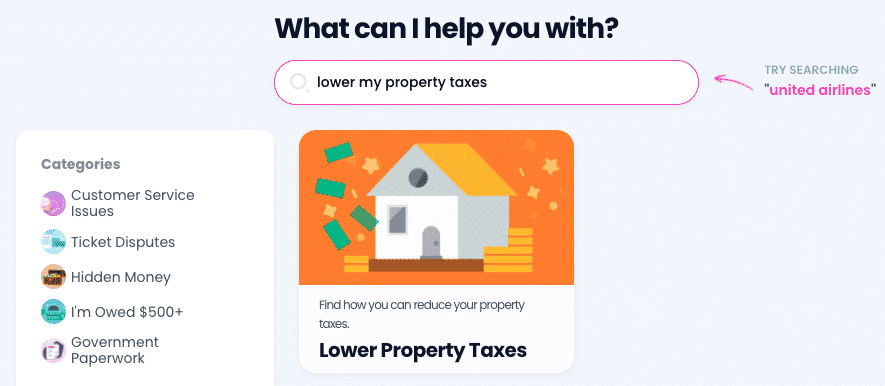 Property Tax Exemptions Available in Los Angeles
If you meet certain requirements, you can apply for property tax exemptions in Los Angeles. The available options include:
The Homeowners' Exemption

—You can apply if you own and use the property as your principal residence. Tax authorities can exempt $7,000 from your assessed value

Veterans' Exemption

—You can get an exemption of $4,000 applied to your property value if you are a veteran or their surviving spouse

Disabled Veterans' Exemption

—This exemption is available for veterans who are blind, lost the use of two or more limbs, or are totally disabled. The Veterans Administration needs to verify the injury is service-connected and certified

Disaster Relief

—You can ask for disaster relief if a flood or fire destroys your property. The loss must be larger than $10,000 of your property's current market value

Exclusion for Seniors and Disabled

—Senior citizens (55 or older) and disabled people who buy or construct a property that has the same or lesser value than their original home can transfer the old assessed value to the new residence
DoNotPay can provide you with a guide on understanding your property tax exemption options and eligibility! If you don't qualify for any of these exemptions, you can always check out our list of the states with low property taxes.
Don't Let Companies Take Your Hard-Earned Money!
People love to subscribe to all sorts of services—especially if there are free trials involved. The problem is that most of them forget that they signed up for anything in the first place. Companies are aware of this, which is why they auto-renew memberships as soon as the free trials expire.
Don't let them get away with it—use DoNotPay to sign up for free trials and cancel subscriptions right before they renew. If you want to save even more money, use our platform to learn how to handle high bills, parking tickets, college application fees, canceled or delayed flights, or faulty services you should get refunded for.
Use DoNotPay To Stop Illegal Activities and Earn off Scammers!
Our AI-powered platform can assist you in dealing with all sorts of scammers. If you got any of the following, the world's first robot lawyer will help you seek justice:
Do you want to protect yourself and your loved ones from stalking and harassment as well? Use DoNotPay to learn how! If the situation with a stalker escalates, our app is going to help you take them to small claims court by preparing all the paperwork and your court statement.
Don't stop there—check out how you can bypass phone number verification, claim any type of warranty, or pass any government test with flying colors!