Understanding a Property Settlement Agreement
If you didn't negotiate and sign a prenuptial agreement with your spouse before you got married, it would be a good idea to sign a property settlement agreement if you are getting divorced.
Legal documents are a nuisance for most people, but they aren't impossible to understand. We'll help you review the terms of your property settlement agreement. You will then find it easier to write the contract without the help of a lawyer.
What Are Property Settlement Agreements?
A property settlement agreement, or a PSA, is a legally binding contract between divorcing spouses. The agreement helps the spouses agree on any of the following issues:
Property division

Alimony

Child custody

Child support 
A property settlement agreement also goes by many other names, including:
Divorce settlement agreement

Marital settlement agreement

Mediated separation agreement

Custody, support, and property agreement
Spouses usually go through the negotiation process when they decide to file for a divorce. Whether the married couple has already separated or not, a property settlement agreement should be finalized before the court issues a divorce decree.
The property settlement agreement represents the final legal step in the divorce process. It specifically outlines what both parties' rights and responsibilities after the divorce are.
Who Writes a Marital Settlement Agreement?
It's a standard practice that either one of the spouse's attorneys or a family lawyer writes a settlement agreement. The family lawyer is usually called a mediator, which is where the name mediated separation agreement comes from.
When the contract is drawn up, the spouses can hire different attorneys to help them review the proposed terms. This is when the negotiation process starts.
You can also draft a marital settlement agreement and give it to your spouse to review it.
What Is Typically Included in Divorce Settlement Agreements?
The terms you agree to when signing a marital settlement agreement will affect your child and dictate your future assets, property, and financial circumstances. Review the agreement thoroughly to make sure your rights are protected.
Whether you are writing and reviewing a property settlement agreement or with the help of an attorney, you should know what parts go into it.
Take a look at the table to see what to include in your divorce settlement agreement:
| | |
| --- | --- |
| Property Settlement Agreement Elements | What They Determine |
| Personal property | The division of any personal property, such as furniture, vehicles, or kitchen appliances |
| Distribution of assets | How much each spouse will get from all marital funds |
| Tax requirements | Which party will cover the majority of property tax costs upon the division of the property  |
| Alimony | Whether there will be paid support for any party, who will pay it, and for how long |
| Retirement accounts | How the joint retirement accounts will be handled |
| Insurance | Who will be protected by the joint insurance, and who will stop making payments to insurance claims |
| Distribution of debts | Who will be responsible for any debts, such as credit card debts or personal loans  |
What Factors Are Considered in the Property Division?
Some factors that courts consider when dividing the marital property between divorcing spouses are:
Sources of income of both parties

Financial standing

Duration of the marriage

Whether and to what degree one party has contributed to the other party's education or employment 

Age, health, employability, and other needs of the spouses

Whether one party contributed to the acquisition or preservation of the marital property

Value of property that's being divided

Whether one party will have custody over a minor child
Can You Change the Provisions of Your Property Settlement Agreement?
Often, when the property settlement agreement is put into effect and months or years pass since the divorce, the ex-spouses change their opinions about the terms. When this happens, the spouses can verbally agree not to abide by the original agreed-upon terms and spare themselves the legal process of changing the divorce settlement agreement.
The risk the spouses take in the scenario is that further disagreements may arise, and one party could decide to enforce the original terms in the written contract.
If either party wants to change any of the provisions from their property settlement agreement, they can modify the agreement in court. The parties should both agree on the changes before they enter into the modified agreement.
Since the spouses' circumstances change over the years, child support and custody are more modifiable than the alimony provisions. Everything depends on the wording of the original agreement.
DoNotPay Helps You Say Goodbye to Lawyers for Good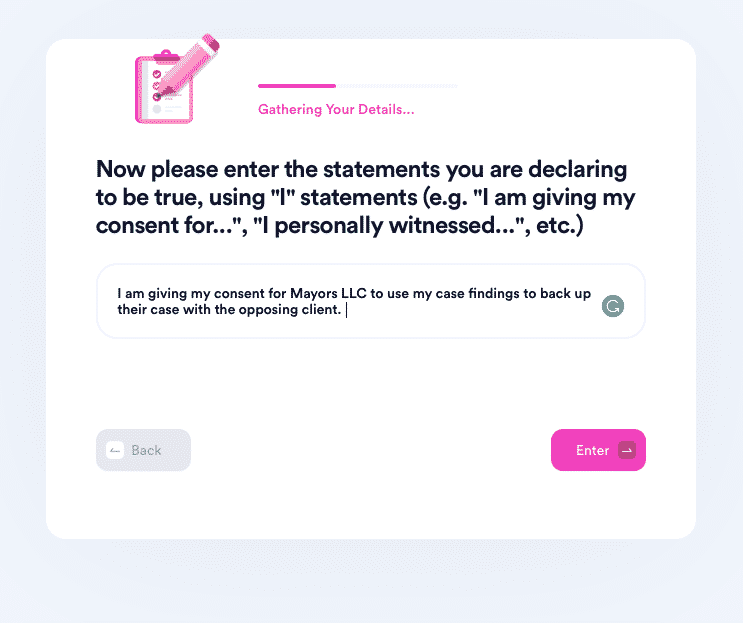 It may seem like you have to hire a lawyer to create a legal document, but what if we told you that's not true?
If you want to draw up different contracts, you only need to take these three steps:
Access DoNotPay from any

web browser

Enter the name of the contract you want to generate

Provide your information to customize the document
You can now say goodbye to contract templates and create legal documents with DoNotPay hassle-free.
Check out some of the most popular contracts DoNotPay generates:
General affidavit

Quitclaim deed

Child care authorization form

Intent to purchase real estate

Estoppel certificate

Promissory note

General business contract
Outsmart Scammers With DoNotPay
Are you troubled every time you think about subscribing to a service because you fear your personal information will leak and your privacy will become invaded?
There's no need to fret anymore as DoNotPay has come up with a way to shield you from hackers, scammers, and identity thieves alike. 
Check out how you can use DoNotPay and browse the internet care-free:
Open DoNotPay in your web browser

Locate our

Virtual Credit Card

generator

Use the made-up card number to sign up for any

free trial

Move forward to our

Burner Phone

product

Use the temporary phone number to verify any online account

Enjoy the trial without worrying about

canceling it

—the service will do it on its own
Signing up for services with DoNotPay's hacks frees you from ever falling victim to a serious crime, such as identity theft, and liberates you from the bothersome and never-ending spam calls, texts, and emails that you never explicitly agreed to receive.
What Else Is Hot About DoNotPay?
DoNotPay does wonders in protecting your online privacy, but it can do so much more for you! 
With our assistance, you can claim compensation for canceled or delayed flights, request refunds and chargebacks for unsatisfactory purchases, file warranty claims for defective products, and even overturn unjust parking tickets!
Our app can locate unclaimed funds that exist under your name, the best clinical trials for your needs, and public records that you couldn't identify on your own.