The Ins and Outs of the
Property Management Agreement
DoNotPay can help you better understand the rules and regulations regarding various legal documents, such as a property management agreement. If you are wondering how to write a contract of a different kind, your virtual assistant will also generate one for you.
What You Should Know About a
Property Management Agreement
A property management agreement is a contract between a homeowner and a person or a company that will manage the property in the homeowner's stead. The job of a property manager involves overseeing real estate and everything else stated in the property management agreement.
This agreement can be used for commercial, residential, and industrial property. The manager can look after:
Apartments

Detached houses

Condominium units

Shopping centers
It is important to state the duties and responsibilities of the manager clearly so that both parties signing the contract can be at peace.
Why Should You Make a Property Management Agreement?
Property management agreements are especially useful for people who plan to invest in more properties. If this is the way you wish to go, you should know how much responsibility comes with maintaining all of those dwellings. That's why hiring a property manager is a good idea.
They will be in charge of repairs and renting, which leaves you, as the landlord, with more time to focus on finding and investing in other property opportunities.
Having a property management agreement will safeguard the interest of both sides.
What Does Every Property Management Agreement Need To Include?
As is the case with any other legally-binding document, the property management agreement needs to include certain statements that will protect the interests of both parties. Take a look at the table below to see the necessities of one such contract:
It Should Include:

Details:

Fees and Services

The manager needs to agree to the services they will perform. Make sure to state the fees for those services and the list of duties that can be done for additional fees. The contract can also include what the manager will not do under any circumstances

Property Owner's Responsibilities

The landlord needs to have a reserve fund that the manager can use for maintenance and emergencies

Protection of the Parties

This part of the agreement is called the

hold harmless clause

. This should protect both parties of the agreement accordingly in case the manager gets injured on the job

Length of the Contract

Property management agreements usually last a year. You should decide on the length of the contact with the other party

Termination Clause

This is an important part of the agreement because it allows any of the parties to leave the contract if unsatisfied with the service or working conditions. The termination clause can save you from possible lawsuits. You usually need to give between 30 and 90 days' notice to end the contract
Property Manager's Obligations After the Termination of the Agreement
If the property management agreement has been made with all the required info, no problem should arise when the contract ends. The manager will have to handle a few other responsibilities before they leave:
Provide a final financial report

Leave the necessary records and documents

Give tenants written notice of the amount of the security deposit

Provide a record of tenant security deposit obligations

Transfer security deposits to the owner or the new property manager

Let the tenants know that they are no longer in charge of managing the property
DoNotPay Will Generate Legal Documents for You
DoNotPay can create a variety of legal documents in your stead. We can help you save time and money because, if you use our app, you won't have to turn to expensive lawyers for assistance. You should also avoid creating such documents on your own in case you don't have proper legal knowledge.
The solution is a few steps away:
Access DoNotPay from a

web browser

Type in the name of the document you wish to create

Provide us with your contact details, such as your name and address
You will have a contract of your choice containing all the necessary information in just a few minutes. You should note that making a contract official requires signatures of both parties and sometimes even notarization.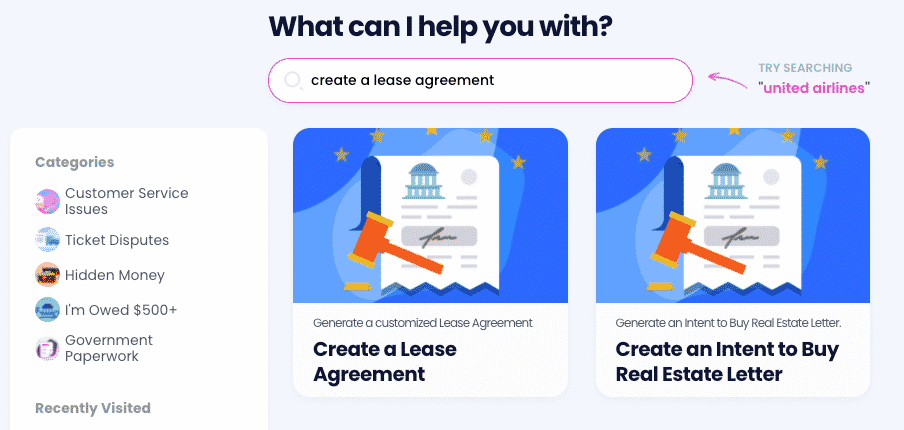 Pick a Contract You Want DoNotPay To Create for You
Whether you wish to create a legal agreement or learn more about the rules and regulations of other contracts, DoNotPay is the app to turn to. Take a look at the table below to see your options:
Find Out More About:
Create:

Estoppel certificate

Quitclaim deed

General affidavit

Intent to purchase real estate

Residential lease agreement

General business contract

Promissory note
Don't Let Companies Take Your Hard-Earned Money!
People love to subscribe to all sorts of services—especially if there are free trials involved. The problem is that most of them forget that they signed up for anything in the first place. Companies are aware of this, which is why they auto-renew memberships as soon as the free trials expire.
Don't let them get away with it—use DoNotPay to sign up for free trials and cancel subscriptions right before they renew. If you want to save even more money, use our platform to learn how to handle high bills, parking tickets, college application fees, canceled or delayed flights, or faulty services you should get refunded for.
Use DoNotPay To Stop Illegal Activities and Earn off Scammers!
Our AI-powered platform can assist you in dealing with all sorts of scammers. If you got any of the following, the world's first robot lawyer will help you seek justice:
Do you want to protect yourself and your loved ones from stalking and harassment as well? Use DoNotPay to learn how! If the situation with a stalker escalates, our app is going to help you take them to small claims court by preparing all the paperwork and your court statement.
Don't stop there—check out how you can bypass phone number verification, claim any type of warranty, or pass any government test with flying colors!