The Inns and Outs of a Property Co-Ownership Agreement Template
Do you want to purchase a property with someone who's not your spouse (e.g., your friend, family member, or business partner)? Since there aren't many laws that regulate each party's rights and obligations regarding the property, you should consider writing a property co-ownership agreement. If you're wondering whether you should use a property co-ownership agreement template to compose this document, this guide will provide an answer!
to learn more about this and many other agreements. Find out how to create other contracts stress-free without wasting a small fortune on a lawyer.
What Is a Property Co-Ownership Agreement?
A property co-ownership agreement—also known as a property sharing agreement—is a legal document signed by the property owners. Its primary purpose is to outline each owner's property-related rights and responsibilities. A property co-ownership agreement is useful for both investment and residential properties.
This contract is typically signed between:
A child and a parent who co-own property and live there together

Two or more individuals who want to invest in real estate  

A parent and a child if the parent is a co-owner because he or she is providing financial help for property purchase

An unmarried couple owning property together

A party that owns a house or apartment and another party interested in buying in and becoming a partial owner 
Besides offering legal protection to all signing parties, a property sharing agreement can also help avoid conflicts and misunderstandings. It can even spell out how any potential disagreements will be handled. 
Learn Which Issues a Property Co-Ownership Agreement Needs To Address
A properly written property sharing agreement needs to cover certain aspects. These are some of the questions that your property co-ownership agreement should answer:
Who will buy the property?

Which party will hold the title?

What property ownership percentage will every signing party own?

Who will provide funds for the down payment?

How will the payment of the mortgage be divided?

Which party will cover the mortgage?

What will happen if one of the signing parties can cover his or her share?

How will taxes, insurance, and other property-related payments be divided?

What is each owner responsible for regarding cleaning, maintenance, and similar?

What's the procedure if one party wants to sell the property and the other signing party does not? 

What will happen if one of the property owners passes away?
Should You Rely on Property Co-Ownership Agreement Online Templates?
Online samples can be a good starting point if you're not sure how to structure your agreements or which information to cover. While contract templates are sometimes useful, they aren't the ideal solution. 
Templates are usually too generic, and they don't fit every situation to a T, which can be a problem. If you decide to use one of the property co-ownership agreement samples, you'll probably have to spend a few hours adjusting it to your needs. This approach can be risky because you're more likely to make mistakes that can jeopardize the validity of the agreement.
Hiring a lawyer would be the safest solution, even though you might have to pay a few hundreds of dollars for the agreement. If you want to write the contract by yourself or modify the existing template, you should consider scheduling consultations with a lawyer. He or she will tell you if your document needs changing. 
DoNotPay Can Help You Create Other Legal Documents in Minutes!
Paying a tidy sum for a lawyer isn't always necessary, especially if you rely on DoNotPay. With our Legal Documents feature, you can draw up a myriad of contracts in a few clicks. Instead of wasting hundreds of dollars on one agreement, you will pay a low subscription fee for an unlimited number of documents. 
Do you and your property co-owners want to find tenants? In that case, you'll need a well-written residential lease agreement. DoNotPay will help you create a personalized agreement in the blink of an eye.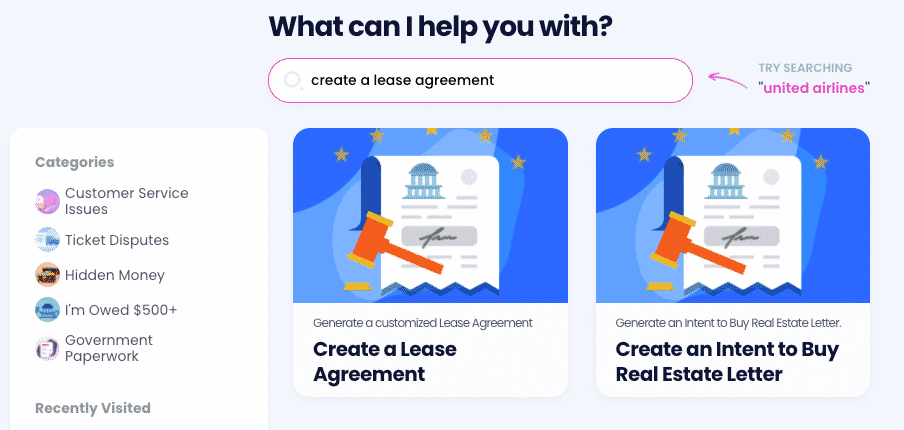 Whether you want to draft a lease agreement or other legal documents, you should and do the following:
Enter the name of the document

Provide the required answers

Print the document DoNotPay creates and sign it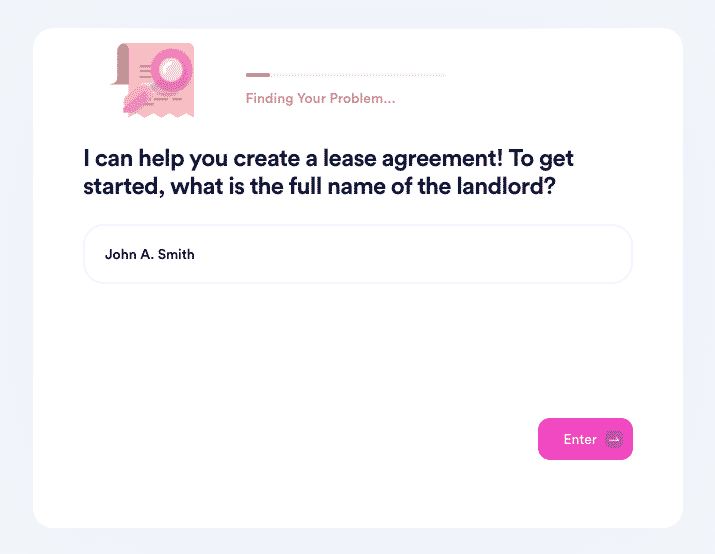 Take a look at the table below to see some of the contracts we can help you draft:
Real Estate Agreements
Business Contracts
Other Documents

Residential Lease Agreement

Quitclaim Deed

Intent To Purchase Real Estate

General Business Contract

Promissory Note

Child Care Authorization Form

General Affidavit
Get All Your Contracts Notarized With DoNotPay's Help
To ensure your property co-ownership agreement or any other document carries legal weight, you need to get it notarized. DoNotPay's Notarize Any Document product makes the notarization process super easy and time-efficient. 
We will help you find a 24-hour notary public and set up a virtual meeting in no time. Rely on DoNotPay and have your documents notarized by an online notary in Alaska, Virginia, Michigan, or any other state.
Save Some Coins With DoNotPay
Are various subscriptions and memberships burning a hole in your pocket? DoNotPay can help you cancel all of your memberships in a matter of minutes without having to contact customer service reps. 
Next time you want to register for a free trial, prevent unexpected costs with our virtual credit card. Once the trial is over, you'll be unsubscribed right away because our virtual credit card doesn't contain any money. We will also generate a random email address you can use if you want to protect your privacy and avoid spam marketing emails. 
Do you need help claiming warranties and insurance policies? DoNotPay can help with that too. 
Should you need assistance returning an item or requesting refunds for purchased products, canceled flights, or late deliveries, we've got your back!
Avoid wasting money on lawyers—DoNotPay is here to help you sue anyone in small claims court and create numerous legal documents in the blink of an eye!
DoNotPay Can Help You Earn Money Too
DoNotPay users can save hundreds of dollars thanks to our app, but did you know that we can help you earn a few bucks as well? Our app enables you to claim missing money under your name or file your application for paid clinical trials in less than five minutes.
You can even get compensation for reporting robocalls or apply for a crime victims compensation program in your state by signing up for our app and following a few simple steps.