Everything You Need To Know About Promise-To-Pay Agreements
If promise-to-pay agreements—also called promissory notes—seem confusing to you at first, don't worry DoNotPay is here to help! We created a guide that will help you learn what these agreements are and how to generate any type of legal document with ease.
What Are Promise-To-Pay Agreements?
Promise-to-pay agreements are legally binding promises to pay or repay money. The contract is made between a borrower—the person or corporation who will receive the assets—and a lender—the party that will give something of value. 
Promise-to-pay agreements usually detail the terms of the agreement and:
The amount of debt outstanding 

The conditions under which the money will be paid back 

The interest rate

A statement regarding what will happen in case the money is not repaid in time 
Benefits of Having Promise-To-Pay Agreements
Promise-to-pay agreements can be beneficial for both borrowers and lenders. Here are some advantages of promise-to-pay agreements:
Flexibility

—promise-to-pay agreements allow you to choose how you'll receive the payments:

In installments

On demand

Convertibility

—a promise-to-pay agreement that is convertible allows investors to convert to their preferred stock or interest in your company later on in time

Security

—having all the details about the loan on a legally binding paper is more than enough to make your transaction secure
What Are Promise-To-Pay Agreements Supposed To Contain?
Although promise-to-pay agreements vary depending on the signers' needs, most of them have the following elements:
Information about the borrower and lender

—the identification of both parties should be clearly specified with their names and addresses included. In some cases, promise-to-pay agreements will also include Social Security numbers. The lender's signature is not required

Details of loan amount and payments

—the description of the loan terms should be the central part of a promise-to-pay agreement and should list:

The date that the loan was made

The loan amount

The date that the loan needs to be repaid 

Exact terms of payment

Security agreement

—collateral tied to a promise-to-pay note is what makes it secure. Oftentimes, when used in real estate, promissory notes are secured by mortgages or trust deeds. If it isn't secured, the borrower is promised to receive the money and can sue the lender in case he or she isn't repaid

Other information

:

A description of late fees (if any) that the borrower has to pay

The collection methods

The name of the company's officer who agreed to be responsible for the repayment
Do Promise-To-Pay Agreements Need To Be Notarized?
Although a promise-to-pay agreement isn't required to be notarized to be legally binding, the notarization can:
Add legal weight to the document

—having a notarized document in the court strengthens the case

Ensure the authenticity of the document

—in case you're required to prove the authenticity of the contract, a notarized signature will be able to do that
If you decide to get your promissory note notarized, you can do it with ease using DoNotPay! With the help of our app's handy Notarize Any Document product, you'll be able to schedule an appointment with an online notary in minutes. If you then need to fax it, you can use our Online Fax product to get all of this done without leaving the app!
Creating Promise-To-Pay Agreements Is a Piece of Cake With DoNotPay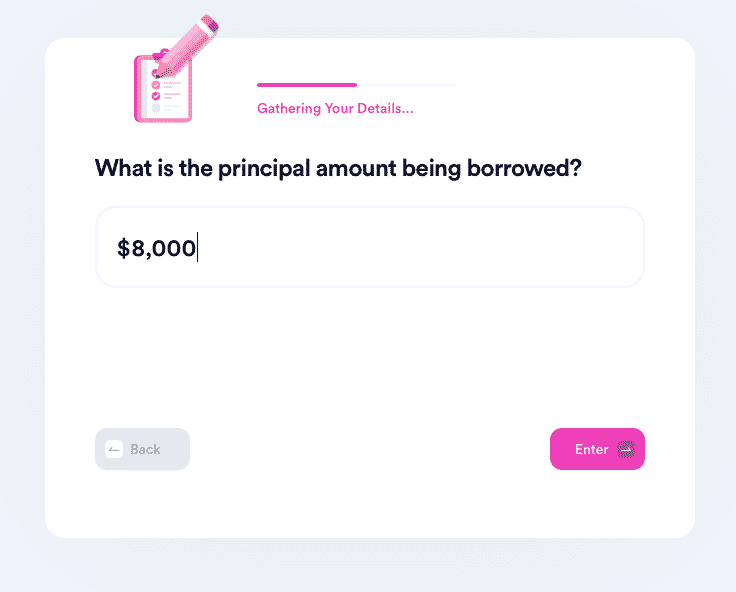 If you need help with contracts or any type of legal documents, you can count on DoNotPay because we have developed a product to assist you with that. You can get a customized legal document in a flash, without having to break the bank by hiring lawyers or having to spend hours writing the document by yourself. 
All you have to do to get a promissory note is:
Type in

Promissory Note

Answer our chatbot's questions to personalize the document
We will then generate the document for you, and all you need to do is to sign it. 
DoNotPay Comes to the Rescue With Its Learning Center
Our app can help you generate various contracts from business, real estate, and other areas, but that's not all! If you need more tips and tricks regarding legal documents, you can always visit our rich database that explains the process of drafting various documents. 
Here are some articles that may come in handy:
Documents DoNotPay Can Create 
Documents DoNotPay Provides Guides On

Intent To Purchase Real Estate

Quitclaim Deeds

General Affidavits
When You're In Over Your Head, DoNotPay Swoops In
With your virtual assistant extraordinaire, many tasks will be a breeze to deal with.
No fax machine? No problem! Use DoNotPay to send faxes online. If you don't want to waste time waiting in lines or on the phone, we come to the rescue with many of our products that will help you:
What Else Does DoNotPay Have in Store for You?
You can count on our assistance when you want to get rid of:
Our app has even more to offer—try out our hacks that will save you money and do the heavy lifting in numerous tasks: