Drawing Up a Profit-Sharing Agreement Has Never Been Easier!
Have you been trying to come up with simple and efficient ways to draw up your profit-sharing agreement but couldn't figure out how? Don't sweat it because DoNotPay is here to deliver!
No matter what legal document you may need assistance with, we will provide all the info and streamlined instructions! From a non-compete agreement to the prenuptial contract—we have it all!
How Does the Profit-Sharing Agreement Work?
The profit-sharing agreement is a legally binding contract that two businesses or parties sign when they reach a mutual agreement regarding the project in question. The agreement is used to set out the rules and duties of the parties involved. It also encompasses how the parties will distribute the profit that they make.
Having a profit-sharing agreement is, generally, a good idea if you are partnering with another business. It's beneficial to both you and the other party because all the obligations and specifics are clearly stated and specified. That is a great way to avoid any confusion and minimize all legal risks.
Should I Use a Profit-Sharing Agreement Template?
If you decide to create a profit-sharing agreement by yourself, there is more than one way to do it. Finding templates online is an option, but not a great one. Templates can often be unreliable or leave out an important item. If you follow the steps we provide below, you'll have nothing to worry about!
Here is what you should include in your profit-sharing agreement:
Roles and responsibilities

Management

Intellectual property

Dispute resolutions

Termination
Roles and Responsibilities
In the first section of your profit-sharing agreement, outline the responsibilities that each party will have. Mention the roles for everyone and state what the parties involved will contribute.
Cost and Profit Share Management
The profit and expenses have to be shared between the parties, and the rules should be set up in advance. Discuss the matter with everyone involved and reach a mutual agreement on how both the profit and expenses will be managed. 
Keep in mind that you have to be crystal clear on the way that the parties will distribute the profit to avoid any inconveniences later on, so make sure to specify all the details of the profit-share arrangement.
Intellectual Property
The intellectual property that the parties created before entering the profit-sharing agreement is usually an important subject to discuss and cover in the documents. Discuss:
Who will own the property while the agreement lasts

Whether it will be shared between the parties or not
Once you reach an agreement on this, include it in the intellectual property section.
Dispute Resolutions
Knowing what to do in case a dispute arises is a must. If there is any special procedure that needs to be followed before the dispute is taken to court, make sure to state it here so that everyone knows what to do.
Termination
What if someone wants to get out of or terminate the profit-sharing agreement? Is it possible to do it? What procedures should be followed? Specify everything about the termination of your profit-sharing agreement in the final section.
Let DoNotPay Draft Your Contracts and Legal Docs in Your Stead!
DoNotPay provides you with a neat option of drawing up contracts and legal docs on your behalf! The process is quite simple! All you have to do is provide us with info about the contract you want to be drafted, and we take it from there. Go to DoNotPay from any web browser and complete the following steps to get it done:
Type the name of the document that you need in the search field

Supply the required info about your document (names, addresses, and other relevant info)
That's all it takes on your part! Once you complete the last step, we'll draft your document and grant you access to it. Get all the parties to sign it, and you're done!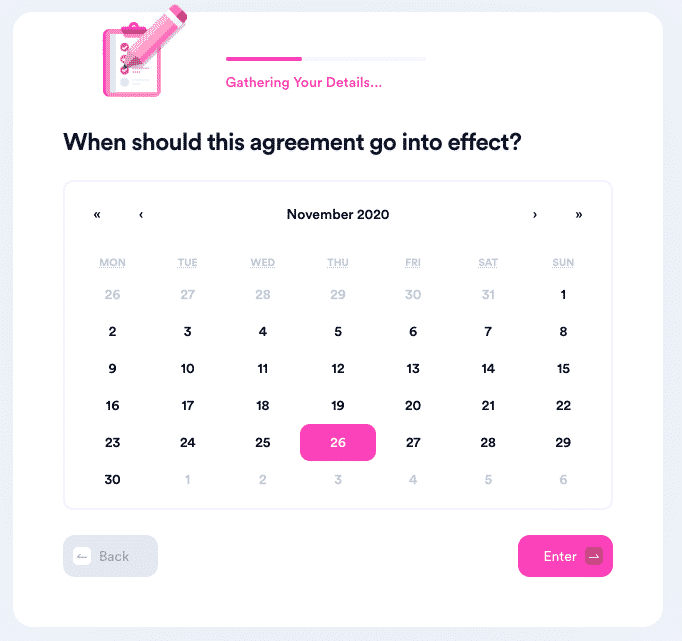 DoNotPay assists you in making numerous legal documents! You can use our app to create any of the contracts and agreements listed below:
General business contract

Intent to purchase real estate

Estoppel certificate

Quitclaim deed

General affidavit

Promissory note
DoNotPay Provides Guides for Other Contracts!
If you are looking for assistance with other legal documents or agreements that you, look no further! We are happy to inform you that we offer you guidance for countless other contracts! 
All the instructions you could possibly need are at the tip of your fingers! In the table below are some of the agreements you can draft with our help:
DoNotPay Helps You Claim Your Money
Our virtual assistant app makes sure you get back funds that are rightfully yours.
Whether you need to claim insurance, warranties, or your property held by the state, we will help you do it in minutes.
DoNotPay can also help you initiate a chargeback on any transaction you disagree with. We can help you secure compensation from airlines, robocall and text scammers, or in case you've been a victim of a crime.
In case you are dealing with an unfair company regarding your subscription cancellation or any other matter, we can help you get your money back by suing them in small claims court.
Bypass the Administration With DoNotPay
There's no more need for extensive research, abundant paperwork, or endless phone calls with customer service reps.
DoNotPay brings the administrative nonsense to a minimum.
Book DMV appointments fast and easy, appeal your parking citations, sign up for free trials without disclosing your credit card info or phone number, or reach your loved ones in jail—all in less than five minutes.
We also generate any legal document, provide full access to public records, offer DMCA protection, and reduce your property taxes with a few clicks.