A Guide to Understanding the Proffer Agreement
Understanding agreements and dealing with legal documents, in general, can be a bit frightening. Gathering all the necessary info and knowing what to include or what the sections and terms in the agreement mean is a difficult task. The good news is that DoNotPay can assist you and shed light on numerous legal topics—from the residential lease agreement to the non-disclosure contract!
We swoop in to help you by presenting you with all the details and relevant info you could need on the proffer agreement!
What Is the
Proffer Agreement
?
The proffer agreement is signed between a defendant and a prosecutor. It serves as a way for the defendant to share incriminating information with the prosecutor without the risk of that info being used against him or her. A defendant can elaborate on the details of the crime he or she committed, and the prosecutor has to refrain from mentioning this in any of the future proceedings.
This agreement does limit the prosecutors and government's ability to use the info against the defendant, but there are certain exclusions to this rule. The defendant can be persecuted if they share incriminating details of committing:
Perjury

Obstruction of justice

A false statement
The proffer agreement is legally binding, and neither party is allowed to breach it.
Useful Info Regarding the
Proffer Agreement
Before you enter the proffer agreement, you need to seek advice from a counselor on what you should share. You have to fully understand what will happen after you share the information or whether you can refuse to disclose any details and withhold information.
Discuss what you want to achieve with the proffer agreement and what you expect to gain from it. An experienced counsel will assist you in this and explain all the options and possible outcomes.
What Is the Reverse
Proffer Agreement
?
The reverse proffer agreement can be used to convince a suspect to confess to their crimes or plead guilty. It is often used when someone is the target of or a potential suspect in an active investigation.
The government does most of the talking during the reverse proffer. The suspect will go in with their attorney and be presented with evidence and details of the case that the prosecutor developed. They will explain the charges they would seek if the case goes to trial and try to convince the suspect to plead guilty. The point of the reverse proffer is for the prosecutor to try and cut a deal with the defendant in return for the information on the case.
Benefits and Drawbacks of the
Proffer Agreement
Like any other legal document, the proffer agreement also has its pros and cons. The table below will provide you with some of the most common ones:
Advantages
Disadvantages

The proffer is often a prerequisite to immunity or pleas

All parties learn about the strengths and weaknesses of the opponent's case

The agreement sets out the rules and obligations for a working relationship

Getting a better deal and enhancing the bargaining position is a possible outcome of having a proffer agreement

The suspect can sometimes confess to crimes that were hard to prove or that the government wasn't even contemplating

Forgetting about facts and statements that suspects gave before can come back to haunt them and ruin the case

A person can also be prosecuted for offenses that they refused or failed to state in the proffer agreement
DoNotPay Can Draw Up Your Legal Documents in a Few Steps!
Are you in need of a contract, but drawing one up on your own seems like an impossible task? We got your back!
By using our app, you can in only a few taps! All that you need to do is provide us with the info on the legal document at hand and follow our instructions. Here is what you need to do once you visit DoNotPay from the of your choice:
Enter the name of the agreement that you want us to generate

Provide all the necessary info, including the names and addresses of all parties involved
After you gain access to your document, you can print or download it. You should get everyone involved to sign it and not forget to sign it yourself.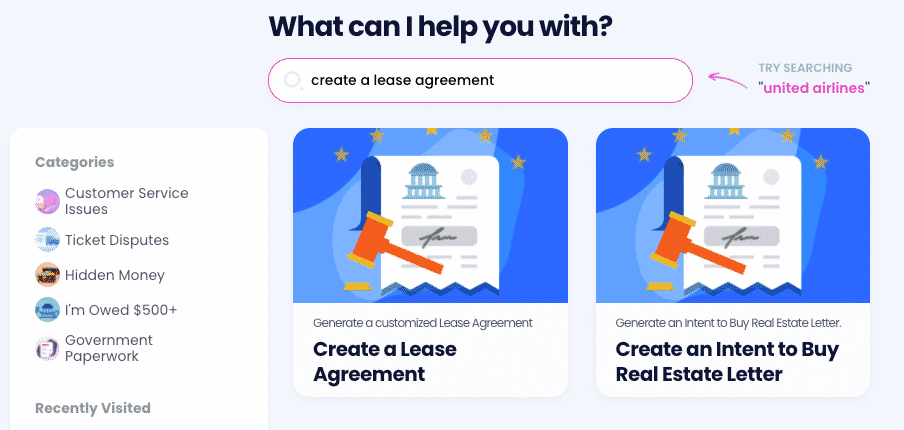 We offer you assistance with many agreements and legal documents. If you need help with drafting contracts for business or real estate, we are here to deliver!
You can check out the list below and see if any of them are what you were looking for:
General Business Contract

Intent to Purchase Real Estate

Estoppel Certificate

Quitclaim Deed

General Affidavit

Promissory Note
DoNotPay Helps You Claim Your Money
Our virtual assistant app makes sure you get back funds that are rightfully yours.
Whether you need to claim insurance, warranties, or your property held by the state, we will help you do it in minutes.
DoNotPay can also help you initiate a chargeback on any transaction you disagree with. We can help you secure compensation from airlines, robocall and text scammers, or in case you've been a victim of a crime.
In case you are dealing with an unfair company regarding your subscription cancellation or any other matter, we can help you get your money back by suing them in small claims court.
Bypass the Administration With DoNotPay
There's no more need for extensive research, abundant paperwork, or endless phone calls with customer service reps.
DoNotPay brings the administrative nonsense to a minimum.
Book DMV appointments fast and easy, appeal your parking citations, sign up for free trials without disclosing your credit card info or phone number, or reach your loved ones in jail—all in less than five minutes.
We also generate any legal document, provide full access to public records, offer DMCA protection, and reduce your property taxes with a few clicks.