How to Write a Professional Services Agreement Instantly with This Template
Coming up with fast and efficient ways to write contracts and legal documents isn't that easy. Taking on the burden of all the work included in creating a legal contract is overwhelming, but don't despair—you have options. 
One of the options that make drafting legal documents a piece of cake is DoNotPay. Our app generates your professional services agreement for you, and in that way, cuts your work in half! 
Why bother with doing everything on your own when you can have us do it for you in no time? Take advantage of the neat features we offer you, and draft your agreement in a few taps!
We also provide you with simplified instructions on creating your professional services contract in a jiffy!
The
Professional Services Agreement
—Explained
To fully understand how to create a valid agreement, you need to get to the bottom of the agreement and how it works. The professional services agreement is a contract that you use when you hire an independent contractor or a freelancer to perform a service. The contract is also known as an independent contractor agreement. The agreement should outline the terms of the arrangement that the parties make and provide a description of the service that the contractor will perform.
You can use the agreement for various services, from editing and graphic design to marketing and lab analysis.
Should You Use the
Professional Services Agreement Template?
Are you wondering whether you should make this agreement on your own and use templates to do so?
While making an agreement by yourself is possible, you shouldn't burden yourself and put so much effort into something that you can do with DoNotPay stress-free.
Regarding the use of contract templates, the answer is a definite no. You can find them easily online, but they are also often inaccurate and unreliable.
If you decide that you want to create your agreement by yourself, skip the templates and use the simplified info we provide you below.
Terms and responsibilities

Description of the services

Payment details

Confidentiality clause

Termination

Signatures
Terms and Responsibilities
In the first section of your agreement, state the names of the parties that are entering it. Apart from the names, including other relevant details, such as the addresses and effective dates.
Assign the responsibilities and duties to each party as well. Make sure that everyone agrees with the scope of work they are given.
Description of the Services
Provide a clear description of the service that will be performed. State all the details of the project or task, such as how it will be carried out, who will be performing the service, and anything else that could be important.
Payment Details
Decide on the way you want payments to be made. You can choose to make payments at the end of the project, in advance, or opt for a different method altogether. Regardless of what method you choose, include all the details on the payment:
If there are any additional expenses or specific payments that are relevant, mention them as well.
Confidentiality Clause
The confidentiality clause isn't mandatory, but having one is a good call—it saves you the trouble and legal risks later on. By stating what the parties shouldn't share with anyone outside of the agreement, you are protecting your business and ensuring that if any issues arise, you can deal with them with ease. Once you go over the confidentiality points with the parties involved and they agree to it, put the details in writing.
Termination
Define the acceptable terms and conditions in the event of the contract being terminated early. You can say how much notice a party will have to give prior to exiting the agreement and elaborate on anything else that you find important.
Signatures
When you finish with all the sections, go over them with the other parties and make certain that you covered everything and that you agree on all that is written. Once you are done with that, have the other parties sign the agreement, and don't forget to sign it yourself.
DoNotPay Will Draft Countless Legal Documents for You!
If you decide that you want to avoid using contract templates, you can always turn to DoNotPay for the easiest solution to drafting your agreement! We can assist you in creating your independent contractor agreement, but also various other contracts you may find useful! All you need to do is follow the three-step guide we provide below, and you'll have your document ready in no time:
Type in

Independent Contractor Agreement

in the search field

Give our chatbot a few short answers about the contract
We will generate your document, and all that is left is for you and the parties involved to sign it.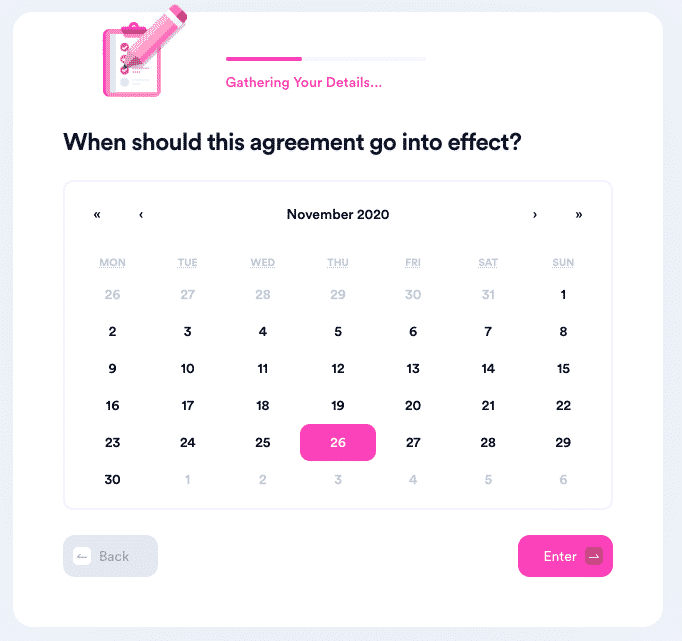 Other legal contracts that DoNotPay draws up for you are:
Business Contracts
Other Contracts

General Business Contract

Intent To Purchase Real Estate

Estoppel Certificate

Quitclaim Deed

General Affidavit

Promissory Note
Can't Afford a Lawyer? DoNotPay Will Jump In!
Did you know that you don't have to waste money on expensive legal help just to get rid of some minor bureaucratic issues? DoNotPay is here to save you hundreds of dollars with ready-to-use solutions that require mere minutes.
Our AI-powered bots gather the most important information via short questionnaires, draft required legal documents, and provide you with online fax services. If you need specific public records to support your case, we'll point you in the right direction.
With our virtual lawyer's help, you will be able to:
Spend Your Time on More Enjoyable Activities
With DoNotPay's help, you're bound to have more free time. If you're considering a new streaming platform subscription, make use of its free trial without worrying about unwanted charges. Need to get rid of other subscriptions? Use DoNotPay to cancel them without contacting customer support centers.
Don't worry about phone number identification at the signup. With our Burner Phone feature, spam text messages won't be bothering you ever again!