A Process Document Template Might Be the Solution You're Looking For
Writing a procedure document on your own is a tricky and tedious task, whereas hiring a lawyer to create one for you can create a hole in your wallet. What may solve those problems is a process document template, which you can download from the web. 
If you want to learn everything about process document templates and how to get various types of legal documents with ease, we'll explain everything in our guide! 
What Is a Process Document? 
In layman's terms, a process document describes the execution of a process and outlines every step that's needed for the completion of the task from start to finish. Such a document can:
Save you time and money

Reduce errors made during the execution of a process 

Create standardization 

Improve onboarding of employees and efficiency of the workplace 

Pinpoint areas of improvement in the process execution
Perks of Having a Process Document
If you're indecisive about whether you should get yourself a process document or not, we've compiled a list of advantages of creating one: 
Process documentation helps your organization figure out new strategies and tactics to make your workplace more efficient 

It can act as training material for new employees and help them get to know the workflow 

It can reduce confusion in the workplace as it states clear roles and responsibilities of everyone in the company

This document preserves key information about each step of the described process, which you may need to refer to later on 
Tips for Finding a Process Document Template
The search for a process document template isn't as easy as it might sound—you have to be careful when picking the right one. Not all process document templates will suit your needs or achieve the effect you want. To make your search easier, you have to:
Be patient and analyze several templates before you decide on one 

Choose one from a professional-looking website as amateur-looking ones provide templates that are full of grammatical errors 

Check for hidden costs because a vast number of websites that offer templates may charge you
Can You Create a Process Document Template on Your Own?
Creating a process document by yourself is doable if you follow certain steps. In case you decide to do it or want to know how it's done, DoNotPay will explain everything you have to do to create one:
Here's a table of all the necessary steps you need to take:
| | |
| --- | --- |
| Step | Details |
| Determining the scope of the process document | You have to provide answers to questions such as when the process will take place, what the goals of the project are, etc. |
| Listing the resources | List all the resources that your team needs to complete the process and describe what the end product will be |
| Giving out roles  | Describe what every team member will have to do in the process and what their roles and responsibilities are  |
| Visualize the list of activities | Visually represent the steps involved in the process via a flowchart. This will help your team understand how the process is carried out better |
| Adding media  | Make the flowchart more interesting by adding images and videos |
| Providing sources | Consider adding sources where you got your information so that your team members can do their research |
| Asking for feedback  | Share the process document with your coworkers so they can scan it for mistakes |
| Optimizing  | Make improvements to your process document by implementing the feedback from your colleagues |
| Testing | If you're sure you didn't skip anything, you should check if the process document works in a controlled environment |
Need assistance with any other legal document? No problem—DoNotPay will lend you its helping hand as soon as you sign up. 
DoNotPay Is Your Best Friend When It Comes to Creating Legal Documents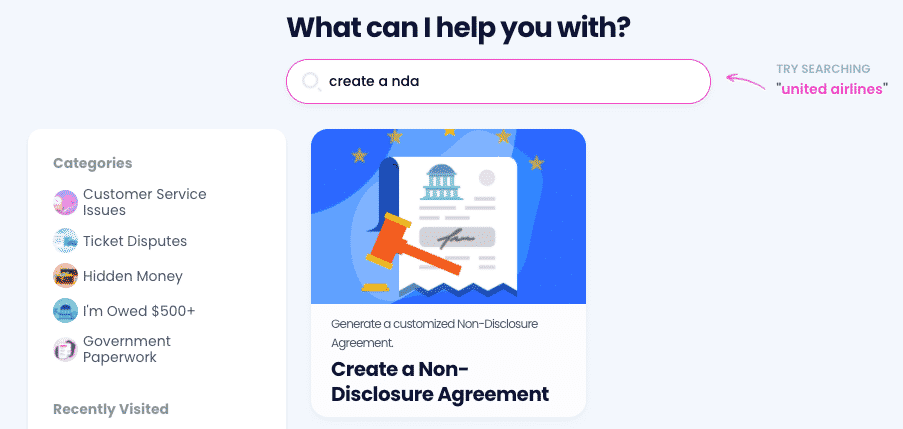 In case you need legal documents, contracts, or templates, you can always turn to DoNotPay for assistance! We can generate customized legal documents for you in a matter of minutes. 
All you have to do to get a personalized contract or agreement is follow these simple steps:
Type the name of your desired document in the search box 

Answer our chatbot's questions to personalize the document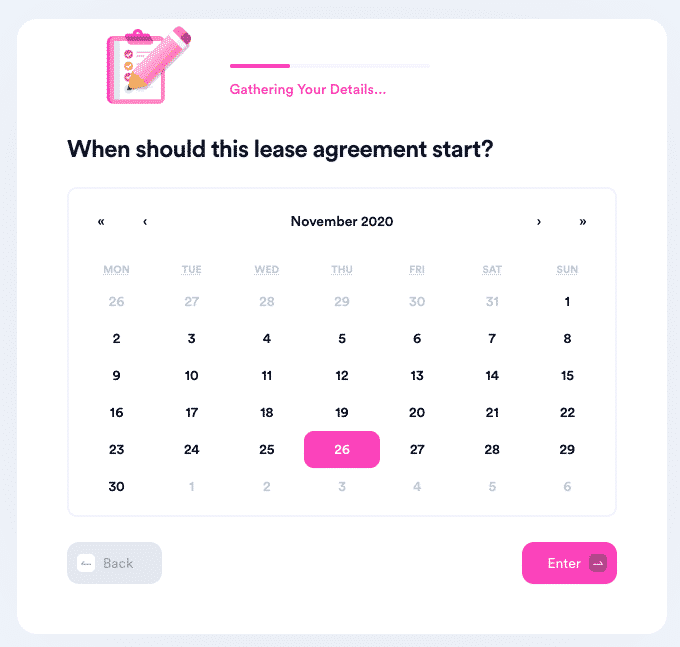 Once we generate the document for you, you can print, sign, fax, and get it notarized with our handy Notarize Any Document and Online Fax products.
Our AI-driven app can create a plethora of documents, including:
Child Care Authorization Form

Quitclaim Deed

Intent To Purchase Real Estate

General Business Contract

Promissory Note

General Affidavit
If you need guides on other types of legal documents, check out these easy-to-follow articles:
DoNotPay Has the Most Convenient Solution to Most of Your Problems
Whether you want to cancel subscriptions, request refunds for services, purchased items, or late delivery, or enjoy free trials without being charged, DoNotPay has a product for you. 
We strive to help you users solve their issues as quickly and effortlessly as possible. With us, you can enter various raffles and sweepstakes, claim warranties or insurance, report copyright infringement, and reduce your property taxes in less than five minutes. 
Protect Your Privacy With DoNotPay
Protecting your privacy can be challenging nowadays since most platforms require your phone number and email address upon registration. DoNotPay is here to ensure your personal info stays as secure as possible. Choose our Burner Phone product to register for services without phone verification or our virtual credit card if you want to use a randomly generated email address and payment details.
By using a fake phone number and email address, you can also avoid receiving annoying spam emails, text messages, and shady robocalls. DoNotPay can even make correspondence with inmates safer. If you don't feel comfortable sharing your address with an inmate, DoNotPay can receive the letters for you, scan them, and forward them to you risk-free.