Procedure Document Template Made Easy With DoNotPay
Getting a procedure document or any other type of legal document means writing one yourself or hiring a lawyer to create a personalized one for you. If you don't want to spend time writing it on your own or don't want to break the bank, you can get a template for a procedure document or contracts of all sorts.
In this article, we'll break down the procedure document for you and tell you how to find the most reliable procedure document template.
What Is a Procedure Document?
A procedure is a legal document that provides workers with instructions on executing one or more activities of a business process. It specifies each step of what needs to be done and includes by whom the procedure should be executed and when. 
Having a procedure limits human error and makes it easy for team members who are new to work on the same level as the experienced members.
How To Write a Procedure Document on Your Own
Writing a procedure document by yourself can be difficult, as it requires you to spend an unnecessary amount of time following certain steps. If you still want to know how to write it by yourself, we'll provide you with all the details on writing one. Here's what you need to do:
Meet with everyone who will carry out the procedure

—arrange a meetup with the team that will carry out the procedure. During it, you need to make sure that:

Everyone knows the purpose of the procedure

The starting point and end goal are clearly defined

Talk through the basic steps and principles of the procedure

Make an introduction

—write an engaging introduction that will keep team members interested, but tell the audience what the procedure is supposed to do, who will do it, and why it is important

Break the procedure down into a task list

—for a procedure to be easy to follow, it needs to contain a set of clear steps that your team is going to work by. Don't go into detail, but make sure everyone understands everything that they need to know to complete the procedure 

Add media to the procedure (optional)

—consider adding images, videos, or other files that will back up your point and make the procedure more interesting, as no one wants to read blocks of text

Include resources

—add the sources you got your information from. This allows any of the team members to go into deeper research and improve their skills

Test it

—after checking that you didn't miss anything, you need to test if the procedure works in a controlled environment 
How To Find a Procedure Document Template Online
In case that you've decided on finding a procedure document template on the web, you need to be careful when deciding on the right one. Not every procedure document template can be applied to your specific situation, nor can it achieve a desirable effect for every team.
Here are some tips on how you can improve your search for the procedure document template:
| | |
| --- | --- |
| Tips  | Details |
| Check for hidden costs | Most of the websites out there that offer free procedure documents include some form of hidden charges. Before deciding on the procedure document that caught your eye, you need to see whether you will be billed extra |
| Choose a contract from a professional-looking website | Amateur-looking websites tend to offer templates that are full of grammatical errors and may lack some details that you need |
| Be patient | Analyze the procedure document template carefully before deciding on one, as you'll want it to meet your requirements and fit your needs |
DoNotPay Can Create Various Legal Documents in Your Stead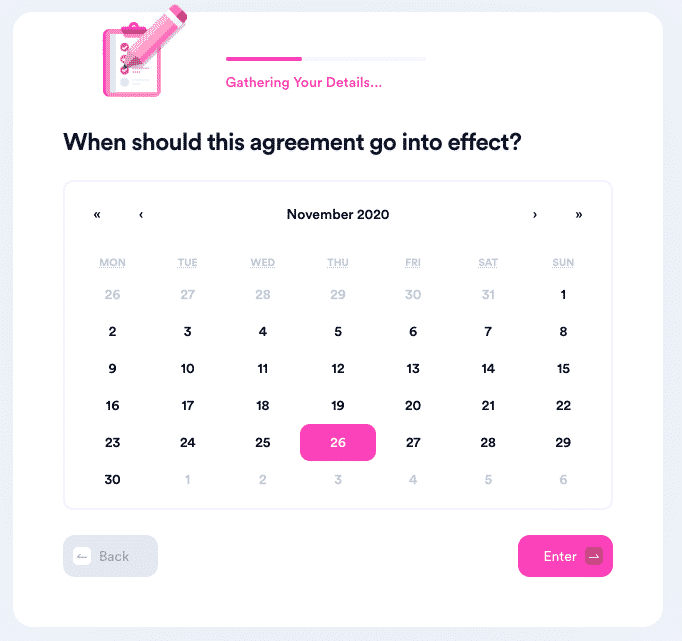 If all the information that you've read so far seems overwhelming, don't worry because DoNotPay has your back! While it can't create a procedure document, our AI-based app can generate a plethora of other customized legal documents for you in just a few minutes, and all you'll have to do is follow a few simple steps:
Type the name of the document you need in the search box 

Answer our chatbot's questions
Once you receive your personalized document, you will then be able to print, sign, fax, and get it notarized with our neat Notarize Any Document and Online Fax products.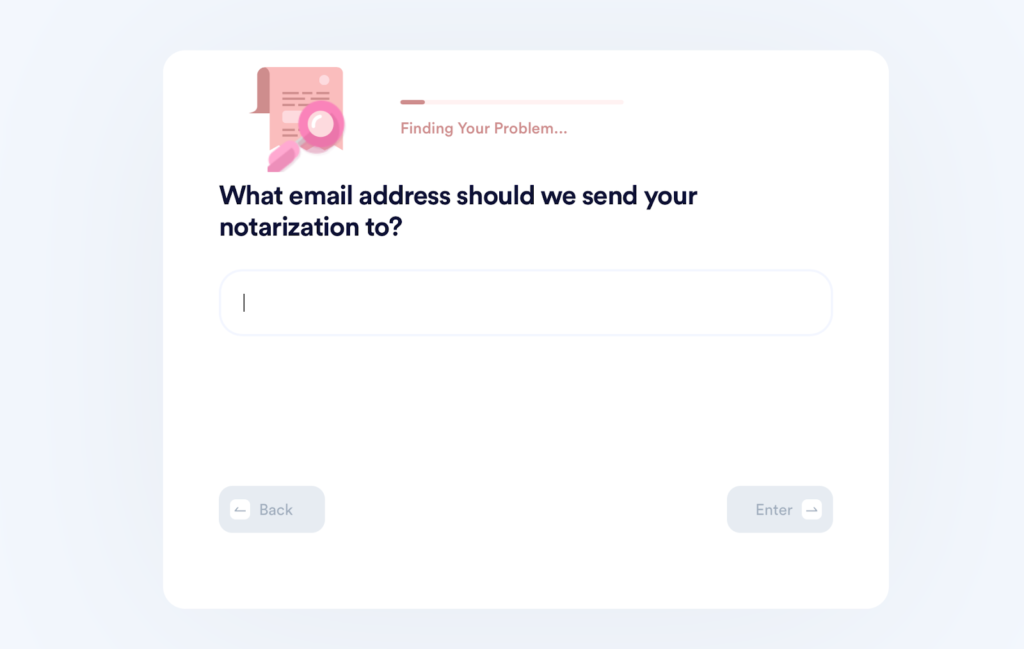 Other Documents That DoNotPay Can Create in Your Stead
If you find yourself in need of another type of legal document, DoNotPay can create a variety of personal, business, real estate, and other contracts for you, such as:
General Business Contract

Intent To Purchase Real Estate

Promissory Note

Quitclaim Deed

General Affidavit
Besides drawing up legal documents for you, we can provide you with information about:
Use DoNotPay's Features to Your Advantage!
DoNotPay offers a myriad of helpful services you can use to resolve your everyday hurdles. 
Do you need help paying bills or finding and claiming missing money? Are you interested in applying for clinical trials in your area? We can help you solve these and many more issues in no time!
Here are some other problems you can handle effortlessly with our help:
Hiring a Lawyer Can Cost a Small Fortune—Rely on DoNotPay Instead
If you're on a tight budget and can't pay a lawyer to help you create legal documents, file a claim in small claims court, or handle stalking and harassment, DoNotPay has a solution for you. 
Our app will help you create various documents, including child travel consent forms and complaint letters for a problematic neighbor. 
Are you a victim of a crime and need help applying for reimbursement of your crime-related expenses? You can sign up for DoNotPay and allow us to handle your crime victims compensation on your behalf.
DoNotPay can also connect you with an online notary and enable you to get your documents notarized from the comfort of your home.