The Ultimate Guide to the Prince William County Property Tax Assessments
If you own real property in Prince William County, you need to know how property tax assessments work! 
Every homeowner needs to pay taxes, but not many states have low property tax rates. This is why you have many ways to lower your tax bills—from applying for a property tax exemption to appealing your tax assessment.
If you want to reduce your bills, learn how our AI-driven app can help you with paying your property tax bills with minimum effort on your part.
Do You Know Why You're Paying Property Taxes?
When looking to reduce your enormous property tax bills, you should learn what property taxes are and why you need to pay them in the first place. 
Property taxes are the taxes you need to pay to your city or county if you own any real property. The entire community benefits from the funds accumulated through property taxes because the government uses that money to build and maintain:
Roads

Schools

Public health facilities

Law enforcement units

Green areas

Public libraries

Shopping malls
How Does the Prince William County Real Estate Property Tax Assessment Work?
Regardless of where you live, property tax assessments work similarly. What is different for each county and state is the property tax rate.
When tax assessors estimate the value of your property, they multiply that number by the tax rate of the county. This estimation determines how much you'll pay.
In Prince William County, Virginia, the tax rate is 1.05%, which is substantially above the state average. To make matters worse for residential property owners, property tax bills are expected to go up in Prince William County.
During the assessment of your property, your local tax assessors are supposed to determine the market value of your property based on:
The desirability of your neighborhood

Your home's square footage

Any permanent installments you have on your property, such as pools, sheds, or solar panels

The market value of homes in your neighborhood
It's important to read the notice you get from the local tax assessors carefully. If they make any errors, you may end up paying more than you are supposed to. In that scenario, you should appeal your assessment.
Although it isn't an easy process, our AI-driven app can help you along the way!
Here's more information on property taxes in Prince William County, Virginia:
Average Prince William County Property Tax Figures

Home market value

$369,300

Annual property tax payment

$3,873
More on Prince William County Property Taxes and Assessments
Did you know that you can influence the assessment of your property's market value? 
Here are four effective strategies you can employ to reduce your property tax bills:
Research the neighboring homes

—The information on market values of homes in your area is available to all citizens. With some research, you should be able to get specific numbers. When you know how much the homes in your neighborhood are worth, you can spot errors in your own assessment more easily

Don't make any improvements before the assessment

—As noted, everything on your property goes into the final market value estimation. If you were planning on installing any fixtures in your home, do it after the assessment to avoid higher tax bills

Walk around with the tax assessor

—Instead of allowing the tax assessor to make incorrect estimations, walk around your property with them. You should point out to the assessor any defects your home has so that they can include them in the final estimation 

Invite the assessor into your home

—The assessor that comes to evaluate your property can't go inside your home unless you let them. You should invite them in, though, since you can further influence the estimation of your property. Don't forget to emphasize any defects inside the house or the apartment to the assessor
Let DoNotPay Help You Appeal Your Prince William County Real Property Tax Assessment
If after all the measures you've taken your property assessment seems higher than it should be, you can always appeal it—and DoNotPay will help you do it!
When you want to appeal your property tax assessment, you'll find that the process is hard and complicated without exception. You need to spend days researching basic information, then go out of your way to collect evidence for your appeal, and endure the stress of court procedures.
DoNotPay can help you:
Collect all the information you need in one place

Gather the evidence without effort

Get the best advice for your court hearing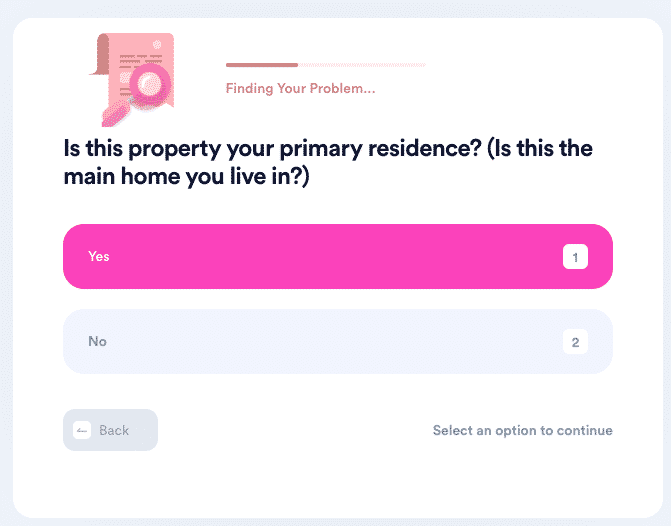 All you need to do is:
Go to our

Property Tax

product

Answer several essential questions about your property
In a couple of minutes, DoNotPay will generate a personalized guide on reducing property taxes for you!
DoNotPay Can Also Help You Apply for Property Tax Exemptions
If your tax assessment notice is error-free, you can still apply for tax exemptions to lower your tax bills. Log in to your DoNotPay account, and you'll get a specific guide on Prince William County property tax relief programs, including:
Do You Know What Else You Are Eligible For?
DoNotPay is a handy virtual assistant that can reveal a world of possibilities that you may not have even been aware of. We've perfected our algorithms to identify opportunities for you to save up and take charge of your rights. 
Here's a fraction of what we can do for you:
What Else Is New With DoNotPay?
DoNotPay boasts several new features that can help make your everyday life so much easier. 
Have you been wondering how to file an insurance claim but weren't sure where or who to turn to? We'll gladly do it for you. 
Are you tired of outdated faxing practices and manual documentation? Our app can provide you with an online fax solution and draft all your legal paperwork in no time at all.
Do you need a safe place to prepare for your upcoming government test? DoNotPay will give you all the prep tests you need.
We can help out with locating an imprisoned loved one and keeping correspondence with them via our virtual mailbox.
See what else DoNotPay has in store by accessing our web app in any browser.