DoNotPay Helps You Get a Preschool Homeschool Curriculum
Choosing a curriculum that'll comply with your state laws, provide enough hours of instruction, and help the student learn easily is the most important step if you're planning to homeschool your child.
As there are numerous curriculums, this article will help you select the perfect preschool homeschool curriculum for your child. We'll show you the methods of obtaining one and list the most popular curriculums you can find!
Getting a Homeschool Preschool Curriculum
If you need a curriculum for your preschooler, you can get one in the following ways:
Method
Details
Writing your own curriculum
The biggest benefit of writing your own curriculum for your child is that:

You'll be able to work around their strengths and weaknesses
It'll help you save on homeschooling costs

The downside is that it will be time-consuming and difficult, especially if you don't have any experience in it

Buying one at a convention
If you're a member of a homeschool co-op or association, you'll be able to go to a curriculum sale convention. There, you can find various curriculums or ask other parents for recommendations
Buying one online
This is by far the easiest option as you can download or order a curriculum online in no time. You can also find one that'll suit your child's needs and even find a sale
Which Preschool Curriculum for Homeschool Should You Choose?
As there are various curriculums you can choose from, we've selected the most popular ones to help you with the choice:
What Is the Best Pre-K Homeschool Curriculum?
Here are some curriculums you can get if your child is younger than five:
Sonlight—Sonlight encourages parents and teachers to instruct in a pressure-free environment by engaging the children with books, games, stories, and various other fun activities. The curriculum has incorporated pre-reading, pre-math, and pre-science skills, which will give your child an excellent head start
BookShark—This comprehensive curriculum comes fully planned with 25 books and other materials you can use to instruct your kid. They'll learn all about the world, language skills, math, science, reading, and art
Before Five in a Row—This curriculum utilizes everyday activities as learning opportunities for children. It will also immerse your student in literature for children with various fun books
You've Chosen a Homeschool Curriculum for Preschool—Now What?
Once you've opted for a curriculum, you will need to file a letter of intent to homeschool. The superintendent of your local school district needs to receive this document to get informed of your wish to homeschool your child.
Obtaining this letter requires you to either write it yourself, which may take a lot of time, or hire a lawyer, which is super expensive.
That's why we have developed the Letter of Intent to Homeschool tool! By subscribing to DoNotPay, you will save your money and time by letting us generate this essential document for you in no time!
DoNotPay Helps You Draw Up a Letter of Intent To Homeschool Fast and Easy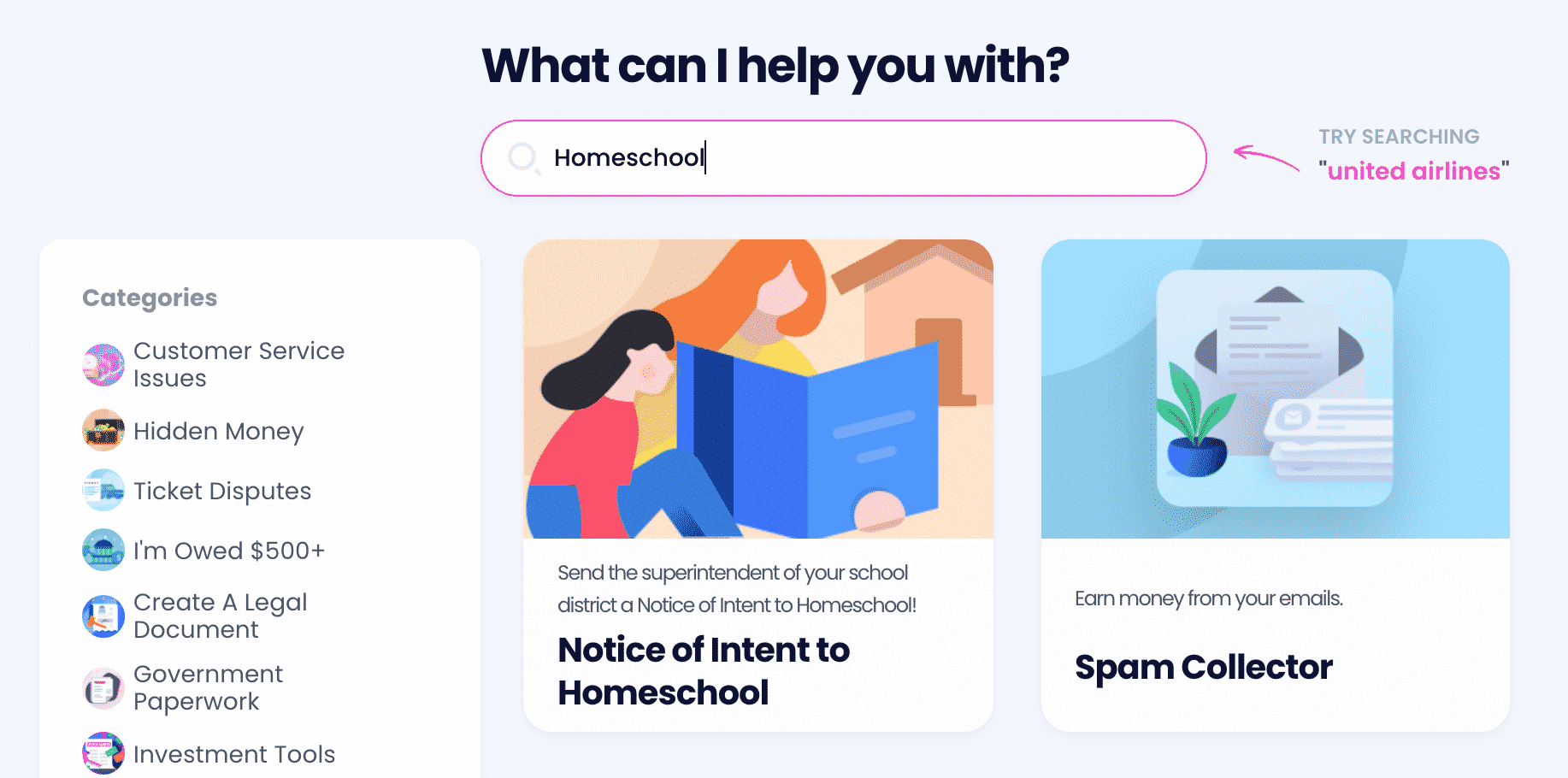 Getting a letter of intent to homeschool has never been easier with DoNotPay's handy tool! You can get the letter tailored to your needs in a matter of minutes, and you only need to follow a few steps.
Here's how to go about it:
Select the Letter of Intent to Homeschool feature
Give us information about your child, yourself, and your homeschool plan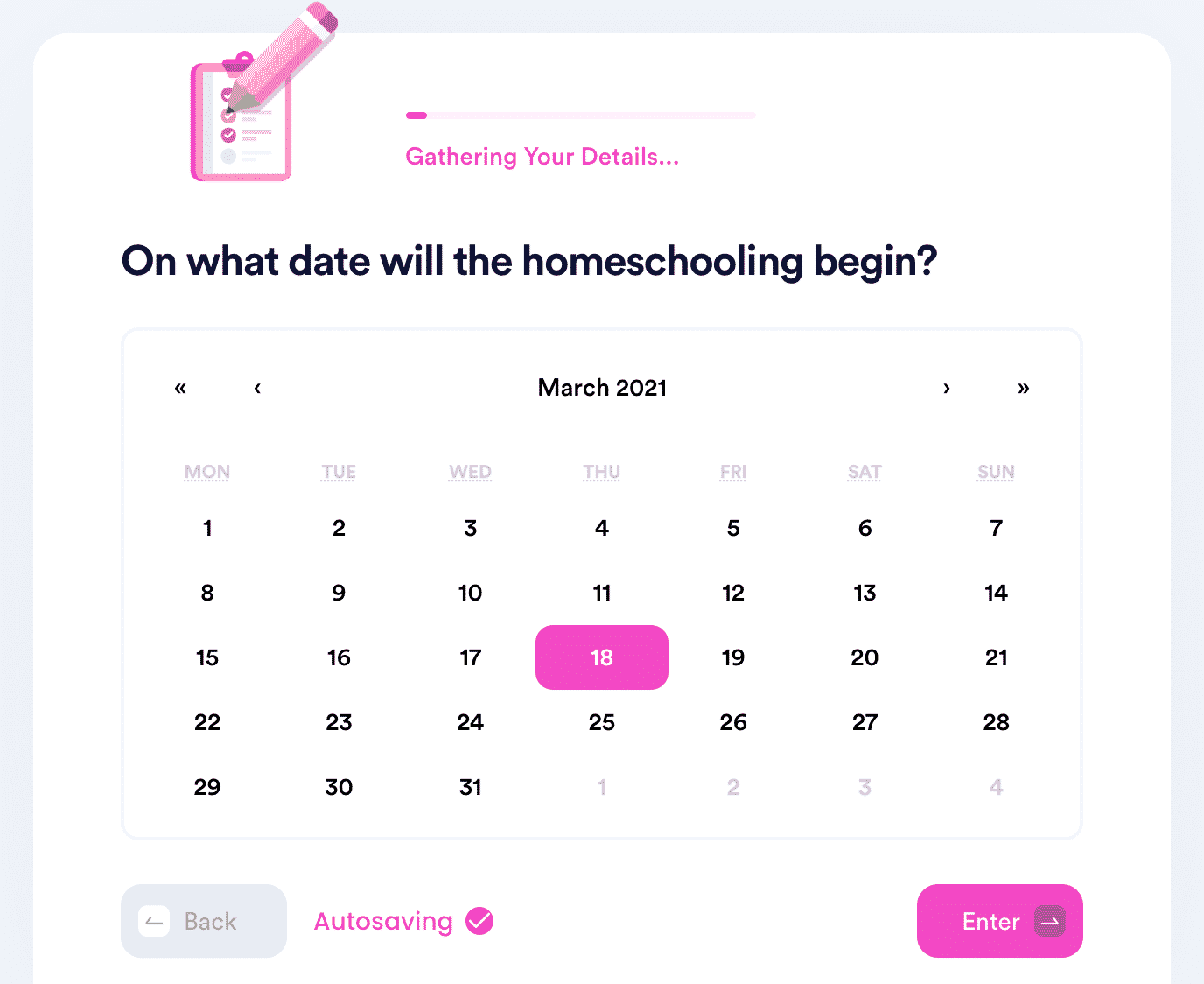 Our app will generate the letter for you, and then you'll be able to choose whether we:
Forward it to your desired address
Send it to you via email in PDF form
Connect you with an online notary if the state you live in requires you to have the letter notarized
We can also show you how to withdraw your child from school and tell you when and who can homeschool your child. DoNotPay will break down the homeschooling requirements and tell you whether you need a certificate to teach or whether that's a myth.
Discover DoNotPay's Solutions to Mundane Tasks
Our product range doesn't end there—we can also help you sue anyone in small claims court, cancel any subscription, start a free trial risk-free with our virtual credit card, get refunds and chargebacks, send anything through online fax, pay your utility bills, demand airline compensation, and deal with your annoying neighbors.
As soon as you sign up, we can also put an end to robocalls, copyright infringement, email and text spam, and stalkers and harassers. Our app's abilities don't stop there either—get perfect passport photos, free raffle tickets, compensation for victims of crime, or insurance or warranty instantly!
There's So Much More We Can Assist You With
Check out how else we can help—DoNotPay can:
Sign up now to take advantage of our nifty products!