Draw Up
Prenuptial Agreements in Texas
in a Breeze
Being married could mean joining assets, sharing debts, and owning properties together. Before tying the knot, you should consider drawing up a prenup to make sure both parties are protected.
If you are a Lone Star State resident, DoNotPay is your go-to option for drafting prenuptial agreements in Texas.
Learn About
Prenup Agreements in Texas
A prenuptial agreement—also known as a prenup or premarital agreement—is a legally binding contract that two individuals create together before getting married.
Prenups in Texas usually control the division of the property, including land, houses, vehicles, joint accounts, and other assets. They also regulate debt distribution.
While you can discuss some of the issues in a postnuptial, separation, or marital settlement agreement, it is best to define the most important subjects beforehand.
Who Should Enter Into a
Prenuptial Agreement in Texas
?
Having a prenup is smart, but it is not a requirement for getting married. Depending on your financial situation, you might not even need one.
You should consider getting a prenup in case either or both spouses:
Bring significant debt into the marriage

Consider buying a property

Have children from previous marriages

Are remarrying

Want to protect their assets
What Can
Prenuptial Agreements in Texas
Include?
Take a look at the following table to learn what prenups in Texas can or cannot cover:
Issues That Prenuptial Agreements in Texas Can Include
Issues That Prenuptial Agreements in Texas Cannot Include

Rights and obligations each party has regarding property

Allocation of real and personal property

Rights to spousal support

Division of debts and loans

Rights to the death benefit from life insurance policies

A provision that determines which Texas law will decide and interpret the case if it comes to a dispute or violation of a prenup

Rights to child support

Rights to children visitation

Division of spousal duties
What Makes a
Prenuptial Agreement in Texas
Valid?
The Texas Family Code and the Uniform Premarital Agreement Act (UPAA) are in charge of regulating prenuptial agreements and deciding whether they are legally valid.
To be legally enforceable in Texas, a prenuptial agreement has to meet all of the following requirements:
The agreement has to be in written form

Both parties must sign the agreement

Each of the spouses has to disclose assets and liabilities

The parties have to sign the contract in contemplation of marriage
The prenuptial agreement is legally void and unenforceable if:
One of the parties doesn't sign it voluntarily

It was unconscionable at the time of signing, which means it was unjust to one of the parties
How Much Do
Prenuptial Agreements in Texas
Cost?
The cost of making a prenup can vary from one lawyer to another. On average, prenuptial agreements in Texas cost $1,200.
Additional documentation can make your prenup more effective, like a will or trust, advance directive, and powers of attorney. The cost of these documents can increase up to $1,500 per document.
Can You Make a Prenuptial Agreement on Your Own?
If you are not enthusiastic about paying a fortune for a contract you might not even need, you may be thinking about writing a prenuptial agreement by yourself.
While it is a budget-friendly option, you should bear in mind that making any contract on your own can be challenging. Not understanding Texas laws when writing terms and clauses can make your prenup legally void.
You can look up prenuptial agreement templates online, but they are generic, and a prenup should be tailored to your needs.
Luckily, there is another option! can generate a prenuptial agreement that is legally valid in Texas and personalized for your situation.
DoNotPay Can Draw Up a
Prenup Agreement in Texas
in a Jiffy
Planning a wedding and future life together doesn't leave you with much time and energy to deal with legal paperwork. It is also not the best time for spending money on pricey legal assistance to draft a prenup for you.
We know that making legal documents can be a drag if you don't know how to write a contract, and that's why DoNotPay created the Standardized Legal Documents feature.
Our service is cost-effective and easy to use. To make a prenuptial agreement, follow these steps:
Open our app in a

Type

Prenuptial Agreement

in the search box

Indicate that you are a Texas resident, and answer other questions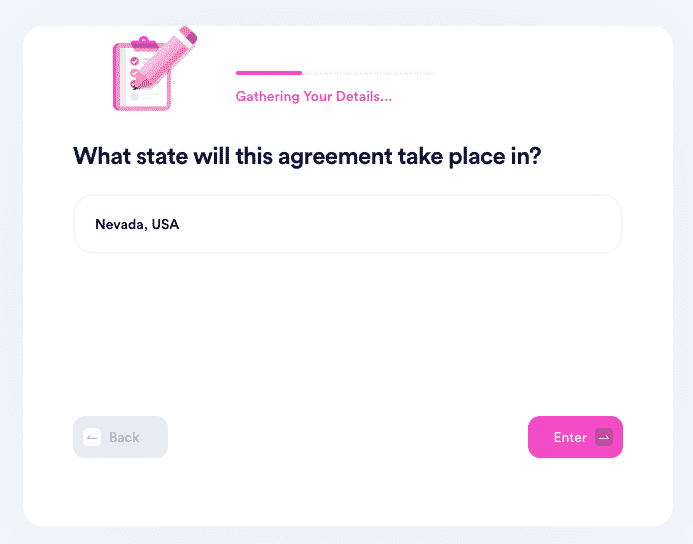 Once you complete the questionnaire, we will draw up a prenuptial agreement. You can later use DoNotPay to e-sign and fax the prenup to your spouse or attorney.
Besides prenuptial agreements, DoNotPay can generate other legal documents, including:
You can also find invaluable information regarding other contracts and agreements, like:
DoNotPay Is an Ultimate Money-Saving Assistant
Our app can help you manage bills that are too high to pay, but there are plenty of other money-saving possibilities out there we can help you with.
Want to challenge a parking ticket? DoNotPay can dispute parking citations in any city! Is someone getting revenue from your creative work? Cut the thieves off with DoNotPay!
We can also help you get your college application fees waived, file any insurance or warranty claims, locate unclaimed funds in your name, or earn some extra cash from paid clinical trials in your area.
No More Risky Free Trials With DoNotPay
Do you love free trials but tend to forget to cancel your subscription before the trial ends? If this is the case, check out DoNotPay's virtual credit card for a risk-free experience.
With our virtual credit card, you can sign up for any service without worrying about unwanted charges. DoNotPay will even provide you with a random email address, which will help keep your inbox clean from spammy emails from the company.
Our app can also get in touch with the company's customer service, request a refund from them, or even escalate your issue to small claims court if the company is challenging to communicate with.