Take a Look at the
Prenuptial Agreement's Pros and Cons
Are you thinking about getting married? You should consider protecting your interests and belongings in case the happily ever after doesn't work out. DoNotPay has the scoop on prenuptial agreement's pros and cons and can assist you with creating this legal document in no time!
What Info Should Every Prenup Agreement Include?
A prenuptial agreement, also known as a premarital agreement, is a legally binding document that future spouses sign. This agreement exists to clarify what will happen with the couple's personal property in case they get a divorce.
You need to have a prenuptial agreement checklist of information that the agreement should contain before making one. Every agreement of this types needs to include:
Personal info of both spouses

Date of entering the agreement

Duration of the agreement

A list of non-marital proprietary assets

Details of business ownerships

Alimony details

Info on handling the saving

Ways of handling the income made during the marriage

Obligations of each party in case of divorce

Severability information

Credit and debts info

Property distribution in case of a partner's death

Terms of agreement termination
What Shouldn't Be Included in a Prenuptial Agreement?
A prenuptial agreement is not an all-powerful legal document. There are certain statements that cannot be a part of this contract:
Spousal duties during the marriage

Parenting time after the divorce

Child custody and support after the marriage ends
Before making a prenuptial agreement, you should also go through all the pros and cons and see if it is the right choice for you.
What Are the
Prenup Agreement Pros and Cons
?
Take a look at the table below to see the upsides and downsides of a prenup:
Prenuptial Agreement
Pros
Cons

Protects the finances of each spouse

Keeps any business assets safe

Makes sure inheritance rights of children from a previous marriage are protected

Protects family heirlooms and any separate property

Divides the couple's debts, thus ensuring no one ends up paying what the other person owes

Offers the possibility of reimbursement if one of the parties gives up on a career for family

Covers responsibilities and decision-making in advance

Sets the limit of spousal support after a divorce

Keeps the finances of older and ill people safe

Answers the questions about the situation in which one of the spouses passes away

May provoke negative emotions as if the marriage were doomed in advance

Requires legal fees if lawyers are involved

Is unnecessary if you only want to divide the property in half because most state laws already do that

Can be unbalanced and favor the interests of only one spouse
As you can see, there are more reasons for creating a prenuptial agreement, and you should consider drawing one up. Don't stress if you are unsure about dealing with the process on your own—DoNotPay is here to help!
Use DoNotPay To Create a Prenuptial Agreement Easily
If you decided that you need a prenuptial agreement, you shouldn't waste your time. Create it before it is too late, but don't worry—you won't need to deal with lawyers and spend a hefty amount of money on them. You won't have to use a prenup template and write a contract by yourself either. These free contract templates are not reliable because they are too generic.
DoNotPay offers a way of creating a prenuptial agreement perfectly suited for your needs in a few clicks! You should follow these simple directions:
in a web browser

Type

Prenuptial Agreement

in the search box

as the name of the document you want to generate

Answer some questions about yourself that will help us personalize your prenup
After you get the prenuptial agreement that will protect your interests as you wish, you should notarize the document to make it official. Don't forget to sign the document, or it won't be legally binding.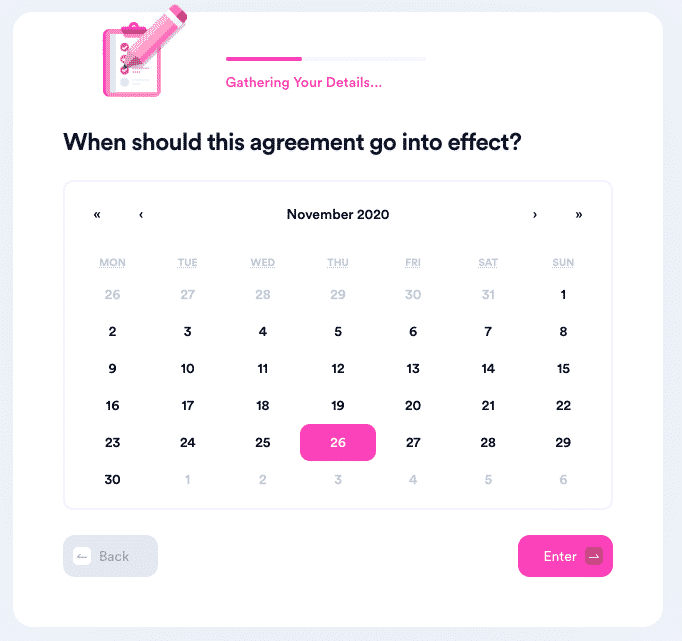 If you would like to get into more details about prenuptial agreements state-wise, check out our guides for the following states:
DoNotPay's way of creating prenuptial agreements works equally well no matter the state you want to get married and live in.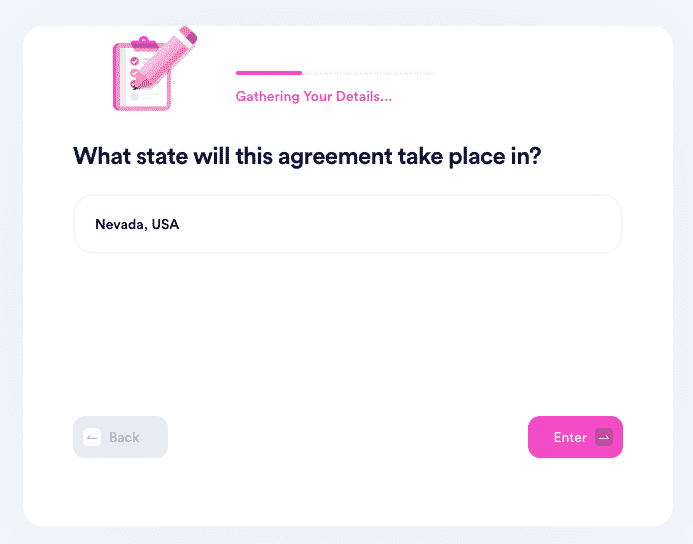 Rely on DoNotPay if you wish to learn more about the costs of the prenuptial agreement.
What Else Can DoNotPay Create for You?
It's not only prenuptial agreements that DoNotPay can help you with. Your virtual assistant has various other agreements that you might find useful. Whether you are dealing with real estate, running a business, or have some other reason to protect yourself legally, our app is at your service.
Open DoNotPay in your to generate:
Estoppel Certificates

General Business Contracts

Intent To Purchase Real Estate Documents

Promissory Notes

Quitclaim Deeds

General Affidavits
Keep Your Money in Your Pocket and Save Time
With our assistance, you can also appeal parking tickets in any city, get help with bills, make an appointment with the DMV, protect your copyright, and avoid phone number verification!
If you feel like you were wronged either by a faulty product or a delayed or canceled flight, DoNotPay will also help you request a refund from any company or airline hassle-free.
Being on a tight budget isn't easy—knowing that, we've developed features that will get you free trials, unclaimed money, extended warranties, college application fee waivers, and so much more!
Fend Off Scammers With DoNotPay's Help
Are you sick of having a cluttered inbox or getting robocalls? So are the majority of Americans. If you want to get rid of email spam, text message spam, or annoying robocalls, DoNotPay can help you put a stop to them once and for all.
Do you feel like serving justice to companies that wronged you or stalkers and harassers that won't give you a break? Use our AI-driven app to fight for your right!