Drafting
Prenuptial Agreements in Ohio
Is Smooth Sailing With DoNotPay!
Getting married should be a fun and happy experience, but certain legal and boring tasks can get in the way of that. To avoid burdening yourself with formalities, use DoNotPay to draft your prenuptial agreement in minutes and turn to other, more enjoyable activities. Our app also provides you with a prenuptial agreement checklist to make gathering useful info simple and easy.
If you are an Ohio resident looking for info about prenuptial agreements, you're at the right place! We will explain everything you need to know about prenuptial agreements in Ohio, and will help you make one in a snap!
Useful Info About
Prenuptial Agreements in Ohio
Prenuptial agreements, known in Ohio as antenuptial agreements, are usually permitted under the state's family laws. For the prenuptial agreement in Ohio to be valid, it has to meet certain requirements, including:
The items in the agreements can't encourage divorce

No spouse can enter the agreement under duress

There has to be full disclosure of the value of the spouses' property
Need Help Dealing With
Prenuptial Agreements in Ohio
? DoNotPay Will Draw One Up for You in a Jiffy!
Creating documents on your own is a chaotic and overwhelming experience. Why torture yourself with this when you can solve the issue in two quick steps? DoNotPay offers you exactly that.
By following the instructions provided below, you'll have your prenuptial agreement ready in a couple of minutes! Here's how it works once you load DoNotPay in your :
Enter

Prenuptial Agreement

as the name of the document you want us to draft

Provide us with additional info, such as

the names and addresses of you and your spouse
It will take us a few minutes to generate your prenuptial agreement, after which you will have to sign or notarize it, and you're done!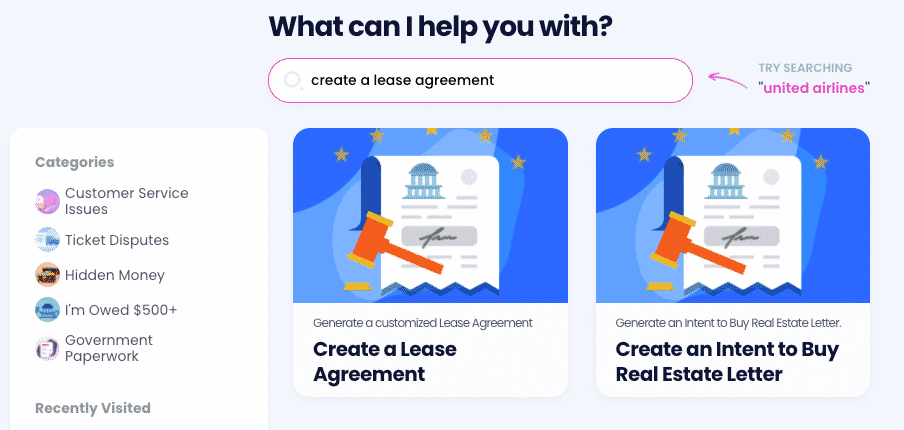 Prenuptial agreement isn't the only document we can create in your stead! We can provide you with instructions and draw up various other legal documents for you!
Check out the table below to see if we have the contract that you need:
Business Agreements
Other

General Business Contract

Intent To Purchase Real Estate

Estoppel Certificate

Quitclaim Deed

General Affidavit

Promissory Note
What Do
Prenuptial Agreements in Ohio
Cover?
You shouldn't overwhelm yourself with drawing up a prenuptial agreement on your own, especially when there is a much simpler solution—DoNotPay. We will draft your contracts in minutes, so don't hesitate to use our neat feature to your advantage!
Should you decide that drafting a prenuptial agreement by yourself is the way you want to go, make sure to include the following items in it:
Property rights

Assets and debts

Right to control properties

Family business management

Alimony

Death benefits

Additional items you want to include
Property Rights
When it comes to properties, there is individual and marital property. The individual property includes everything that you acquired on your own, while marital property is gained throughout the marriage. You can choose to own the property as a couple or individually. Whichever decision you reach, make sure to state it clearly in the first section of the agreement.
Assets and Debts
You have to discuss the distribution of assets and debts with your future spouse and decide how you want to do it. Mention what will happen with assets and debts during the marriage, but in case of a divorce as well.
Right To Control Property
To avoid any confusion and legal risks, consult your spouse-to-be regarding the control of the property. Say whether each of you is allowed to sell, buy, rent, or transfer property in any way.
Family Business Management
Making sure you specify the details regarding the management of a family business will save you unnecessary stress later on. State the obligations and responsibilities, such as who will manage the business and in what way.
Alimony
Alimony is usually paid by a higher-earning spouse, and you should elaborate on all the specifics when it comes to alimony here. The specifics you must mention are:
Which spouse will be paying alimony

How much they will be paying

When they will be paying and for how long
If you think of anything else that could be relevant regarding alimony, mention that as well.
Death Benefits
Both you and your future spouse may have your own insurance policies. In that case, if anything happens to one or the other, you may be able to receive the benefits from the other one's insurance. Discuss that among yourselves and specify the details about it in this section.
Additional Items You Want To Include
In case you or your partner think of anything else that could be important, use the final section of the agreement to state it.
Can't Afford a Lawyer? DoNotPay Will Jump In!
Did you know that you don't have to waste money on expensive legal help just to get rid of some minor bureaucratic issues? DoNotPay is here to save you hundreds of dollars with ready-to-use solutions that require mere minutes.
Our AI-powered bots gather the most important information via short questionnaires, draft required legal documents, and provide you with online fax services. If you need specific public records to support your case, we'll point you in the right direction.
With our virtual lawyer's help, you will be able to:
Spend Your Time on More Enjoyable Activities
With DoNotPay's help, you're bound to have more free time. If you're considering a new streaming platform subscription, make use of its free trial without worrying about unwanted charges. Need to get rid of other subscriptions? Use DoNotPay to cancel them without contacting customer support centers.
Don't worry about phone number identification at the signup. With our Burner Phone feature, spam text messages won't be bothering you ever again!