Should You Say Yes to
Prenuptial Agreements in NY?
Getting married calls for worrying about various things—from choosing the right venue to the perfect attire. It should be a once-in-a-lifetime, fun experience, and thinking about legal documents and contracts is probably not what you consider amusing. Why don't you let us take something off your plate and give you one less thing to worry about?
We'll explain everything regarding prenuptial agreements in NY and draw up your contract for you! That way, you can carry on with planning your big day, and we'll take care of the legal stuff that no one wants to deal with.
DoNotPay can help you create numerous other agreements, such as a lease agreement or a trust agreement! If you need more info on a prenuptial agreement checklist or you want to see what the pros and cons of having one are, we provide you with all the details!
Understanding the
Prenuptial Agreements in NY
A prenuptial agreement is a contract that couples make before they get married. It is made in a written form and used to outline the duties and rights of the future spouses.
If you are looking to draw up a prenuptial agreement in New York, here is some useful info you should know:
The agreement has to be made before marriage

The document takes effect as soon as you get married

It has to be put in writing, and both parties have to sign it before a

notary
Keep in mind that if you don't meet any of the above-mentioned requirements, your agreement won't be accepted by the court.
The prenuptial agreement can be annulled if one of the spouses:
Signed the agreement under duress

Was under 18 or mentally incompetent at the time of signing

Defrauded the other party under the agreement
Can I Create a Prenuptial Agreement on My Own?
Drawing up agreements by yourself is possible but not advisable. Most info you can find online, including contract templates, isn't accurate or reliable. While we can't vouch for what comes up online, we can offer you the option of .
If you would rather draft the agreement on your own, we'll give you all the necessary info on what you should specify in it:
Right to property

The distribution of assets and debts

Right to control property

Management of a family business

Alimony

Entitlement to death benefits

Other matters you want to address
Right to Property
Discuss both marital and individual property with your significant other and decide if you will own it individually or as a couple.
The Distribution of Assets and Debts
Choose in what way the debts and assets will be distributed during the marriage or in the event of death or divorce.
Right to Control Property
You should clearly specify the right of each spouse to sell, transfer, lease, buy, or control property in any way here.
Management of a Family Business
Elaborate on each of the spouses' rights when it comes to managing a family business. Discuss this with your partner, and once you reach a mutual agreement, write it down.
Alimony
Include all the details about alimony, such as the spouse who will have to pay it, the amount in question, the duration, and everything else you find relevant.
Entitlement to Death Benefits
Specify the details regarding the death benefits from the life insurance policy of the other spouse.
Other Matters You Want To Address
If there is anything else you want your prenuptial agreement to contain, you can include it in the final section.
Looking for Easier Ways of Drafting
Prenuptial Agreements in NY
? DoNotPay Does the Job!
We are fully aware that drawing up legal documents is tiring and overwhelming. That is why we developed a feature that makes creating contracts a piece of cake! All you need to do is follow the simple instructions provided below, and you'll gain access to your prenuptial agreement in no time! and follow the next two steps:
Give us the

name of the document or agreement

you want to draft

Provide us with additional info, such as the names and addresses required for the agreement
Once you finish the second step, we'll draft your agreement, which you'll be able to either print or download. Both you and the other party need to sign and notarize it, and you're done!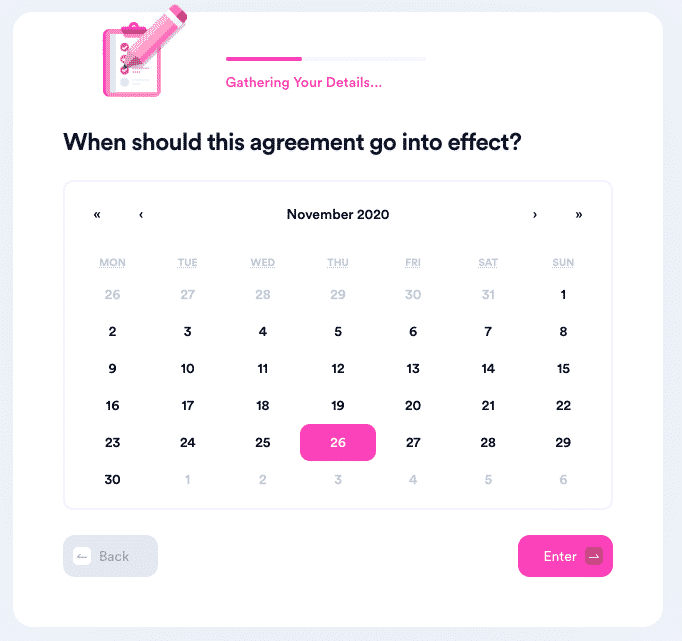 If you need help with other documents besides the prenuptial agreement, count on DoNotPay to provide you with the easiest and fastest instructions and draft the following contracts for you:
Business Agreements
Other Agreements

General Business Contract

Intent to Purchase Real Estate

Estoppel Certificate

Quitclaim Deed

General Affidavit

Promissory Note
DoNotPay Helps You Claim Your Money
Our virtual assistant app makes sure you get back funds that are rightfully yours.
Whether you need to claim insurance, warranties, or your property held by the state, we will help you do it in minutes.
DoNotPay can also help you initiate a chargeback on any transaction you disagree with. We can help you secure compensation from airlines, robocall and text scammers, or in case you've been a victim of a crime.
In case you are dealing with an unfair company regarding your subscription cancellation or any other matter, we can help you get your money back by suing them in small claims court.
Bypass the Administration With DoNotPay
There's no more need for extensive research, abundant paperwork, or endless phone calls with customer service reps.
DoNotPay brings the administrative nonsense to a minimum.
Book DMV appointments fast and easy, appeal your parking citations, sign up for free trials without disclosing your credit card info or phone number, or reach your loved ones in jail—all in less than five minutes.
We also generate any legal document, provide full access to public records, offer DMCA protection, and reduce your property taxes with a few clicks.