What You Should Know About the Prenuptial Agreements in Florida
Searching for prenuptial agreement templates and saving money for prenuptial agreement costs aren't as fun as choosing a cake, a dress, or a venue for the wedding, but they are just as essential.
If you don't understand legal documents, you might be confused about your rights and responsibilities regarding prenuptial agreements in Florida.
has great news! You don't have to be a lawyer to negotiate your terms and sign your contract so that it protects your rights. Our AI-powered app will draw up a prenup agreement for you in a flash!
A Prenuptial Agreement in Florida—Definition
A prenuptial agreement is a contract between two prospective spouses determining how the alimony and property division processes will unfold in case of a divorce. In the state of Florida, you can also hear the contract is referred to as a premarital agreement.
Premarital Agreements Are All the Rage Today
You shouldn't shy away from drawing up a prenuptial agreement before you tie the knot. Rather than a frowned-upon contract that only the rich need, prenuptial agreements are a common way for couples to secure their financial future.
If you have doubts about drawing up a premarital agreement, you should consider your circumstances.
The prospective spouses that usually enter into a prenuptial agreement are those that:
Own businesses they don't want their spouse to engage in or benefit from in case of a legal separation

Have assets they don't want to divide when they divorce

Determine the alimony process beforehand

Look to protect the inheritance of their children from previous marriages or relationships
A Florida Prenuptial Agreement—What To Watch Out For
Florida laws and regulations regarding prenuptial agreements are rooted in the Uniform Premarital Agreement Act (UPAA). Under the UPAA, certain aspects are excluded from premarital agreements, meaning that you cannot protect everything even if you sign the contract.
Here's what to watch out for when considering whether to enter into a prenuptial agreement in Florida:
Prenuptial Agreements in Florida Can:
Prenuptial Agreements in Florida Can't:

Decide on the distribution of property

Protect the parties' rights regarding assets and liabilities

Settle whether alimony will be included in a divorce, who will pay it, and for how long

Be enforced if they include provisions that violate the state law or public policies

Affect child custody

Determine the amount of child support
In Florida, if spouses who have a child decide to get a divorce, the issues of child custody and support are settled by court judges. Court decides who gets custody rights and sets the amount of child support at the time of divorce. The decision is based on the child's needs and the financial stability of the spouses.
Spouses can decide between each other who wants to get custody of their child, but their decision must be approved by a court.
How To Make Your Prenuptial Agreement Enforceable
For a prenuptial agreement to be valid in Florida, it needs to:
Be in writing

Be voluntarily signed by both parties

Contain a full disclosure of the spouses' financial information
The premarital agreement is effective when the prospective spouses get married.
What if You Want To Void or Change Your Prenuptial Agreement in Florida?
Under the Florida prenuptial agreement law, the prenuptial agreement is non-modifiable. If you want to enter into an agreement with your prospective spouse, you should do so carefully.
In certain situations, one party can void or challenge the premarital agreement. For a court of law to decide that the prenuptial agreement isn't valid, one or the other party needs to prove that they:
Didn't sign the agreement voluntarily

Negotiated the terms of or signed the agreement under duress, coercion, or trickery

Didn't receive full disclosure of their spouse's financial situation
Note that if either party commits adultery, a prenuptial agreement is still enforceable by law.
Let DoNotPay Help You With Prenuptial Agreements in Florida
It's understandable if prenuptial agreements give you a headache. They are still the best solution if you want to protect your rights, assets, or property in case of a divorce. This doesn't mean that you should lose sleep over writing the contract on your own or spend your savings on a lawyer.
DoNotPay can help you write a premarital agreement hassle-free. Our robot lawyer generates different legally binding contracts for you, and it makes them personalized. 
If you want to create a customized prenuptial agreement in no time, you should:
Create a DoNotPay account using any

Type

Prenuptial Agreement

in the search bar

Let our chatbot walk you through the final steps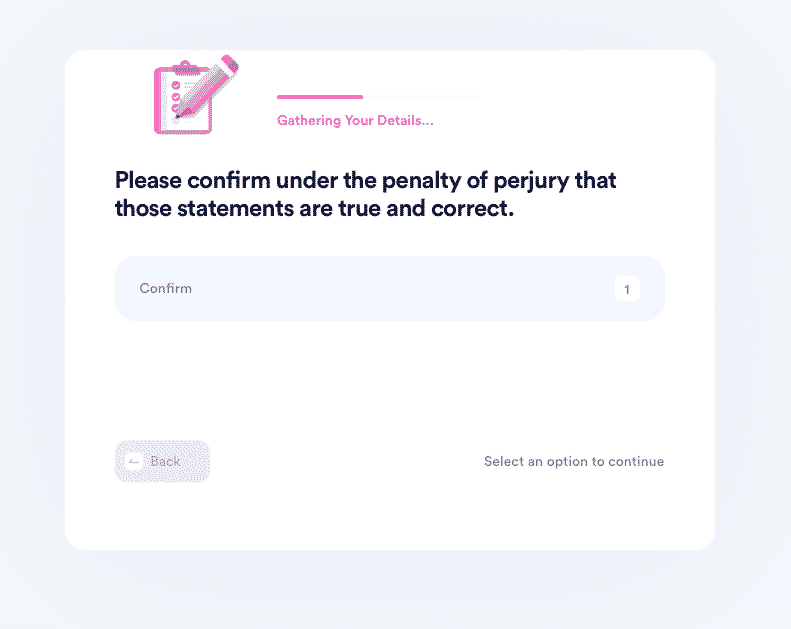 Take a look at some of the most popular legal documents DoNotPay can generate for you in under a few minutes:
Estoppel certificate

Promissory note

Intent to purchase real estate

General affidavit

Quitclaim deed

Prenuptial agreement

Child care authorization form

General business contract
DoNotPay Helps You Scam Scammers
DoNotPay helps you stay safe from scammers and fraudsters! 
We have developed a Virtual Credit Card product that helps you sign up for free trials without revealing your real banking information to any suspicious company. We've joined our most popular feature with a Burner Phone functionality that allows you to verify online accounts with a temporary phone number. 
That way, you'll be free to enjoy services while they're free of charge, eliminate the possibility of robocalls, robo texts, and spam emails from the shady companies, and forget about canceling the subscriptions altogether—our product does it for you!
DoNot Pay can even shield you from cyberstalking and online harassment and get you compensation for the crime you've suffered. We'll even help you take individuals or businesses to small claims court by drafting the relevant paperwork for you, accessing any public records that might bolster your case, and supplying you with a court script that you can read to the judge on the day of the hearing.
DoNotPay Is Helping You Out Left and Right
Not only can DoNotPay handle bureaucratic nuisances on your behalf, but we can make your daily life easier too!
No more waiting in endless phone queues to make a warranty claim for a faulty product or wasting the day away in mile-long DMV lines—our app will do the hard work for you! We'll call the reps of any company—even major airlines—and schedule appointments on your behalf in a matter of minutes!