A Step-by-Step Guide to Writing a Prenuptial Agreement

Prenuptial agreements aren't reserved only for the rich. Anyone can draw up a prenup for various reasons, not just financial ones. 
Are you considering making a prenuptial agreement with your future wife or husband, but you're not sure how to write the contract? Since writing legal documents is complicated, DoNotPay has created a simple yet effective solution. You don't have to waste time searching for prenup contract templates because we will help you draw up any document in less than five minutes!
What Is a Prenuptial Agreement?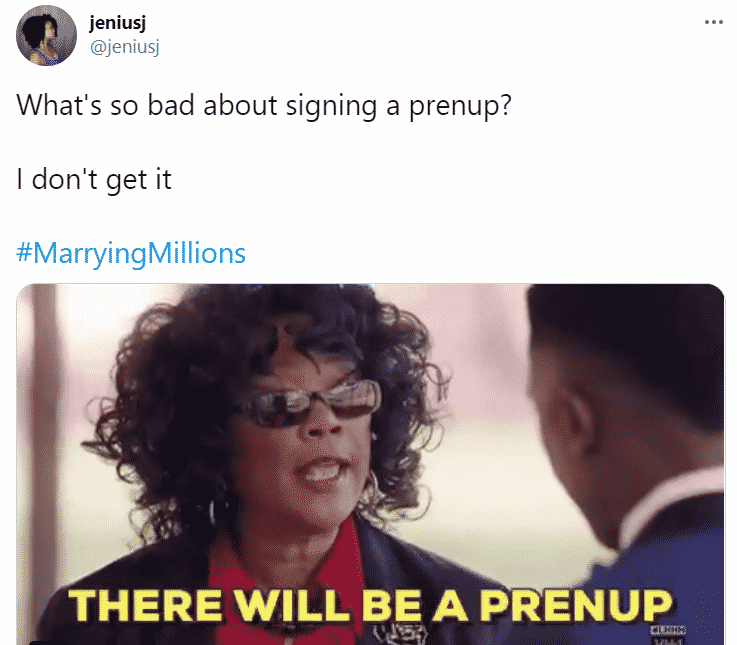 A prenuptial agreement is a contract signed between two soon-to-be-married individuals. The contract usually contains a list of assets that both individuals own and declares each person's rights after the marriage property-wise. While the main purpose of a prenup is to protect the finances of the wealthier party, it can be created for other reasons too.  
Each state has different laws on the clauses that can or can't be included in the prenup. You should check the rules of your state to ensure your agreement is valid.
Why Is a
Prenup Agreement
Important?
Making a prenup has many benefits, regardless of your financial status. It protects you and your partner, kids, and assets and lets you determine how your and your spouse's property should be handled. These are some of the common reasons people draw up a prenup for:
| | |
| --- | --- |
| People Sign Prenuptial Agreements To | Description |
| Clarify financial rights | Whether you're wealthy or not, it's always a good option to define financial rights and responsibilities during your marriage |
| Ensure protection from debts | The prenuptial agreement can protect you from your spouse's debts |
| Secure children from previous marriages | If a soon-to-be-married couple have children from previous marriages, they should sign a prenup to secure all their children. The prenup will specify how the property will be passed on to each child when one of the spouses dies |
| Avoid arguments during the divorce | You can agree with your spouse in advance on how to divide the property if you ever get a divorce. This will simplify the entire process and reduce your divorce expenses. The prenup should also state if one of the spouses will get alimony |
| Keep certain property in the family | Your prenup can include an heirloom you wish to keep in the immediate family  |
What Can't Be Included in a Prenup?
While many problems can be resolved with a prenuptial contract, there are some issues you can't include:
During the Marriage
After the Divorce

Daily tasks

Spousal duties

Child custody

Child support

Parenting time
What Happens if You Don't Make a Prenup?
Spouses who don't sign a prenup agreement need to follow the marital property, divorce, and probate laws of the state they reside in. The laws will determine which spouse owns the assets acquired during the marriage and how those assets will be divided after the divorce.
Marriage as a contract comes with some automatic property rights and obligations for both spouses. If you don't sign a prenuptial agreement, both parties can:
Inherit community debts that your spouse incurred

Share ownership of any asset acquired while married

Sell or give away any marital property
Are you already married and worried about the state laws dictating what happens with your assets after the divorce or death? You can check whether your state allows married couples to sign a postnuptial agreement if they don't have a prenuptial one. 
Postnuptial contracts are more complicated and more challenging to enforce, which is why you should consider signing a prenup if it's not too late.
Can You Make a
Premarital Agreement
Yourself?
Drawing up any contract on your own is challenging, especially if legal terms aren't your strong suit. If you choose to write a prenup on your own, you need to make sure to use the right vocabulary and write understandable clauses. In case the agreement isn't written well enough, the court will question its validity and reject it. 
You can find prenup templates online, but those are fairly general. Since each prenup agreement is different, you won't benefit a lot from someone else's template.
While you can hire a lawyer to review the contract before you and your spouse sign it, you will have to spend a lot of money.
DoNotPay Can Help You Create a
Prenuptial Agreement
in a Jiffy
Why waste money on pricey lawyers if you can draw up a valid and well-written prenup easily with DoNotPay? We've designed a feature that will help you write various legal documents in less than five minutes. 
DoNotPay will generate a professional prenuptial agreement once you complete the following steps:
Access your

DoNotPay

account

Enter

Prenuptial agreement

in the

Search

field

Provide the required info

Sign and notarize the contract we generated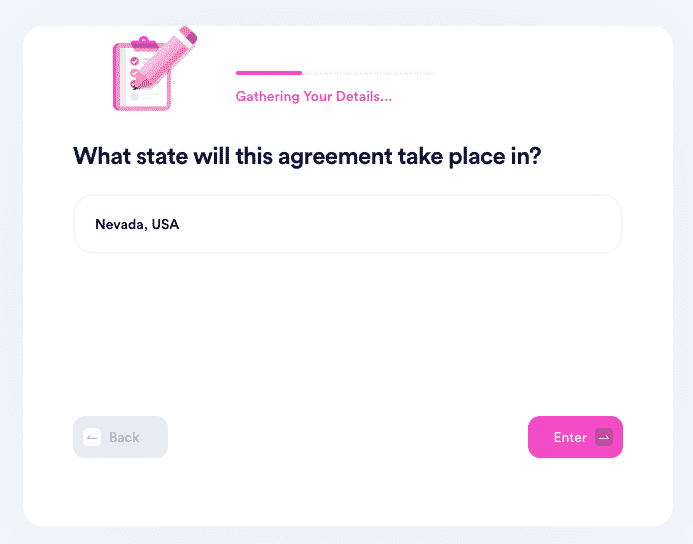 Learn What Other Legal Documents You Can Draw Up With DoNotPay
You can take advantage of DoNotPay's feature regardless of the document you need to write. Here are some of the contracts we can help you draw up:
Promissory Note

Quitclaim Deed

General Business Contract
Clear Your Schedule With the Help of DoNotPay
DoNotPay is renowned for making our users' lives infinitely easier. Not only can we root out unwanted subscriptions for you—you don't need to do it manually one by one any longer—but we can unsubscribe you from unwanted email and snail mail lists.
Fire up our app and let it navigate the phone tree instead of you or use it to make a DMV appointment at your earliest convenience. Forget about googling clinical trials near you—DoNotPay can sort them out according to your needs and their individual eligibility criteria. 
We can fill out the paperwork that you need to file at your local small claims court to initiate a dispute. You can work around the U.S. penal system and have DoNotPay locate an imprisoned loved one instead of you trying to reach individual prisons attempting to do it yourself.
You don't need to go to great lengths to get in touch with a counselor to sign your college fee waiver either—DoNotPay does it for you and then forwards the necessary documents on your behalf. 
DoNotPay Never Ceases To Amaze
Where there's one useful feature, there are nifty features galore!
Use our Virtual Credit Card to sign up for free trials and stop robocalls and spam text messages from reaching your phone. If you feel a free trial unrightfully turned into an expensive paid membership, we can help you request a refund or chargeback for the inconvenience.
We can further assist you in exercising your consumer rights by making a warranty claim in your place and verifying your online accounts with temporary phone numbers.
We can also break down the Freedom of Information Act for you and introduce you to online fax options and property tax reductions.