A Prenuptial Agreement Template That Can Keep Your Money in Your Pocket

Nobody wants to consider divorce before the marriage has begun, but the sad reality is that almost half of the married couples in America end up divorced. Getting a prenup may not be romantic, but it is a wise legal step to protect each spouse's assets in case of a divorce.
If you are thinking about creating a prenup but find lawyer's services expensive, there are ways to do it yourself. DoNotPay will show you where to find a prenuptial agreement template and how to create a prenup document with almost no effort!
What Does a Prenuptial Agreement Protect?
A prenup is a contract between two people who are about to get married. It is a legally-binding document that does more than protect the wealthier party's possessions. More and more people nowadays are advised to sign a prenuptial agreement for many reasons. A prenup can help you:
Avoid any arguments in case of a divorce

Shield yourself from your spouse's potential debts

Pass separate property to your children from previous marriages

Clarify your and your spouse's financial rights and responsibilities during marriage
State courts are more accepting of prenups these days and see them as the means to protect both parties' best interests. A prenup needs to be fair, understandable, and legally valid, or else your state's court will dismiss it.
There is no reason to fret—you can still create a prenuptial doc yourself and make sure it presents your conditions in a clear way. One of the methods is to look for a prenuptial agreement template.
What Does a Prenuptial Agreement Sample Contain?
To be legally-binding, prenup agreements must include certain information. The prenup agreement template also needs to contain elements that make up a legal contract. Here is an overview of the essential premarital agreement components:
Premarital Agreement Components
Details

Essentials

Full names of both parties and the date of entering the agreement

Non-marital property assets

Non-marital property assets may include:

Gifts

Inheritance

Any property acquired before the marriage

Both parties need to determine who gets the non-marital property assets in case of a divorce

Debts

Both parties must establish which debts are considered non-marital property and which party will manage them in the event of a divorce

Marital property (assets)

Marriage assets may include:

Income made by each spouse during the marriage

Property acquired with one or both parties' money during the marriage

Both parties need to determine which assets will be excluded from joint ownership

Businesses or business ownerships

You should establish whether your business is separate property because a spouse has a right to partial ownership in the event of a divorce

Savings and retirement accounts

A premarital agreement can determine:

Who controls the savings or retirement accounts

Which spouse will contribute to which account

Who is responsible for covering the marital and family expenses

Spousal support

A prenuptial agreement can help designate:

How much will the spousal support be in the event of a divorce

How long it will last

Separate property distribution in the event of death

This component can help you divide the property between your spouse and your children

Divorce caused by adultery or other specified reasons

You can stipulate a financial punishment in case of adultery or other divorce causes
How To Make Prenuptial Agreements Legally Binding
It is not enough to find a prenup contract template. You must follow a certain procedure to make sure the agreement won't be dismissed in court. Take a look at the requirements that make your prenup agreement legally valid:
Document must be in writing

Parties must sign it of their own free will

Agreement must be presented at full

disclosure

Conditions need to be fair and reasonable

Document should contain both parties' signatures and be witnessed by a notary
Where Can I Find a Prenup Agreements Template on My Own?
If you type in the required keyword in your Google search engine, you will find a myriad of prenuptial agreement templates. Before you choose any one of them, you should know that not many can apply to your situation. Every state has its regulations regarding prenups, and every couple has different conditions they want to include in their document.
You can write your own contract while consulting a lawyer, but services will most likely cost you a lot. If you want to save money and still end up with a professional document that your state's court will approve of, consider using DoNotPay!
DoNotPay Can Help You Create a Bullet-Proof Prenup Agreement
Prenup agreements are not a joke. The document must contain all relevant points and present them in a clear way. You will most likely have to look up a bunch of legal terms to make your document legit. If that sounds like too much work, use !
We will create a document using the essential information you provide. All you have to do is:
Open DoNotPay in your

Enter

Prenuptial Agreement

in the search field

Provide details such as your and your future spouse's names and addresses

Wait for DoNotPay to create your personalized document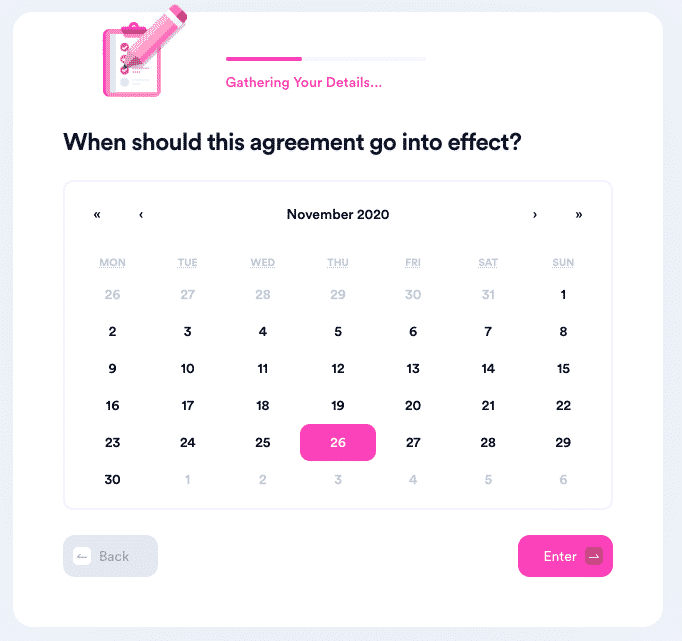 We can help out with other kinds of legal contracts! Access our app if you need: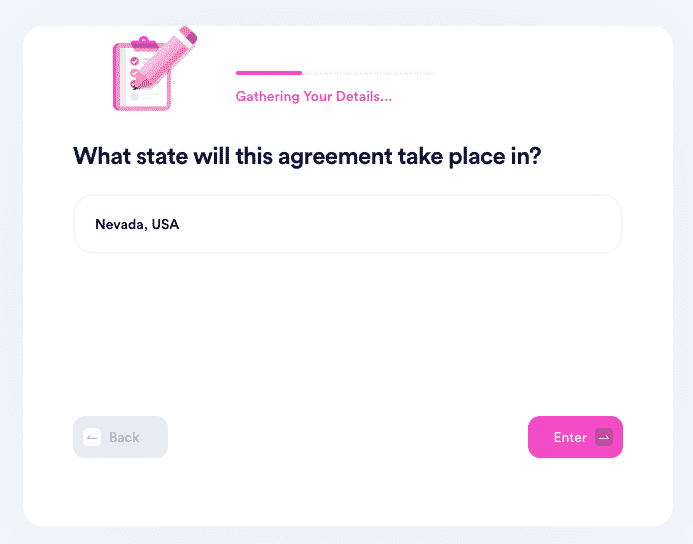 DoNotPay Keeps Your Privacy Intact
DoNotPay can help you surf the web safely and securely. No need to provide your personal information to every company whose service you'd like to take for a test drive. Our Virtual Credit Card and Burner Phone products shield your data from prying eyes and dishonest merchants.
Feel like subscribing for a free trial? Make it truly free and avoid automatic membership renewals with our card. It can also help identify spammers and potential scammers who send bothersome robocalls and robo texts your way. As soon as they act on the virtual card number, DoNotPay will unmask them and demand compensation!
DoNotPay Can Help You Bring Any Business to Justice
Should a company refuse to grant you a refund or compensation, our app will help you take them to small claims court!
We'll help you cancel the service in question to avoid any future charges, and we'll call their customer service so you can get info on your denied request. We'll draft the relevant court documents for your jurisdiction and give you instructions on filing them.
More Nifty Features That'll Make Your Day
You may not have breach of privacy issues or reasons to bring someone to court, but you surely have ample motivation to save or earn a few dollars here and there—especially if we catch you unawares!
DoNotPay can show you how to reclaim funds that you didn't know were under your name or make a denied warranty appeal to any company. We streamlined the processes of requesting refunds, college fee waivers, airline flight compensation, parking infraction dismissals, as well as applying to clinical trials that pay!