Tie the Knot Without Tying Yourself Up—
Prenuptial Agreement Costs
Explained
Going into any contract without knowing how you can get out of it is irresponsible—if not reckless. Marriage is a contract, and the sad fact is that many marriages—up to 39%—end in divorce.
Many couples now opt for a prenuptial agreement to help them sort out who gets what in the event of the marriage ending badly. While this is a sound idea, there is a barrier to entry involved in putting a prenup together.
knows you are not an expert in writing legal documents or putting together a contract. We are here to help you understand where your prenup money goes and whether you need to be spending thousands of dollars in prenuptial agreement costs.
Why Are Prenuptial Agreements Expensive?
When you draw up an antenuptial agreement, you are deciding on what should happen if the worst comes to the worst.
Your prenup takes into account:
Each partner's assets

Any debts either partner brings into the marriage

Your plans to support each other during the marriage

Your wishes if one of you dies while married
All these points sound fairly straightforward, but there are a few complications. If any of the following apply to you or your partner, a prenuptial agreement is essential:
Ownership or co-ownership of a business

Expectation of a large inheritance

Prospect of a sharp rise in earnings

Possession of considerable assets

Commitment to looking after a family member
The fallout of a divorce for any of these could be disastrous, so your prenuptial agreement sets out a negotiated path to resolving your financial responsibilities.
This is the key point—your prenup is a negotiated settlement agreement. The negotiations are generally run and managed by lawyers, who draw up an agreement based on the outcome. This is where costs start to mount exponentially.
The more complicated your financial situation, the more time your and your partner's lawyers will take to negotiate according to your wishes, and the longer it will take to draw up an agreement. This process can get expensive quickly.
How Much Does a Prenup Cost?
Each contract is unique, so costs can range from $1,000 to $10,000. You should expect to pay around $2,500 on average for your prenuptial agreement.
The costs vary widely according to your location, financial situation, and the complexity of your requirements, as follows:
| | |
| --- | --- |
| Location | Average Cost per Person |
| California | $2,000–$6,000 |
| Manhattan | $7,500–$10,000 |
| Lowest cost areas | $1,200–$2,400 |
Most lawyers charge hourly rates, so costs can spiral in a short time.
At an average cost of $2,500, a prenuptial agreement comes in at a hefty 10% of the probable cost of your wedding. This is a lot of extra expenditure when you are facing the costs of the marriage and starting on your married journey with your partner.
Do You Need a Lawyer To Draw Up a Prenuptial Agreement?
Many people look at the average cost of a prenuptial agreement and are faced with a dilemma. Their financial situation means that a prenup is essential, but they are unwilling to lay out a huge sum of money for a lawyer to do the work for them.
Thankfully, you can draw up a prenuptial agreement that will cover you for all eventualities yourself. The key points you need to know are that:
Both parties must disclose everything

No party should be forced to sign

All agreements are permissible by law
Both Parties Must Disclose Everything
Full disclosure is the bedrock of any prenuptial agreement and is a good discussion to have well in advance of your wedding. Your and your partner's entire financial histories should be captured in the prenup.
No Party Should Be Forced To Sign
Coercion, or even the suspicion that either party has signed a prenuptial agreement under duress, will result in the agreement being challenged—possibly successfully—in court. Many couples sign a prenup at least 30 days in advance of their wedding to avoid any suspicion.
All Agreements Are Permissible by Law
Each state has its laws regarding what is acceptable in a prenuptial agreement, so your prenup should comply with your local legislation.
Can DoNotPay Help You Reduce the Costs of a Prenuptial Agreement?
DoNotPay has a wealth of legal documents and contract templates that can help you in many situations. You can customize a prenuptial agreement using our template—here's how:
Navigate to DoNotPay using your

Use the search bar to look for our prenuptial agreement

Fill out the details you and your partner want included

Wait briefly while we create your agreement for you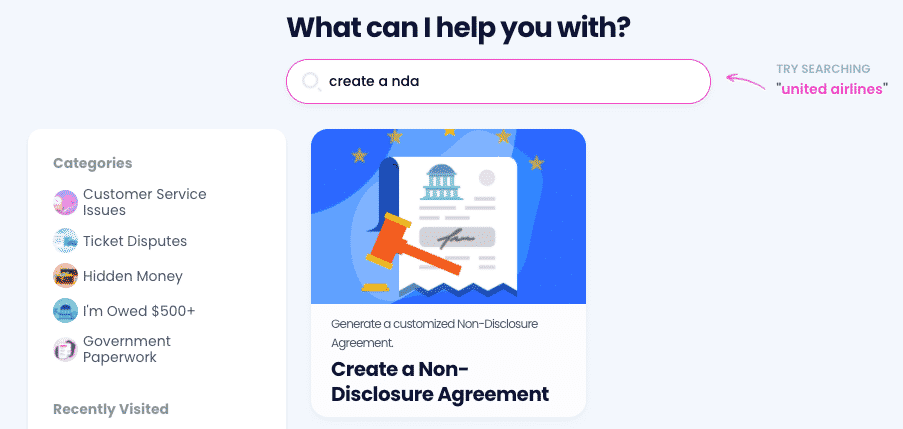 Remember that your prenuptial agreement is only legally binding once you have both signed it and had it notarized.
What Other Legal Documents Can DoNotPay Help You With?
We have a wide range of documents, and we are adding to the list constantly.
Here are some of the other documents we can offer you:
Personal
Child Care Authorization Form

General Affidavit
Property
Estoppel Certificate

Quitclaim Deed
Business
Do You Need Help With All That Paperwork?
Saving money is great, but cutting the time wasted on bureaucracy sometimes sounds even better. DoNotPay joins the best of both worlds and helps you avoid boring paperwork while preventing future unnecessary charges and expenses. 
With our help, you can enjoy free trials without any risk, file insurance claims, or handle issues with credit cards. 
You won't have to waste time on researching the right procedures or pay for help if you need to stop stalkers and harassers or put together all sorts of legal documents. 
DoNotPay—The Easy Way To Save Money
If it looks like your wallet has a hole and the money keeps pouring out for unnecessary expenses, it might be time to come up with a better saving strategy. 
DoNotPay uses AI-powered technology to identify the best opportunities for some serious penny-pinching or earning a few extra bucks:
| | |
| --- | --- |
| Saving Money | Earning Money |
| | |