How To Make the
Prenuptial Agreement Checklist
The prenuptial agreement isn't easy to make, and there are a lot of items that have to be included for it to be valid. If you are looking for the simplest way to make one, you can rely on this article and use it as a guide. We'll provide you with all the info and simple instructions on how to make your prenuptial agreement checklist. That way, you won't leave anything important out and won't have to stress about figuring out how to create this contract.
DoNotPay can walk you through the process of drafting multiple legal documents.
The
Prenuptial Agreement Checklist
—What To Include
Drawing up a prenuptial agreement on your own is difficult and demands a lot of research, including the consideration of its pros and cons. If you still want to create one by yourself, here is a list of clauses you should include in your prenuptial agreement checklist:
Premarital debts and assets

—Make a list of all the debts and assets that are in your and your partner's name and include the specifics on how those debts will be handled during the marriage and in the event of a divorce

Marital property

—State how all the assets you accumulate during the marriage will be handled and whether they will be joint property or you'll have another arrangement

Money and income

—Specify the details about the management of income and assets, such as who will be in charge of financial decisions, whose responsibility will be to pay the bills, and whether you will use separate or joint bank accounts

Credit and debts

—Discuss the credit situation with the other spouse and see if either of you has bad credit. Decide how you want to deal with credit and debts and explain it in the prenup

Alimony

—Think about the alimony and decide on the amount, terms, and duration of it. Say who will be paying the alimony and include any limitations regarding it

Duration of the agreement

—Decide if you want the prenuptial agreement to stay in effect forever or you want it to expire at some point

Business ownership

—If you or your spouse own a business, make sure to specify the details you think should be included regarding the company and its management

Death or disability

—Having a

trust agreement

and a will is always a smart decision—but you can also ensure that your assets are distributed the way you planned in a clause in your prenuptial agreement. Include the specifics about the distribution of assets in case anything happens to you or your spouse
If you want to go for a better and easier option, we offer you the perfect one—DoNotPay. With our app, you can skip all the work and .
Allow DoNotPay To Draft Your Prenuptial Agreement and Other Legal Contracts in Only a Few Steps!
There is no need for you to torture yourself with legal terms and ways to draw up legal contracts all on your own. We know that it is a tiresome process, and you would rather have someone else do it for you.
That is why DoNotPay jumps in and uses the info you give us to create your doc in minutes! The process requires you to complete three simple steps:
Type in

Prenuptial Agreement

in the search box

Provide us with your name, address, and other relevant info
When you finish the three steps, DoNotPay will make your prenuptial agreement. Keep in mind that the document will have to be signed by both parties involved—you and your future spouse.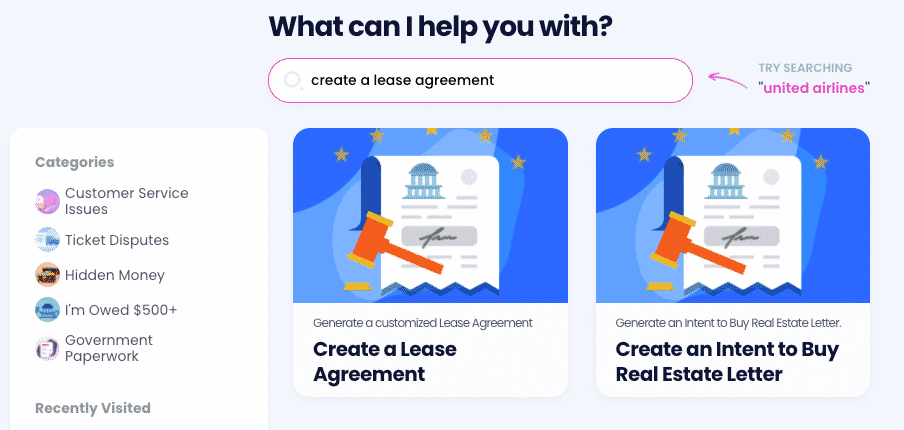 We can help you make various contracts and documents! Check out the list below to see all the legal documents we can assist you in creating:
Business
Other

General Business Contract

Estoppel Certificate

Quitclaim Deed

Promissory Note

Intent To Purchase Real Estate

General Affidavit
Conditions That Can Make a Prenuptial Agreement Void
A prenuptial agreement is considered legally binding, but certain circumstances can make it unenforceable in court. Check out the list below to see what the circumstances are:
The agreement is fraudulent

—Both parties have to be honest about their assets, or the agreement will be rendered invalid

Paperwork wasn't properly filed

—Make sure to file all paperwork properly and not to leave any important documents out

The agreement was created under duress

—If any of the spouses signed the agreement against their will, the agreement could be rendered unenforceable
We Can Help You Make Prenuptial Agreements in Numerous States!
If you are looking for assistance in drawing up your prenuptial agreement but aren't sure what applies in your state, we can help! DoNotPay can provide you with instructions on drafting a prenuptial agreement in these states:
The prenuptial agreement costs and templates are also something we can help you with!
Enjoy Services Worry-Free With DoNotPay
Do you want to try out a new service but are worried about being charged if you forget to cancel it before it ends?
With DoNotPay, you can sign up for free trials without worrying about auto-charges. Our virtual credit card makes sure you enjoy your trial run of the service and prevents any company from taking money out of your real account.
This free-trial card also protects you from email spam because it generates an alternate email address for the free trial sign up.
If you want to keep your phone number private and deter robocallers and text spammers, use DoNotPay's Burner Phone feature when subscribing to services.
In case the company does charge you, initiate a chargeback on your credit card transactions instantly with our app.
Discover DoNotPay's Amazing Features
DoNotPay is a virtual lawyer app that can take over annoying bureaucratic tasks from you.
We can cover anything you may need help with—dealing with customer service reps, booking appointments with the DMV, securing refunds and compensation from airlines, disputing your parking tickets, or getting you an extension on bill payments.
Our app can help you draft any legal document in minutes or access public records from state and federal databases.