The
Prenuptial Agreement in California
—Explained
Understanding prenuptial agreements and contracts, in general, can be quite difficult. Paying lawyers to help you explain the legal terms and create your agreement isn't the only option! DoNotPay will swoop in to assist you in easily!
We will break down every detail you should be aware of concerning legal documents like a prenuptial agreement. You could find the prenuptial agreement checklist quite useful as well, so don't hesitate to check it out!
What Is the
Prenuptial Agreement in California
?
A prenuptial agreement, also known as a prenup, is a contract that two parties sign before they get married. In California, the law states that the agreement becomes effective automatically when the parties get married.
The agreement should outline the couple's property rights, both present and future. All the other spousal duties and rights should be specified in the agreement.
Should You Draft a Prenuptial Agreement By Yourself?
Drafting agreements on your own isn't easy. You can get lost in the legality of it all or get confused by templates you find online. The most efficient and time-saving option you can go for is using DoNotPay to draw up your documents in minutes.
Should you choose to create the agreement by yourself, here is the main information you have to include:
Marital and separate property

The debts of the other spouse

Alimony rights

Provisions for children from a previous marriage

Estate plans protection

Spousal responsibilities

Sunset clause
Marital and Separate Property
The difference between marital and separate property is the following:
Marital property

—Assets that the couple acquired together during the marriage

Separate property

—Everything that the spouses obtained before the marriage
You should discuss with your spouse how you want these properties and assets to be divided in case of a divorce and include the decision in this section.
The Debts of the Other Spouse
A valid prenuptial agreement will save you the stress over the debts of the other spouse. You can limit your debt liability instead of choosing that each spouse owes half of everything. Make sure to state in this clause what the distribution of debts will be like after the divorce or death of one of the spouses.
Alimony Rights
When it comes to alimony rights, a lower-earning spouse is usually entitled to alimony payments from a higher-earning spouse. The prenuptial agreement is a perfect place to include all the details regarding alimony payments, such as:
Which spouse will be paying alimony

The amount of alimony

When the payments will be made
Provisions for Children From a Previous Marriage
The prenuptial agreement is also a great way to state what, if any, assets would the children from previous marriages inherit from your marital property. 
Estate Plans Protection
Aside from wills and trust agreements, you can also use the prenuptial agreement to make sure your estate distribution plan is fulfilled the way you want.
Spousal Responsibilities
The responsibilities and duties of each spouse should be clearly outlined in this section. You can include anything from the details about who will take care of household expenses to how the day-to-day tasks will be handled.
Sunset Clause
The sunset clause serves to void the agreement if the marriage lasts for a certain period. Discuss this with your significant other and choose whether you want to have a sunset clause in the agreement or not. If you decide that you do, include the details about how long the marriage should last before the prenup is void and other specifics that you find relevant.
Let DoNotPay Draw Up Your Prenuptial Agreement in a Snap!
DoNotPay can draft various agreements and legal documents for you, including the prenuptial agreement! You don't have to burden yourself with figuring out how to deal with contracts on your own. We made the process of creating agreements super easy, and you can get it done in three simple steps! Here's how:
Enter

Prenuptial Agreement

in the search box

Provide our chatbot with relevant info regarding your contract
That is all it takes on your part! DoNotPay will draw up your agreement, and the parties involved need to sign and notarize it.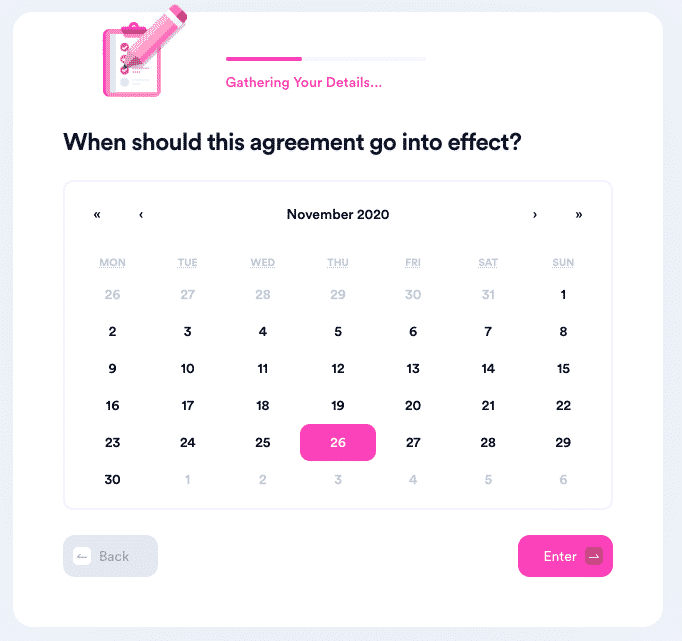 Apart from creating your prenuptial agreement, we can also draw up the following contracts on your behalf:
Business
Other

Estoppel Certificate

Quitclaim Deed

Promissory Note

Intent To Purchase Real Estate

General Affidavit
Other Contracts DoNotPay Can Help You With
Don't think that the prenuptial agreement is the only legal contract we can assist you with! We'll provide you with thorough instructions on how to create any of the agreements listed below. Check them out:
Get Back at Greedy Corporations With DoNotPay
How many times have you tried reaching out to an airline regarding your canceled flight? Did you ever spend hours trying to contact customer service reps only to be refused your refund request?
Big companies tend to make certain processes complicated for their customer in hopes they would give up on pursuing their goals.
This is why your warranty claims often get denied the first time or why canceling a gym membership can be an administrative hell.
Our AI-powered app is here to help you sort these problems out.
Whether you're trying to file an insurance claim, schedule your driving test, start a free trial without disclosing your payment info or a phone number, or get access to public records, we've got you covered.
DoNotPay Is the Virtual Assistant You Need
DoNotPay is the first robot lawyer in the world created to simplify complex tasks. We can help you with anything from appealing your parking citations to filing lawsuits in small claims court.
In case you need to save up some money, our app will show you how to get an extension on your bill payments, sign up for paid clinical trials, or avoid paying your college application fees.
DoNotPay can also report robocallers, text spammers, and email phishing attempts, and real-life stalkers with a few clicks.