Fight and Win a Pregnancy Discrimination Case Against Your Employer
The last thing you want is for your pregnancy to be marred by discrimination in the workplace.
Employers all too frequently see pregnancy as an inconvenience disturbing the smooth flow of operations and causing disruption in the workforce.
If you are experiencing discrimination at work as a result of your pregnancy, the law is on your side, and DoNotPay is here to help you launch a pregnancy discrimination case.
What Is the Law on Pregnancy Discrimination?
Two major pieces of legislation protect your rights and ensure you are treated fairly at work during your pregnancy:
Pregnancy Discrimination Act of 1978
Title VII of the Civil Rights Act of 1964
This cornerstone of anti-discrimination laws makes it illegal for an employer to discriminate against you based on your:
Under Title VII, you are also protected against harassment, wage discrimination, and retaliation if you file a complaint.
The Civil Rights Act does not deal specifically with pregnancy, but this gap is closed by the next piece of legislation.
Pregnancy Discrimination Act of 1978 (PDA)
This law was passed as an addendum to the Civil Rights Act prohibiting discrimination against women going through pregnancy, childbirth, or any related illness.
What Are the Most Important
Pregnancy Discrimination Lawsuits
?
Pregnancy discrimination lawsuits are on the increase despite the legislation to combat it having been in place since 1978.
The most significant pregnancy discrimination court cases concerning unfair treatment at work are as follows:
Geduldig v. Aiello (1974)

Rentzer v. Unemployment Insurance Appeals Board (1973)

California Federal Savings and Loan Association v. Guerra (1987)

Young v. United Parcel Service (UPS) (2014)

EEOC v. Houston Funding (2013)

Latowski v. Northwoods Nursing Center (2013)

EEOC v. High Speed Enterprise, Inc. d/b/a/ Subway (2011)

EEOC v. HCS Medical Staffing, Inc. (2012)
Geduldig v. Aiello (1974)
This case led to the passing of the Pregnancy Discrimination Act and involved a woman being refused benefits by her disability insurance. The defendant argued that the scheme treated men and women equally and that, since men cannot become pregnant, refusing benefits to pregnant women was fair. The defendant's view was upheld, but Congress saw the gap in laws protecting pregnant women and introduced the PDA four years later.
Rentzer v. Unemployment Insurance Appeals Board (1973)
Gail Rentzer was unable to work due to an ectopic pregnancy but was refused compensation, as the law did not recognize pregnancy or related illnesses as a disability.
California Federal Savings and Loan Association v. Guerra (1987)
Lilian Garland, having taken pregnancy leave from her employer, attempted to return to work after her leave but was told her job had been filled by someone else. Despite vehement arguments, the employer was forced to reinstate Garland.
Young v. United Parcel Service (UPS) (2014)
Peggy Young was given a doctor's note to restrict her from lifting more than 10 pounds during her pregnancy. UPS insisted that its staff had to be able to lift a 70-pound parcel, and Young was forced to take unpaid leave for the remainder of her pregnancy.
The Supreme Court found against Young but set up a framework for future cases that classified pregnancy as a temporary disability. Pregnancy is therefore protected against discrimination under the PDA and given additional legal backing by the Americans With Disabilities Act of 1990.
EEOC v. Houston Funding (2013)
The Equal Employment Opportunities Commission (EEOC) successfully argued that a female employee couldn't be fired for breastfeeding or expressing milk at work.
Latowski v. Northwoods Nursing Center (2013)
Jennifer Latowski was asked to provide a no-restrictions doctor's note by her employer during her pregnancy. Unable to do so, her employer fired her but was found guilty of discrimination.
EEOC v. High Speed Enterprise, Inc. d/b/a/ Subway (2011)
The Subway franchise was found guilty of discrimination after it refused to hire Belinda Murillo due to her pregnancy. Ms. Murillo was awarded substantial punitive damages by the court.
What Do These Legal Precedents Mean for Me?
If you are pregnant, the law will defend your right to fair treatment by your employer.
If you feel you are being discriminated against due to your pregnancy, you should follow these steps:
Action

Explanation

Check your employer's

discrimination policy

Your employer's written anti-discrimination policy should prohibit any action against you based on your pregnancy

Keep written records

You should make sure you keep a written record of any discriminatory incidents against you

Lodge a grievance

An official complaint should be lodged with your HR department
If these actions don't resolve the issue, your next step is to file a complaint with the EEOC, the federal agency responsible for enforcing anti-discrimination laws.
Once it has received your complaint—called a charge of discrimination—the EEOC is mandated to:
Inform your employer of the charge

Investigate the allegations

Launch a lawsuit if there is enough evidence to proceed
If the EEOC decides not to prosecute your case, it can still issue you with a Letter of Permission To Sue, giving you the right to contact a discrimination lawyer and launch a private lawsuit. DoNotPay is your best resource for !
What Can DoNotPay Do To Help?
DoNotPay can get you started by lodging a complaint with the EEOC in a flash—all you have to do is: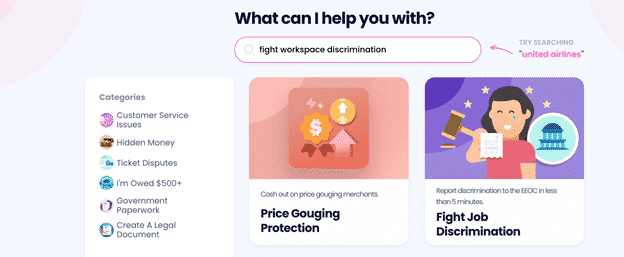 Navigate to DoNotPay in your web browser and

Use the search bar to find our

Fight Workplace Discrimination

product

Follow the prompts to give us your case details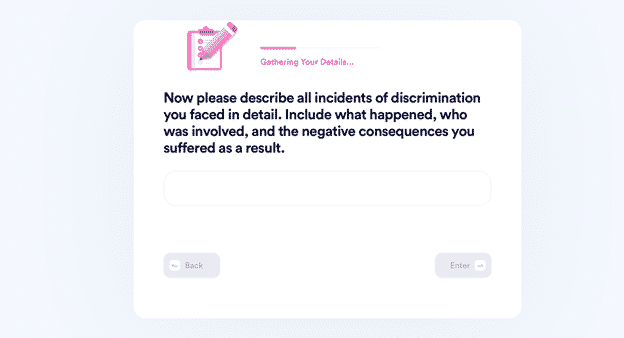 DoNotPay will handle the rest—the EEOC will contact you to discuss your next steps.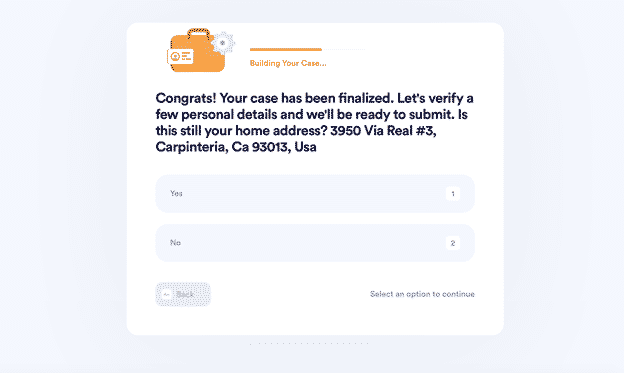 DoNotPay's Other Resources for the Victims of Discrimination
Fighting discriminatory bosses and colleagues is not the only item on DoNotPay's agenda. If your EEOC report doesn't work out, explore the option of suing the perpetrator in small claims court with our help.
Those who experience full-blown hate crimes can use our platform to file for crime victims compensation or deal with insurance claims. Lost a job because of discrimination? Use DoNotPay to get help with bills, reduce your property taxes, or find any unclaimed assets in your name.
We can also help you create numerous legal documents for personal, business, or real estate matters. You'll have a chance to fax your paperwork or find an online notary in the same app!
Use Our App To Right Other Wrongs
Injustice lurks around every corner, and DoNotPay won't have any of it. That's why we keep creating tools and services to help you fight back against all kinds of unfair treatment.
With our help, you'll be able to:
There's more where this came from because the good fight doesn't stop here.